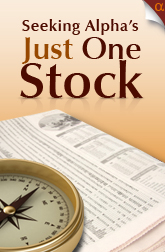 Several times a week, Seeking Alpha's Jason Aycock asks money managers about their single highest-conviction position - what they would own (or short) if they could choose just one stock or ETF.
---
Christian Orms, a Chartered Financial Analyst, founded Billings, Mont.-based Horizon Capital Partners in 2001 and serves as its portfolio manager and investment adviser.
If you could only hold one stock position in your portfolio (long or short), what would it be?
I would own The Coca-Cola Co. (NYSE:KO) - "Coke" - if I could only own one stock position.
Tell us more about the company behind the stock.
Coke is the world's largest nonalcoholic beverage company. Coke sells more than 500 brands of beverages. The company operates five geographic segments: Eurasia & Africa, Europe, Latin America, North America, and Pacific; and two operating segments, bottling and corporate. Their products include sparkling beverages, which includes sodas; waters; juices; teas; coffees; and energy and sports drinks. They own what may be the most valuable brand globally in "Coca-Cola." Four of the top five sparkling beverages are owned by Coke. Branded beverage products are sold in over 200 countries.
The business of Coke is, when truly considered, staggering. Fifty-five billion beverages are served daily. Branded Coke products are served 1.7 billion times per day, equaling roughly 3% of the total. Coke has 14 branded products with sales of $1 billion or more.
Global sales have increased 37% (from $21 billion to $29 billion) from 2003 to 2010. Operating revenue grew 58% from $6 billion to $10 billion. Including the bottling segment, 2010 revenues: $35 billion with operating profit of $8.5 billion.
North America is the largest geographic segment with 41% of beverage sales. The Pacific Rim is second with 18.4% and the EU & Latin America around 15-16%. Growth has been led by Latin America in both revenue and profitability with 90% and 147% growth respectively. Growth in operating profits ranges from 40% to 60% in the other segments except for the competitive North American segment, where profits grew at 18%.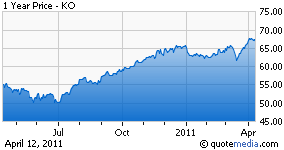 Unit volume growth and operating income growth have exceeded company targets three out of the last five years at over 4% and over 8% (respectively).
The company has stated its goal to double revenue by 2020. They believe that volume will be by the fast-growing markets and improvement in North America. Brazil, Coke's fourth-largest market, has a large population, strong economy, and good teen demographic, and Coke has grown at 3.5 times GDP for the last five years. China and India have grown volume on average at 15% and 13% for five years. North American improvement in organic volume should be driven by the teen demographic and high disposable income.
How does your choice reflect your fund's investment approach?
Horizon Capital Partners provides investment management to individuals and institutions through separately managed accounts. We consider our approach a fundamental opportunistic type of strategy. We search on a global basis in an attempt to find assets for our clients which provide a risk/reward ratio consistent with their investment policy. We are driven by fundamental analysis with respect to the top-down and bottom-up perspectives. Opportunistically, we want to take advantage of the inefficiencies the noise of the financial markets provides to investors.
Coke is a good reflection of our equity philosophy. We believe that management must be committed to creating value and delivering value to shareholders. The ultimate measure of this is the return on invested capital and free cash flow that is generated by the company.
The company generates significant return for shareholders. Fundamentally, Coke has generated 16-19% return on assets; 27-40% percent return on equity; and between $1.6 billion and $3.2 billion in free cash flow, with all three metrics peaking in 2010. Coke has returned to shareholders $27.4 billion in cash the last four years in the form of dividends and share buybacks. The stock has provided a total return of 83.81% from 2006 to 2010, vs. the S&P 500 total return of approximately 9.31%.
Can you talk about the sector? How much is your selection based on KO's industry, as opposed to a pure bottom-up pick?
Yes; Coke operates in the nonalcoholic ready-to-drink beverage market. The top 10 companies have a market capitalization of $328 billion. In the last year, total revenue was roughly $106 billion and income of $17 billion. They had an operating profit margin of 16%. Over the last five years, revenue grew at 12.18% on average and income at 11.51% on average.
Globally, in 2009, Coke and Pepsi ranked No. 1 and No. 2 in soft drinks. Nestle (OTCPK:NSRGY), Suntory, and Dr Pepper rounded out the top five. In the U.S., Coke has the top two selling products - Coke and Diet Coke - and Pepsico (NYSE:PEP) had Nos. 3 and 4 with Pepsi-Cola and Mountain Dew. Dr Pepper finishes the top five. Bottled water stacks up with Nestle; Coke; Pepsi; and Evian. Nestle has two brands in the top five.
In the U.S. last year, all categories of nonalcoholic beverages grew with the exception of refrigerated juices. The gains were led by sports drinks and ready-to-drink tea.
Our selections are based on the industry to the extent we see a top-down opportunity that is going to be manifested within that industry. Global macro drivers will point us in the direction. We will look for specific opportunities within those industries. At that point, it becomes a bottom-up approach to finding the right investment.
How is Coca-Cola positioned with regard to competitors?
The beverage market environment has several dominant economic factors: market size, growth rate, and profitability.
The macro opportunity in this industry is large. In 2009, during Coke's 2020 Vision presentation, they presented UN projections showing that the global middle class will grow from 1.2 billion people today to 2.2 billion by 2020. Historical evidence shows a strong correlation between a country's per-capita expenditures and per-capita industry consumption. This is where the battle is going to be waged for growth.
The IMF projects long term global growth of 3.5% thru 2050. China and India compose roughly one-third the global population and are projected to grow at 8%-10% until 2015. This will provide substantial opportunity for the industry as a whole.
In this industry, companies not only compete with each other, but many substitutes. The company competes fiercely in the traditional brands, especially in the North American market. In this market, they are relying on new flavors and other noncarbonated beverages to drive their growth. The emerging-market landscape will be much more oriented to the marketing and branding arena.
Maintaining ROIC through profitable growth will be the key to driving cash flow and increasing market value and shareholder returns in this industry. Coke and Pepsi compose roughly 78% of the top 10 companies' sales in U.S. dollars. Coke has a distinctive edge on Pepsi from more than one aspect, but Pepsi's food business will divert time and resources from the beverage operations. Coke's business, as well as being more focused, has produced better results. Higher average operating and net profit margins, higher return on assets, lower capex, and higher free cash flow. The market has not ignored these metrics. Coke has provided a total return of 61.01% vs. Pepsi's 37.99% from 2001-2010.
As you allude to, after a long period with Coke and Pepsi as the top two carbonated sodas, Diet Coke has displaced Pepsi at No. 2. Is that development more about long-term trends toward diet sodas, or a more meaningful victory for Coke over food-heavier Pepsico?
We believe that there is a general trend to diet soda working to benefit the product group, although sales of diet in 2010 were down for the U.S. As far as Diet Coke surpassing Pepsi-Cola to reach the number two position in cases shipped in the U.S. in 2010 - this we think is just Coke beating Pepsi on the ground in the U.S. and globally. The Coca-Cola system sold approximately 25.5 billion unit cases of products in 2010, approximately 24.4 billion unit cases in 2009 and approximately 23.7 billion unit cases in 2008.
How does the stock's valuation compare to its competitors?
The top 10 companies have a market cap-weighted average multiple of 3.3 on enterprise value/revenue, and market cap-weighted five-year P/E range from 27.52 to 17.16. Currently they are trading a weighted P/E of 21.91. The current P/E ranges from a high of 127.37 for Fomento Economico Mexicano (NYSE:FMX) to a low of 13.31 for Coke. Forward P/Es have a tighter distribution ranging from 73.11 to 13.57.
Coke and Pepsi trade in the No. 10 and No. 9 positions at 13.31 and 16.67. This may be explained by the relative growth and return on capital positions of the companies. Coke has a ROIC of 23.91% annually for the last five years, and growth of revenue per share of 9.29% per year. Pepsi's ROIC was 19.96% and revenue per share growth of 13.43%. Assessing how the market assigns value to Pepsi and Coke may come down to a view that the foods division of Pepsi is more exposed to potential inflation and therefore requires a higher cost of capital to compensate for this risk.
Does your view differ from the consensus sentiment on Coca-Cola?
Currently the Reuters consensus has an Outperform recommendation with a price target mean of $71.73 and I/B/E/S estimates have it rated a Buy to Strong Buy with a price target mean of $72.20. Currently the price is in the upper $60s range. Our view is the same. We don't set a price target, however. Our view would change with the opportunity presented by the macro environment for the company. This is coupled with the ability of the company to take advantage of the opportunity by creating and delivering shareholder value.
Does the company's management play a role in your selection? If so, how?
Yes! We believe management must have a commitment to deliver value to shareholders. Coke has done that consistently. They have returned cash to shareholders and generated consistently high ROIC.
What catalysts, near-term or long-term, could move the stock significantly?
In the near term the stock price will be heavily influenced by the general market trends. They would benefit from increasing profitability in the North American segment. They presented data at the Consumer Analyst Group Conference showing North American brands increasing consumer value over competitors; growing share vs. competitors; strong focus on the inventory management increasing returns; premium price per unit in sparkling; and from 2006 to 2010, increasing value share in all still beverages.
Solidifying and continuing the progress in North America with higher profitability, I believe, would be a significant catalyst.
Speaking of North America: After criticizing Pepsico for buying bottlers, KO reversed course last year and bought its North American bottling operation (part of CCE) to help with noncarbonated distribution. At the time there were worries the cost would crimp buybacks, but KO repurchased $3B worth of shares in Q4 anyway; is carrying bottling likely to affect dividends/buybacks going forward?
If you look at the profitability of the North American market segment, you will see a substantially lower margin than the other segments. I believe this is the driver for the integration. CCE was generating free cash flow of around 5-8% of revenue, which is likely to rise considering they estimate $350 million in synergy over four years. This shouldn't have a negative impact on the cash returned to shareholders.
What could go wrong with your pick?
Of course many things could go wrong! I think right now inflation is the timeliest issue. Inflation in the emerging markets is already at hand. Both China and India are in the midst of raising interest rates to combat it.
Other issues: protectionism, nationalism, and poor execution are always risks.
Thanks, Christian, for sharing your choice with us.
Disclosure: Horizon Capital Partners is long KO in client accounts.
Read more Just One Stock interviews »
If you are a fund manager and interested in doing an interview with us on just one stock or ETF position you'd hold, please email us at Just One Stock.