Fairfax Financial (OTCPK:FRFHF) is an insurance holding company that has followed a path to success similar to Berkshire Hathaway (NYSE:BRK.A). When investing in Fairfax, you are really investing in CEO Prem Watsa's abilities to allocate capital (the insurance float) into investments that are profitable. It is precisely Watsa's ability to do this that has generated such above-average returns for shareholders over the past 25 years.
Click to enlarge:

Fairfax's insurance business has had little to do with the company's success other than providing the temporary capital with which to make its investments. I say "temporary" because that is exactly what Fairfax's float has been. On average, Fairfax's insurance business actually costs it 2% of float a year. But Watsa's ability to seek out above-average returns has allowed for this 2% to be covered and still provide superior returns.
This cost of float is a substantial difference between Berkshire Hathaway and Fairfax. Berkshire has prided itself on being built upon high-quality insurance companies, where Fairfax's insurance portfolio has been mediocre over the years. Fairfax's insurance companies have grown substantially over the years though and may deserve a little more credit than I currently give them.
Despite Fairfax's mediocre underwriting history, there is reason to believe that insurance will play a more critical role in Fairfax's returns in the near-future. One reason for this is the recent acquisition spree with purchases of high-quality insurers and taking many investments at equity private. If Fairfax can bring its average underwriting up a few notches, it can grow float at no cost (a goal of Watsa's) and then investors can expect to add, on average, an additional 2% of float onto their returns on book value.
This may not be substantial but that additional 2% can turn into wonders in Watsa's hands if he continues compounding it at 20-25%. With a company that is worth only $8 billion and that pays a dividend/repurchases shares that consistently reduces capital, it should be a little easier for Prem to continue with this compounded growth than it will be for Buffett going forward.
The second reason that insurance operations will become more notable going forward is that most of Fairfax's equity positions are hedged due to Watsa's fears of deflation in the long term. This means that most of Fairfax's gains, if any, will come from its bond holdings and its insurance business. If a deflationary environment does occur, then it will likely be Fairfax's bonds and derivative investments that drive future returns.
I have arranged an analysis of Fairfax's insurance operations to get/give an idea of how they can be expected to perform in various market conditions. Part Two of the analysis involves the potential performance of the investments and their potential returns.
Below is a chart that lists all of Fairfax's operating subsidiaries and their net premiums in 2010.
Click to enlarge: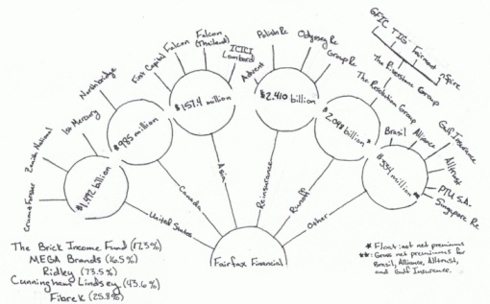 When looking at this chart, it should be noted that premium levels are significantly depressed and that Fairfax is operating with a lot of excess capacity. Fairfax has made a habit of reducing the amount of premiums written in soft markets to prevent itself from underwriting a large amount of insurance at a loss. Fairfax loses market share in competitive pricing environments and then works to earn it back as markets begin to turn more favorable.
To give an idea of exactly how much Fairfax and its subsidiaries have cut back, consider these examples. Subsidiary Zenith National has decreased the amount of premiums written by 50% over the past few years. Subsidiary Crum & Forster's net premiums are down nearly 33% since 2007. An accepted ratio that measures underwriting performance is the number of premiums written to statutory reserves. In previous hard markets, Fairfax has achieved as high as 1.5x statutory reserves in premiums. Fairfax is currently operating at about 0.5x statutory reserves, suggesting upside potential of 200-300% in premiums if insurance pricing improves.
Insurance Operations
Fairfax operates three insurance companies in North America: Crum & Forster (P&C), First Mercury (Surplus and Specialty), and Zenith National (Workmen's Compensation). These three had total premiums of $1.492 billion* in 2010. The Zenith National addition closed in 2010 and the acquisition of First Mercury closed in February 2011.
*This figure was calculated taking Crum & Forster's premiums as reported in Fairfax's 10-k, Zenith National's premium from May-December as reported in Fairfax's 10-k, and First Mercury's premiums as reported in First Mercury's 10-k.
Crum & Forster has averaged a combined ratio of 99.8% from 2002-2010 and compounded growth has been about 17% for the past ten years. Zenith National has a 30 year average combined ratio of 95%. First Mercury has an average combined ratio of 93.2% over the past nine years. It is obvious that these latter two companies are two exceptional underwriters with consistent profits on underwriting. Over the long term, these companies should help Fairfax grow float at no cost or better.
Fairfax's Canadian insurance operations are mostly limited to its P&C subsidiary Northbridge. Northbridge wrote $985 million in premiums in 2010 and had a combined ratio of 107.3%. From 2002-2010 its average combined ratio was 95.6% and \average compounded growth was at about 17% for the past ten years. Clearly Northbridge is another insurance company that has attractive underwriting abilities.
Fairfax Asia includes the results from First Capital, Falcon Insurance, Falcon (Thailand), and ICICI Lombard. Fairfax owns 98%, 100%, 40.5% and 26% of these companies respectively.
Together, as a group, there has been compound growth of 23.6% per year from 2002-2010. Fairfax Asia is actually reporting stellar results at the moment, with a combined ratio of 89.3%. Fairfax's total share of these gross premiums and their investment portfolios is $607 million and $834 million respectively with a large majority attributed to ICICI Lombard. Fairfax reports $157.4 million in net premiums from this segment because only the results of First Capital and Falcon are consolidated. The performance of the other investments will show up in book value as they appreciate in value and pay dividends.
Fairfax also operates in the re-insurance markets with Odyssey Re, Advent Re, Polish Re a.k.a PTU S.A., and Group Re. Odyssey Re is by far the largest contributor from this group. Odyssey Re reported premiums of $1.9 billion in 2010 with a combined ratio of 89.3%. Odyssey's average compound growth from 2001-2010 was 20.4% and the average combined ratio from 2002-2010 was 91.2%.
Advent is based in the U.K and had net premiums of $214.3 million. Polish Re collected $68 million in premiums from its operations in Eastern Europe and Group Re wrote net premiums of $243.3 million.
Runoff is an interesting segment that Fairfax is involved in and it owns two run-off management companies: The Resolution Group and the RiverStone Group. The Resolution Group provides the management to the Riverstone Group and acquires/manages runoff portfolios under the RiverStone name. The runoff portfolio consists of General Fidelity Insurance Corporation, Fairmont Specialty Group Inc., nSpire Re Limited, and TIG Insurance Company. The runoff group has produced pre-tax income of $392.6 million and $31.2 million in 2008 and 2009 respectively. Including the purchase of GFIC in 2010, runoff accounted for $140.3 million in pre-tax income. The exception gains in 2008 were due to gains on investments with little detail provided.
Investments at Equity
Last, but not least, Fairfax has significant equity investments in other insurance companies and unrelated businesses.
Fairfax Brasil began operating in Brasil in 2010 and wrote gross premiums of $35 million. Fairfax owns 100% of Fairfax Brasil.

Alliance is a Dubai insurance company that Fairfax has a 20% stake in. Alliance had a combined ratio of 74% in on $82.9 million from Sept. 2009 to Sept. 2010 and has $227.4 million in investments. Fairfax's share of the earnings on premiums and its portion of the investment portfolio in 2010 equates to nearly $50 million dollars.

Gulf Insurance is an insurance company that operates in Kuwait. Fairfax purchased a 41% interest for $217.1 million in 2008. In 2010, Gulf Insurance wrote $417.6 million in gross premiums and earned $33.2 million with an investment portfolio value at $552 million. It has an average combined ratio of 94% over the past 10 years. Fairfax's portion of the earnings and investment portfolio is $239.9 million in 2010.

Alltrust is an insurance company that operates in China. Fairfax carries its 15% stake in Alltrust on its books at $68.7 million. Alltrust wrote $741.5 million in premiums and has an investment portfolio of $796.1 million. I have been unable to determine how profitable Alltrust has been in its insurance operations but Fairfax's portion of the investment portfolio is worth nearly 2x the amount that Fairfax carries the company on its books at.

Pacific Insurance Berhad was wholly acquired and the deal is expected to close in the first quarter of 2011. Fairfax is not allowed to own more than 70% of the company and will divest 30% within a year of ownership. Fairfax paid $64 million for this 100% stake. Not much else has been said about this transaction.

Polskie Towarzystwo Ubezpieczen S.A. a.k.a. PTU S.A. is a Polish P&C insurer that Fairfax owns 22.7% of.

Singapore Reinsurance Corporation Limited has a fair value of $30.3 million and is carried on Fairfax's books at $28.7 million. Fairfax owns 22.2% of this company.

Cunningham Lindsey Group Limited is an insurance loss-adjusting group. Fairfax owns 43.6% of the company with a carrying value of $128.9 million. Currently, Cunningham Lindsey has a fair value of $186.1 million.

ICICI Lombard General Insurance Company is India's largest private insurer. Fairfax has paid $88.1 million for its 26% stake in the company and the investment is carried at $94.2 million on the balance sheet with a fair value of $266.5 million. This investment is included in Fairfax Asia in the company's financial statements. ICICI has 10.1% of the Indian market but competitive pricing pressure has made the current underwriting environment difficult. ICICI had gross premiums of $913.5 million with an investment portfolio valued at $953 million. Fairfax's 26% in the investment portfolio is worth $247 million alone (281% higher than what Fairfax paid for the stake!).

The Brick Income Fund is an open ended mutual fund that sells holdings in the The Brick Warehouse LP which is a Canadian retailer of household furniture. Fairfax owns 17.3% of the fund.

MEGA Brands was a troubled toy maker that hit financial difficulties amidst product safety issues. Fairfax saw an opportunity and now owns 16.5% with warrants to purchase more common stock at $0.50 per share up until 2015. If these warrants are exercised, Fairfax will own 30+% of the company.

Ridley is an animal nutrition company that Fairfax bought a stake in back in 2008. Fairfax currently owns 73.5% of the company.

Fibrek is a paper, wood, and pulp company that Fairfax was able to acquire an interest in during a refinancing that Fairfax assisted in. Fairfax owns 25.8% of Fibrek.
In the charts below are several different scenarios that could play out for Fairfax and my estimates of Fairfax's premiums written and profit/loss from its most prominent insurance businesses. I have had no prior experience forecasting insurance companies' performance so it is likely that these numbers will be wrong. But it serves to give readers an idea of the possibilities.
Click to enlarge:


Fairfax lost a substantial sum in the insurance business last year with a consolidated combined ratio for the year of 105%. This resulted in a loss on the insurance business of near $230 million.
I do not see results changing too much this coming year unless something substantial happens to change the soft markets in North America, which are acting as a huge drag on Fairfax's insurance operations. Asia may stay a strong P&C area with all of the natural disasters that have occurred in the last year or two but that also exposes Fairfax to a greater amount of risk from exposure to that area.
I have the scenario that I envision to be most likely in bold in the charts above. I am expecting Fairfax's North American operations to benefit largely from hopeful improvements in Zenith's 137% combined ratio in 2010. If this occurs, we can expect losses from Fairfax's insurance units to be around $200 million, when including the small insurance subsidiaries not listed in the charts above.
While it is unlikely to occur in the near term, Fairfax's potential to generate large profits in this area for the next hard market should encourage investors to buy in and now and simply wait for the next hard market. It is easy to see a scenario where Fairfax is making several hundred millions in the insurance business even before investment gains if insurance market pricing improves in North America and Canada.
When we consider this proposed loss of $200 million from its insurance operations with the investment income and capital gains of $700 million estimated in Part II, we get net gains of $500 million. This results in a gain of $24.50 per share and represents an earnings yield of 6% and does not include any appreciation/depreciation in assets held at equity.
This is hardly something to get excited about until you look at it the right way. What you have in Fairfax is a company that will have modest returns while acting as a hedge instrument that will do insanely well in the event of a double-dip or deflation (explained in part II). Also, you will gain exposure to Fairfax's insurance operations so that you can benefit from any turnaround in the insurance industry. Lastly, you gain exposure to one of the greatest capital allocators of our time at a point in time where it is not being priced into the stock. Sure, the next year or two may look "grim" for Fairfax but in the long-term it is likely that it will perform as it has for the past 25 years. If you can get this company at book value, or below book value, as it has been available off and on for the past two or three months you should do very well for yourself in the long-term.
Disclosure: I am long OTCPK:FRFHF.
Disclaimer: All investors are encouraged to due their own due diligence. There may be inaccuracies in regards to the numbers reported above due to mistakes in math or misunderstandings of the 10-k. Investors should verify all numbers for themselves.