Rackspace (NYSE:RAX) will be offering its cloud services to Asia Pacific customers later in the year, according to to Jim Fagan, the company's Hong Kong-based VP and Managing Director for the region, as reported in an interview with SYS-CON:
Q: Rackspace has been a leader in web hosting, and now Cloud hosting, for some time. How quickly is the Cloud Computing business growing in APAC, and where are some of the brightest spots?

A: We have nine data centers and thousands of support experts at the ready. In APAC, thousands of clients are already using our Cloud services in the US and Europe, but we're expecting even more satisfied customers later this year when we bring our Rackspace Cloud to Asia.

There is already a high demand for our Cloud product in the region, and SMEs, in particular, are quite excited about it. Cloud makes everything it touches easier and cheaper - and with our great, fanatical support services - even better.
Rackspace cloud offering is available in the USA and United Kingdom at the moment. However, the company has had a data center presence in Hong Kong since 2008, when the company leased about 6,500 sqft. from PCCW Powerhouse Data Center Services in Hong Kong
According to peeringdb.com, Rackspace leverages both Equinix (NASDAQ:EQIX) and MEGA iAdvantage in Hong Kong for peering purposes (connecting to local and international networks and ISPs).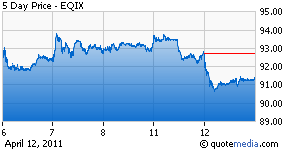 On March 30, Rackspace, Equinix and Dell (NASDAQ:DELL) announced a partnership to to develop an OpenStack™ cloud demonstration and test environment. The demo environment is already available in three data centers: the Equinix International Business Exchange™ (IBX®) in Silicon Valley, Calif., and Ashburn, Va., and the Rackspace data center in Chicago, Ill. The companies, however, plan to extend the service to additional demo environments in Equinix data centers in Europe and Asia, in the second quarter of 2011.
Given the fact that the Hong Kong data center has been available to Rackspace for its hosting services for a quite a few years, and that it is relatively limited in space, and considering the existing relationship with Equinix both for peering and cloud computing, we speculate that Rackspace's expansion of its cloud offering to Asia might also benefit Equinix, that we see as a preferred partner in the region.
Equinix opened the last expansion of its HK1 data center (phase VI) in Q2 2010, adding about 500 cabinets to the facility. The next expansion, the new HK2 data center, is due to open in Q3 2011, offering a total capacity of about 1,450 cabinets. Asia Pacific is experiencing an average 79% occupancy for Equinix, and the Hong Kong data center was already operating at more than 70 % utilization in August 2010, according to Jonathan Leung, managing director, Equinix Greater China. Hong Kong represents a key hub for banking and financial companies in the region.


Disclosure: I am long EQIX.