JPMorgan (NYSE:JPM) gets a lot of press for being one of the best-run large banks in the country, and that praise is well deserved up to a point. Like virtually every bank earnings report these days, there are certainly some areas of trouble and concern, but overall the results would seem to offer a strong validation for how CEO Jamie Dimon positioned the company both for the credit crisis and the recovery.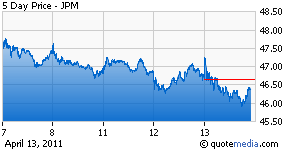 Overall the company did report some upside in total revenue (around $500 million depending upon whose "average" estimate you use) and earnings were $0.12 ahead of average expectations. JPMorgan saw about a three-cent net benefit from special items, so overall profitability was solid. Details matter, though, and a large part of JPMorgan's outperformance was due to the investment banking operations.
I-Banking A-Ok
Investment banking was the only area to show sequential revenue growth and a clear area of strength for JPMorgan this quarter. Although banking fees were down a bit, trading was exceptionally strong this quarter – defying the expectation of generally weak trading results from big banks this quarter.
Time will tell if JPMorgan's rivals like Citigroup (NYSE:C) and Bank of America (NYSE:BAC) can match this performance and trading results are notoriously volatile, so this is not the sort of outperformance that should really excite long-term holders.
Underlying Core Banking Still Mixed
Looking at the operations of JPMorgan's retail banking and credit card business, it is pretty clear that times are still tough. Net interest income dropped about 2% on a linked basis and fee income fell 5%. Mortgage loans dropped 29% on a sequential basis and auto loans were flat. Looking at the bigger picture, consumer loan balances fell 3% while wholesale loans rose 4%. Lending is still a core function of banks and a key sign of economic health, so that flattish loan performance should be a warning to those feeling too confident about the health of the economy.
Provisioning is still a mixed bag. Charge-offs are getting better but they're still high on a historical basis and management guidance suggests this isn't about to change soon. Interestingly, JPMorgan's results suggest that people continue to pay their credit card bills at a more reliable rate than mortgages, so that has to be a positive take-away for companies like Capital One (NYSE:COF) and Discover (NYSE:DFS) with larger credit card exposures. On the other hand, credit cards loans were down about 6% on a sequential basis so it's not all great news.
Though it amounts to trivia at this point, it is interesting to note that JPM reported a charge-off rate of 1.1% in its prime mortgages for the first quarter as opposed to 6.8% in the subprime business. In other words, the subprime mess is not over yet.
The Bottom Line – Still Too Cheap
JPMorgan has been migrating to higher-quality loans and looking to use its relatively strong balance sheet as a competitive weapon to gain market share. In fact, Jamie Dimon has talked about actual organic retail banking branch growth – looking to build share in retail banking the old-fashioned way instead of just looking for the next big deal.
While it is clear that loan growth and net interest income are not impressive yet, the health of the respective balance sheets argue that banks like JPMorgan and U.S. Bancorp (NYSE: USB) will be among the banks in best position to grab the reigns when the situation improves. What's more, with the health of its business JPMorgan can afford to entertain the possibility of expanding into new markets – including overseas banking.
If JPMorgan can maintain low teens returns on equity, the stock is undervalued enough to be appealing to almost any investor. With a reported return of equity of 13% and return on assets of 1.07% this quarter, that's an encouraging sign. Investors should certainly check out the company's later SEC filings (where there is more detail on the credit situation), but this is definitely an attractive play on the recovery of the banking sector.
Disclosure: I am long JPM.