Another day, another misleading report from analysts regarding the state of the offshore drilling sector and impacting the stock prices of Seadrill Ltd (NYSE:SDRL), Transocean LTD (NYSE:RIG), ENSCO PLC (NYSE:ESV), Noble Corp plc (NYSE:NE),Diamond Offshore Drilling Inc (NYSE:DO), Rowan Companies PLC(NYSE:RDC), Atwood Oceanics, Inc. (NYSE: ATW) and Ocean Rig UDW Inc (NASDAQ:ORIG).
Misleading
The report this time came from analysts at Credit Suisse, who commented on the state of the jackup market and concluded that over the next few quarters, due to oversupply, the market will see a large number of units cold stacked and taken out of the fleet as companies try and grapple with market oversupply.
According to Credit Suisse:
"…While some industry vets put the number of required floater retirements to balance the market at 50 (makes sense as ~50 UDW floaters are scheduled for delivery from 2014-2016 at established yards) we are thinking the number is closer to 30. Bottom line: more rigs need to be stacked to balance the market and this only happens if the market continues to languish - no one will stack a rig in a rising market…"
However, only a day after, Ensco's management commented that:
"…customers are not focused solely on new iron. They want complete drilling solutions from dependable contractor drillers with proven operating systems. As we mentioned last quarter, more than half of the newbuild rigs on order are from inexperienced speculators, and none of their newbuild rigs have yet to be contracted…"
As testament to this strategy management pointed out that:
"…Since our last call we have contracted five Ensco jackups for multi-year terms, four of which are more than 30 years old…"
Additionally, Transocean recently announced the contracting of the Transocean Honor, which was awarded a one year contract extension in Angola at a dayrate of $194,000. The rig's prior dayrate was $155,000. What's more, during October Transocean found a customer for one of its idled rigs, the Transocean Amirante at a dayrate of $335,000.
Adapting fleets
Still, while Credit Suisse may have made a misleading statement regarding the impact that newbuild rigs will have on the market, analysts were correct to mention the fact that older jackup units are now starting to be taken out of service.
During the third quarter Ensco cold stacked five floaters, one of which is still in the process of stacking at quarter end. Credit Suisse has noted that Diamond and Ensco have already started the stacking/writedown process with some older units. This should not be viewed as a bad decision.
Diamond reported third quarter non-cash impairment charge of $109 million before tax during the quarter as a result of retiring and scrapping six semisubmersible rigs. Net income declined by 44% to $52.6 million as a result. Ensco also took some impairments during the second quarter.#
From Credit Suisse:
" …Last quarter Ensco announced plans to stack 5 floaters and hold them for sale (we expect buyers to be limited) and also announced plans to stack the DS-2 for a total of 6 stacked rigs since last October…[additionally] 5 stackings from Diamond Offshore in the last year for a total of 11 stacked rigs between Diamond Offshore and Ensco…"
To some extent these stackings are prudent moves by Diamond and Ensco. The two companies are rearranging their fleets and writing down the value of older units, which makes sense, especially when older units aren't going to be in demand anymore. It's likely that the units written off will have paid back their initial investment over their life -- some units are in excess of 30 years old so it's highly unlikely that they wouldn't have paid back their initial investment.
These moves to take older units out of the fleet should reduce oversupply and they're a fairly standard part of industry development over time.
Lots of supply
The problem is that the number of active jackups in the global fleet is only going up, not down, there really have been very few jackups taken out of the fleet during the past 40 years.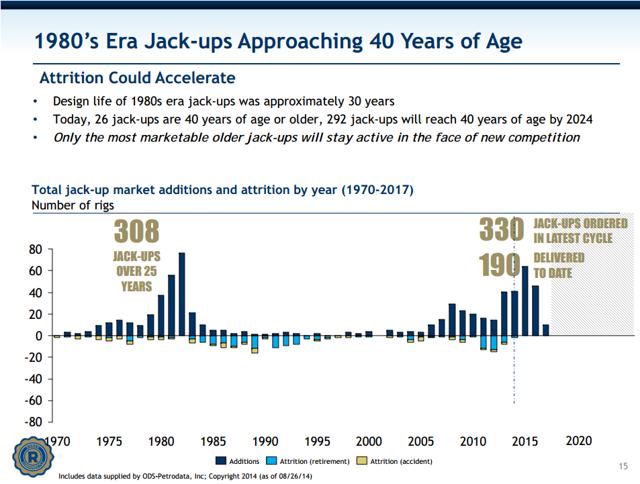 Source: Investor Presentation September 2014
In the chart above, it's quite easy to reach the conclusion that the jackup market is going through a period of cyclical oversupply. The current level of deliveries to the market is set to peak within the next two years, similar to the trend seen during 1982. With jackup supply rising and demand remaining constant (based on the falling dayrate per rig) dayrates are likely to fall much further from current levels until the supply/demand balance equals out. Look at this next chart from Rowan: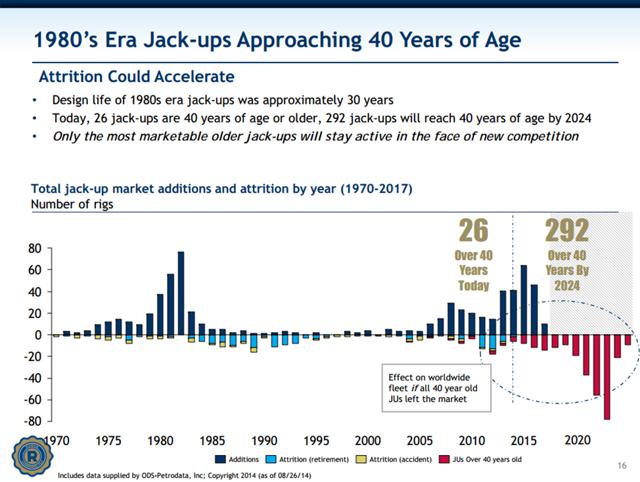 Source: Investor Presentation September 2014
By the early 2020s, the majority of the worldwide jackup fleet will be over 40 years old. This will -- there's no doubt about it -- lead to a large increase in the number of rigs being cold-stacked scrapped, as they are no longer fit for service.
And some older units will soon cost too much to maintain to be economically variable. Seadrill recently came out and estimated that within the floater market, 128 of the 300 currently-active floaters are over 25 years old. 70 of these 128 will require five-year surveys by the end of 2017 to stay up to-date and meet regulatory requirements. These surveys could require investments of up to $100 million. With dayrates collapsing then these investments may not be worth the time. Actually, Seadrill's view is consistent with the cancellation earlier this year of Diamond's Ocean Vanguard contract. The contract between Diamond and Statoil was cancelled due to the fact that the rigs safety systems were not compliant with Norwegian regulations -- a common feature of older rigs. Source.
The bottom line
So all in all, rig providers likely to report hefty writedowns over the next few years as they take older jackups out of their fleets. This is a long overdue action and will clean up and modernize the whole global rig fleet. Over the long-term few older units and a smaller global jackup fleet should push day rates higher.
However, it should be noted that while the global jackup fleet is set to increase over the next few years, newer units with inexperienced crews are likely to see more pressure than older units with experienced crews.
Disclosure: The author has no positions in any stocks mentioned, and no plans to initiate any positions within the next 72 hours.
The author wrote this article themselves, and it expresses their own opinions. The author is not receiving compensation for it (other than from Seeking Alpha). The author has no business relationship with any company whose stock is mentioned in this article.