The past week has placed precious metals in the limelight even more so than before. With gold and silver breaking out to fresh all-time highs, a review of the current health of precious metals markets is in order. Even though the fundamentals of easy monetary policy favor all commodities, we continue to prefer the monetary commodities, precious metals, due to their more direct exposure as an alternative to paper currency.
The following chart shows the price of silver in gray, managed money net longs in green, and producer net shorts in blue.
As can be seen from the chart, the price of silver has risen incredibly. However, what is most interesting is the lack of managed money long participation.
As managed money is comprised of hedge funds, commodity funds, and other large speculators, such a dramatic rise in the price of silver would usually only be accomplished by a large increase in the amount of long speculation, absent a true shortage. However, the chart below shows that the last month and a half has seen managed money net longs decrease by almost 10% while the price of silver has risen 33%!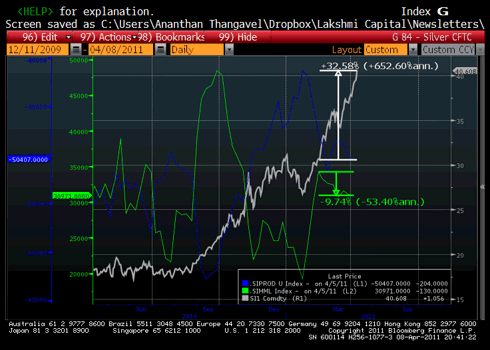 (Click to enlarge)
If futures traders and speculators are not responsible for silver's incredible rally, then who is? The answer is investors. Physical buyers and buyers of silver ETFs such as SLV and PSLV have caused demand for silver to skyrocket.
The fact that the price of silver continues to increase while Managed Money longs have not reached the high of 48k contracts set on 9/28/10 is hugely bullish for silver. The reason for this is that physical and ETF owners of silver are employing far less leverage than futures traders, if any. This means that even if silver were to drop in price, it would not experience forced liquidation and deleveraging that is usually the hallmark of a "pierced bubble." If any party to this silver rally can be described as "hot money" (meaning investors who flee quickly with even just a mild correction in price), it is actually futures traders. The fact that Managed Money has refused to participate in the recent silver rally indicates that silver is climbing the proverbial wall of worry.
We continue to advocate outright long positions in silver at least until managed money longs achieve a new high.
Trade Recommendation
We would advise a long futures position on silver with an option collar to minimize risk. The same position can also be implemented via
SLV
, the silver ETF.
A futures position would entail purchasing 1 July silver futures contract at a price of 40.63, then immediately selling the June 43 call for 1.042 and buying the June 38 put for .855. Such a transaction would provide an effective entry price of 40.443. The maximum profit would be $43 – 40.443 = $2.557, or $12,785, per contract. The maximum loss would be $40.443 – 38 = $2.443, or $12,215, per contract.
With a slightly better than 1:1 risk/reward profile, we view this trade as highly attractive given our bullish disposition. Also, investors could purchase more silver if and when the July contract surpasses $43 in order to maintain long exposure once the short call price is achieved.
Expressing a similar trade through the SLV, one could purchase 100 shares of SLV at 39.86, then sell the July 43 calls for $1.75 and simultaneously buy the July 37 put for $1.63. Such a trade would provide an effective entry point of 39.74 for SLV. The max profit would be $325 per contract/100 shares, and max loss would be $276 upon expiration on July 16, 2011.
Disclosure: I am long SLW. Long silver futures, short silver puts.
Additional disclosure: All information included herein is the opinion of the firm and should not be considered investment advice. Past performance is not necessarily indicative of future results.