Recently, there has been a steady drumbeat of professional money managers and prominent analysts who have turned positive on Chinese equities, particularly the big Chinese banks and property developers. See
this Bloomberg article
for example. Here is a partial list of such positive pronouncements:
Pimco's Maria Gordon, who manages its emerging markets equity fund, has a large overweight position on Chinese equities with emphasis on financial and property stocks. She has said that these stocks are attractive and additionally she has a favorable view of the Yuan. She believes these companies trade at significant discount to their net asset values.
Credit Suisse boosted its 12-month forecast for the Hang Seng China Enterprises Index.
HSBC increased its rating on China to overweight.
Macquarie Group said investors should lift holdings of Chinese stocks.
Citigroup advised buying options to bet on gains in Chinese equities.
Sanford Bernstein raised its share-price estimates for Chinese banks in a recent report.
Last month, Goldman Sachs and Deutsche Bank issued bullish reports on Chinese equities with emphasis on financials.
There is evidence that Chinese equities in general, and Chinese financials in particular, have seen big incoming money flows over the last two months. After under-performing last year, Chinese equity indices, including the Shanghai Composite Index, have out-performed most other major markets this year.
In the following two charts, I use the ETF
CHIX
as a proxy for Chinese financials including banks and real-estate companies. I use the ETF
GXC
as a proxy for the broader Chinese equity market. The first chart shows that CHIX has trailed GXC significantly since its inception in December 2009. However, since mid-February, CHIX has out-performed GXC.
(Click charts to expand)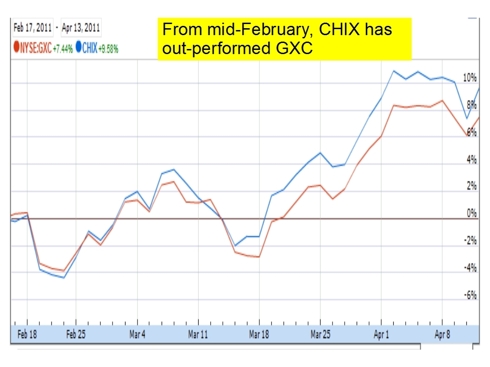 The recent out-performance of Chinese financial stocks is particularly significant given the never-ending concerns about the Chinese property bubble and the bad loans on the books of the Chinese banks. In fact,
another recent Bloomberg article
states that Chinese banks will have to dilute shareholders further and raise more equity in order to comply with government regulations to increase their capital ratios. The banks will apparently need $130 Billion of additional equity over six years; that implies a lot of additional stock sales and shareholder dilution. The banks are already reducing the rate of loan growth; this will reduce their profits going forward.
Despite these concerns, I believe that the big money is right, which means that Chinese stocks in general, and financials in particular, are quite attractively priced. The financials constitute a significant portion of GXC, so you can just buy GXC. Alternatives include buying the real-estate ETF
TAO
, or the ETF
FXI
. I prefer GXC to FXI since GXC is more broad-based, but FXI is not a bad proxy for the large-cap financials.
Even though I have used CHIX as a proxy for the financials, I would not advocate buying CHIX. This is because of its paltry $7 Million AUM and its relatively thin trading volume. ETF providers have a habit of shuttering funds that don't attract at least $10 Million AUM within two years of launch. After more than a year of trading, CHIX is still beneath that threshold. So, if you buy CHIX, don't be surprised if it is liquidated and your money is returned. If that happens during a market downturn, you are out of luck.