I took a hiatus from my daily post yesterday so that I could evaluate the latest trades in my High-Probability, Mean-Reversion Strategy.
I closed out my Silver (NYSEARCA:SLV), Russell 2000 (NYSEARCA:IWM) and S&p 500 (NYSEARCA:SPY) positions during the last two trading sessions for an nice overall return.
Both the SLV (+19.8%) and IWM (+21.3%) trade were profitable. However, the SPY trade did not experience the same good fortune. The strategy experienced its first loss since it was initiated back in November as SPY lost 20.2%.
The High-Probability, Mean-Reversion strategy is now up 34.6% since it was initiated six months ago with a win ratio of 92.3%. So far the strategy is up 14.2% for the month April.
Obviously I am pleased with the win ratio (92.3%) since I initiated the strategy, but I am a realist. I realize there is no holy grail in trading. One thing that I do know for certain is that I have a unique, concrete and most important, profitable options trading strategy that makes the world of sense to me and I trade it to make money over the long-term. Furthermore, I realize that the less I trade, the better my strategy will perform over the long run: and the long run is what matters.
Current State of the Market
There are several oversold ETFs listed below and a few of them are currently on my short-term watch list. However, none of ETFs has yet to push into an extreme oversold state, but another day of declines will surely create a few extreme states. If so, I could be making yet another trade in the strategy.
As always, if a trade does come to fruition, I will let my paid newsletter subscribers know in real-time. Stay tuned!
Have a great night!
Short-Term High-Probability, Mean-Reversion Indicator – as of close 4/13/11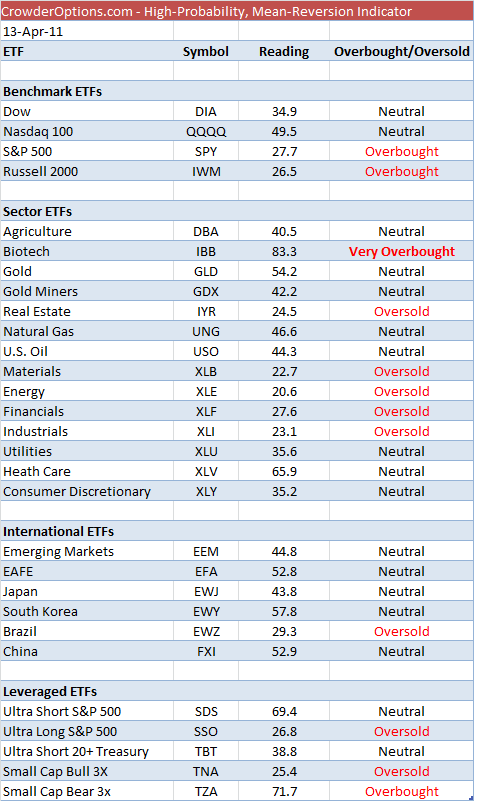 (Click chart to expand)

Disclosure: I have no positions in any stocks mentioned, and no plans to initiate any positions within the next 72 hours.