Amarin Corp. (NASDAQ:AMRN) is expected to release the highly anticipated phase 3 ANCHOR trial data for its mixed dyslipidemia product candidate, AMR101, in the not-too-distant future. The compound has, thus far, demonstrated impressive safety and efficacy in previous clinical studies and is expected by many to eventually compete with drug giant GlaxoSmithKline's (NYSE:GSK) product, Lovaza, for a share of a multi-billion dollar market.
In the last month there has been a swell of bullish sentiment towards Amarin, as its stock seems to be running in to the pending trial data release. Since 03/15/11, it has seen a steady and rhythmic 15% climb to its current price of roughly $8.50 per share. The stock is sitting just 14% below the higher end of its 52 week trading range of $1.62 - $9.66.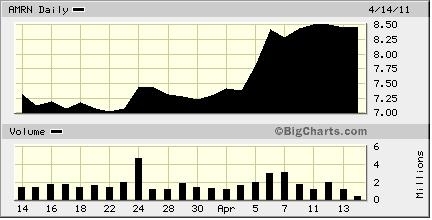 The already miniscule short interest in Amarin decreased by 32% during Q1 2011 and is now just 2.5% of the float, while institutional ownership has been on the rise with heavyweights like George Soros jumping in recently. Knowing that there is currently a $25B market for dyslipidemia, it easy to understand why some investors have suggested that positive phase 3 results for this indication would immediately put the company into "takeover candidate" status.
Are positive phase 3 results already baked into the company's share price?
Though some have taken into consideration the possibility that the yet-to-be-released trial data may be less than stellar, analysts' still have an average one year price target of $11.50, which represents a respectable 35% premium to current levels; However, I would be remiss if I failed to note that in the event the data were to be unexpectedly disastrous (highly unlikely), the stock has a long way to fall before reaching its 52 week low. Additionally, the company has yet to bring a product to market, is far from generating any sales revenues, and its pipeline consists of just the one compound.
Few things are certain in the biotech world, but given the success of the company's previous MARINE trial for AMR101, there is little reason to believe anything aberrantly negative will come to light in the upcoming phase 3 ANCHOR trial data release. Because this sentiment has been echoed for weeks now, I expect a sharp and immediate price increase after the PR hits the wires, followed by a normal profit-taking-sell-off into the news. As such, I plan to lighten my position a bit after the data is released and will be on-watch for any oversold conditions to exploit in the days to follow.
Disclosure: I am long AMRN.