Sektkellerei Schloss Wachenheim is a small-cap German wine producer and marketer that is mostly focused on the sparkling wine category. The current company came into existence through the merger of Schloss Wachenheim with the Sektkellerei Faber of Trier in 1996. Its German business also includes the Sektkellerei Wismar, which is focused on smaller-scale production of more high-quality products. Sekt is oftentimes considered the German term for sparkling wine, which is not entirely correct. Sparkling wine is more of a category term, which includes all wines that have carbonation whether high or low in quality. For example, Champagne is a product that also belongs to the sparkling wine category but which has a higher quality than most other products found in the category. In order to create more clarity on the category as a whole and the positioning of Sektkellerei Schloss Wachenheim's products we have created a table that shows the different production methods and product classifications within the category (below).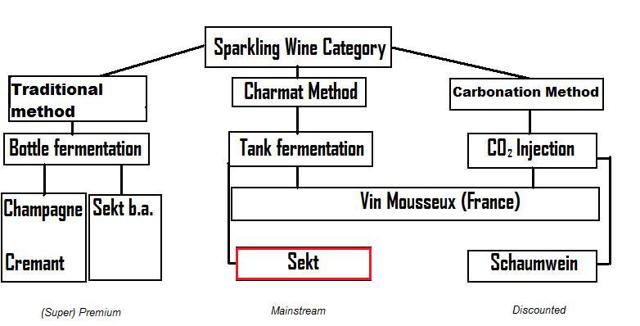 Still wines are produced through a fermentation process whereby yeast is added to the pressed grapes to convert the sugars into alcohol. In sparkling wines there's also a second fermentation process necessary to produce the carbonation, which is achieved by adding a mixture of yeast and sugar to the wine. There are generally three methods of production to make a sparkling wine. The traditional method (or méthode champenoise) uses a bottle fermentation process whereby the carbonation is the resultant; the yeast converts the sugar into CO2 which carbonates the wine. This is generally the most expensive process but also leads to the highest quality product since it creates the longest-lasting bubbles. In France products that originate from this method are referred to as champagne (for a certain region) or crémant, while in Germany they're called sekt b.a.
The Charmat method is a way of producing sparkling wines that is cheaper than the traditional method, because it uses much larger wine batches that are fermented in tanks. Bottling the finished wine takes place under pressure to preserve the carbonation. This method produces wines with natural sparkling but less powerful bubbles. Sparkling wines in France that are produced by this method are referred to as vin mousseux, while in Germany they're called sekt. The final production method to make a sparkling wine is through carbonation of still wines by injecting CO2 into them, similar to soda production. This method is of course the cheapest but generally considered to result in an inferior product when compared to the other two. The bubbles in these wines are less powerful and run out faster. German sparkling wines in this segment are called Schaumwein, while French wines in this segment are also called vin mousseux. Unsurprisingly the market positioning of the products that come out of these different production methods is distinctly different, as can be seen in the table. Traditional method products such as Champagne and Sekt b.a. are generally (super) premium products, whereas Charmat method-products are usually mainstream/mid-price (sekt or vin mousseux) and CO2 -injected sparkling wine (schaumwein or vin mousseux) is usually for the discounted category.
Sekt, which is the most important product of Sektkellerei Schloss Wachenheim, is generally used to describe sparkling wines produced in the countries of Germany and Austria (as well as some parts of the Czech Republic and the Ukraine). Sekt produced through the traditional method in certain high-quality grape areas in Germany is referred to as Sekt b.a. (bestimmte Anbaugebiete), while Charmat method-produced sparkling wines are just sekt. Sektkellerei Schloss Wachenheim is mostly active in the mainstream segment, because its production is mostly through the Charmat method, but it also has offerings in the premium and discount segments. Besides sparkling wines the company also sells adjacent products such as still wines, wine-based drinks, alcohol-free wines and sparkling beverages for children. It currently has multiple subsidiaries in Europe that are organized in the operating segments Germany, France and Eastern & Middle Europe. This last segment covers activities in the countries of Poland, Czech Republic, Romania and Slovakia. All of the three separate segments also generate revenue by exporting products to countries outside their prime territories. Important export markets are Russia, Japan, the USA, certain African markets, as well as Croatia and the Baltics. Below is a short description of the business by operating segment.
German business
The German segment of the company is also the largest business segment, albeit with only a minor lead over the other two. As mentioned in the intro it consists of three separate companies; Wachenheim am Weinstrasse, Kellerei Trier (100+ mln bottle capacity) and Sektkellerei Wismar. Some of its most important German brands are Faber, Feist, Schloss Wachenheim, Nymphenburg Sekt, Schweriner Burggarten, Schloss Böchingen and Schwansee. In other categories these are Light Live (alcohol free wine), Blû Prosecco, Bar Royal (wine cocktails) and Robbie Bubble (children's sparkling). In Germany the company distributes its product mostly through the traditional food retail channels as well as the specialist trade, such as family-owned liquor stores. The German business exports its products to more than 30 countries outside its home market, the most important of which are Austria, the Benelux countries, the UK, Scandinavia and Switzerland. It has also engaged in efforts to build an export business to China in more recent years. Germany has very high per capita consumption of sparkling wines and is the largest market for sparkling wines in the world. With an average of about 4 liters per capita per year it consumes roughly 22% of all sparkling wine bottles produced globally. The category also has an almost 10% consumption share of the alcoholic drinks market, which in most countries is much lower. Consumption has been largely stable to slightly declining over the past years. Schloss Wachenheim is in self-proclaimed third place in the German sparkling wine market after Rotkäppchen-Mumm (€823 mln 2013 sales) and Henkell & Co (€690 mln 2013 sales). These last two are not public companies but they do publish some financial numbers, which seem to corroborate the claim made by Schloss Wachenheim. It is clear that Rottkäppchen-Mumm is the clear market leader in the German sekt-category, with 51.2% of the market in 2013, while Henkell & Co (part of the Oetker Gruppe) and Schloss Wachenheim make up second and third place with each between 15-20% of the market (our estimate). Freixenet is the number four player with a (estimated) 10% share, while numerous smaller players make up the rest of the category. The German market for sparkling wines has become quite competitive in recent years with sharp competition from foreign sparkling wines such as from Spain (cava) and Italy (prosecco), leading to pricing pressures. This has been exacerbated by rising input costs from bulk wines, putting pressure on product margins. Even though the domestic market doesn't seem to offer much growth either in terms of volume or pricing, for domestic manufacturers such as Schloss Wachenheim there are plenty of opportunities for increased sparkling wine exports. The German business accounted for slightly more than 36% of total Schloss Wachenheim revenue ('13/'14) and achieved sales growth of 7.4%. Roughly 60% of the sales volumes and 53.7% of revenues of the German business comes from sparkling wine products, which grew revenue slightly at 2.8% through higher pricing, offset in part by lower volumes (-6%). In the table below can be seen how German business volumes dropped due to the economic crisis, recovered in 2011/2012 but have seen additional pressure since then due to the higher product prices related with higher bulk wine prices.

Table: company-wide bottle volume per segment and total (data from company annual reports 2007-2014)
Higher product prices have been necessary to offset higher bulk wine input prices, especially from 2012 wines, which has had a depressing effect on volume sold. In the alcohol-free wines segment, where the company leads and which makes up 21.8% of the German business's revenues, Schloss Wachenheim did exceedingly well with 22.8% sales growth. Wine-based drinks saw sales growth come in at 16.8% and now accounts for 10.5% of German sales. In other product the premium wines segment saw good sales growth to arrive at €2.7 mln, while children's sparkling drink Robby Bubble saw a small decline to €7.5 mln. Export sales grew by 11% to €19.3 mln and accounts for about 17% of the German business's volumes.
French business
The French operating segment also consists of three separate companies. First is the Kellerei in Tournan-en-Brie (60 mln. bottle capacity), which is focused on production of sparkling wines using the Charmat method. Second is the sparkling wine production operation in Wissembourg that produces according to the same process but also produces other-than-sparkling wine products. Third is the lower capacity (4 mln. bottles yearly) kellerei Maison Veuve Amio, where the traditional method of sparkling wine production is used that involves using a bottle fermentation process. This is the more expensive process that produces higher quality sparkling wines and which is similar to the process used for Champagne products. The French business is the largest domestic manufacturer of mainstream sparkling wines and is the second largest business segment of Schloss Wachenheim, accounting for slightly more than one third of total revenue. During fiscal year 2013/2014 this segment saw slightly higher sales (+0.28%) to reach €106.5 mln, also through higher prices but lower volume (-7.2%). Some of its leading brands are Charles Volner, Opéra and Muscador, of which Charles Volner and Opéra are the no. 1 and no. 4 brands in the mainstream sparkling segment of France. Muscador is the no. 1 mainstream sparkling brand in terms of volume sold in France. The French business exports its products to more than 80 markets worldwide, the most important of which are Japan, the USA, Russia and multiple African markets.
Middle & Eastern Europe Business
This segment consists of Schloss Wachenheim's 61.12% interest in Polish wine and beverage producer AMBRA SA of Warsaw. Ambra produces wines, sparkling wines, vermouths, mineral waters and sodas, as well as other beverage products. It also functions as a distributor of third-party product, among which most recently were included wines from California company Sutter Home. AMBRA's most important brands are Dorato, Cin&Cin, Faber, Gran Cazzano, Michelangelo, Canelli and Piccolo. A recently introduced product is Cyder Lubelski in the cider segment. The Middle and Eastern Europe business is the third largest segment of the Schloss Wachenheim and accounts for slightly under one third of total revenues. This segment reported sales of €99.8 mln and saw a slight sales decline of -2.6% during the year reported, of which -1.56% was due to foreign exchange devaluation. The rest of the decline in sales was mostly due to lower volume sold of -1.8%, largely due to lower volumes in the Polish on-trade channel and lower exports to Russia (due to a declining ruble). The activities in Romania and Czech Republic also saw some sales pressures due to difficult economic circumstances in both countries. Outside of the three countries mentioned in which AMBRA has direct business activities (plus Slovakia) this segment exports to Russia, Croatia and the Baltic states.
Non-segmental activities that are reported separately but are quite insignificant are some real estate holdings Schloss Wachenheim currently has and that consist of land in Poland, Romania and Germany. These generated income before taxes of €0.2 mln.
Bulk wine input prices
The European wine market has experienced rising input prices from bulk wines for a couple of years now. Historically, Europe has been both the largest producer and consumer of wines, especially the Southern European countries of France, Spain and Italy. France and Italy have historically had very high consumption of wine per capita, but have seen that consumption decline as younger generations drink less of it. For decades, high output and decreasing consumption in the high-volume Southern countries, recently exacerbated by the economic crisis, have led to excess wine production in Europe that had to be either exported or destroyed. This has induced the European Union to incentivize vineyard demolishment through monetary compensation, which has caused European vineyard acreage to decrease for decades, while global consumption at the same time has risen (especially in low volume-per-capita markets such as Russia, USA and China). This trend has led to a reversal with regards to European wine production, which has declined as a result of lower vineyard acreage in combination with a couple bad harvest seasons. Small harvests due to bad weather in the vintages of 2012 and slightly less so in 2013 have led to higher pricing for bulk wines in Europe.

The three largest wine producers in the European Union: France, Spain and Italy all saw historically low production volumes in 2012, followed by a recovery in the 2013 harvest season (source: European Commission Agriculture and Rural Development website).The effect of lower production on pricing can be seen in the table below, which displays average prices for white table wine from these three countries in euros/%/hectoliter (same source).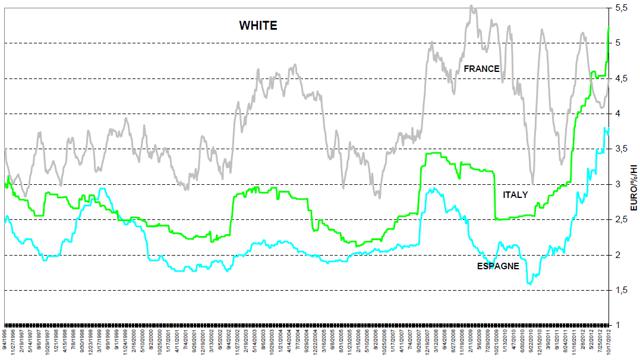 These higher bulk wine prices take a while to cycle through to the end user because of necessary ripening/fermentation periods. This is especially so for sparkling wines which require a second fermentation that has a minimum duration of six months. This means that wines harvested in 2012 came to market as sparkling wines at the earliest in fiscal year 2013/2014 for Schloss Wachenheim, meaning that the company experienced higher input prices from expensive 2012 bulk wines. Because German domestic wine production does not cover the country's consumption of wine it has to import wine from other countries such as France, Italy and Spain. The most important grape varieties used to make sparkling wines are chardonnay, as well as pinot noir, riesling, pinot gris and pinot blanc. We assume that Schloss Wachenheim will import a large part of its bulk wines from France and/or Italy due to their relative proximity and have focused on chardonnay bulk wine prices in order to get an impression on input pricing. In the table below the higher prices for French Chardonnay can be seen quite clearly, starting in December of 2012 (after the aug-oct harvest of the 2012 grapes).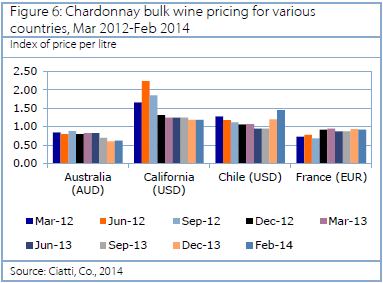 From the Rabobank Wine Quarterly Q2-2014: Chardonnay bulk pricing index for various countries incl. France.
Since 2012 was such a disastrous year for French grape harvests the elevated pricing situation for bulk wines will prove temporary in our opinion. In fact, 2013 harvests were already higher than 2012 harvests and 2014 looks a little bit better on top of that. In the table below the strong recovery of European Union wine production in the 2013/2014 season can be seen.

Table above: EU wine production since 2001/2002 seasons until 2013/2014 season. Table below: wine production for France, Italy and Spain over the past six years. All three recovered some of their production losses in 2013/2014, but Italy and France are still below their 5 year average (of 2008-2013) (Source: European Commission Agriculture and Rural Development website).

Recovery in European wine production will temper bulk wine pricing going forward into 2015 and lead to input price moderation for Schloss Wachenheim. Wine production outlook will improve further once the restrictive EU planting rights policy will cease to exist on January 1st of 2016. We believe the end of this policy will lead to growing vineyard acreage across the EU, but especially in the traditional high-volume producers France, Italy and Spain. A more moderate input price environment will have two positive outcomes for Schloss Wachenheim. First of all it will lower the product cost of sales, leading to higher gross margins. Part of this will probably be passed on to the consumer, which in turn will lead to increasing sales volumes. In our opinion Schloss Wachenheim will probably experience higher sales volume in coming years for its sparkling wines in European markets (especially Germany and France) because of these lower prices. Lower prices will make the sparkling wine category more competitive vs. other alcoholic drinks categories such as beer, still wines, spirits and cocktails. In line with the company's expectations we therefore expect slightly lower to stable revenues with slightly higher margins, which will lead to similar profit levels vs. last year. We also expect that exports of sparkling wine products will rise, especially given the combination of lower product prices and low sparkling wine consumption per capita in many countries. According to research conducted by market research company TNS in 2012 the sparkling wine category has very good long term growth prospects internationally and stands a good chance of gaining share of the alcoholic drinks market in many countries. Presently, the sparkling wine category has a premium image in many markets and is generally associated with special occasions and celebrations such as New Year's and graduations. Price is apparently still a hurdle for consumers considering a sparkling wine product, especially in emerging markets. Lower product prices made possible through lower input costs, in combination with rising income levels in emerging economies, will make sparkling wine an increasingly affordable indulgence. The increasing affordability of the product for consumers in emerging markets will lead to higher category consumption in the future in our opinion.
Peer comparison and valuation

In the table above we have assembled some of Schloss Wachenheim's peers for a comparative valuation analysis. We have looked for small cap European companies active in the sparkling wine segment to compare against Schloss Wachenheim. Laurent Perrier, Vranken Pommery and Lanson BCC are all French champagne houses, while Schlumberger is an Austrian sekt business. The last one is actually most like Schloss Wachenheim in terms of product, although its market cap is a bit smaller. The champagne houses operate in more premium categories vs. Schloss Wachenheim, but given the scarcity of public sparkling wine companies we consider this peer group the best one available. As can be seen from the table Schloss Wachenheim has quite modest scores on most valuation metrics, but especially on P/E (8.7) both trailing and forward. Its dividend yield (2.5%) is somewhere in the middle of the peer group, while its price/sales ratio (0.35) is far lower than for the three champagne houses. Schlumberger has a lower price/sales multiple vs. Schloss Wachenheim but also generates lower margins, as evidenced by its higher P/E multiple (of 15.8). For Schlumberger there were no analyst estimates available for 2014. We do expect Schloss Wachenheim to trade at a price/sales multiple discount vs. the champagne houses, especially because Laurent Perrier and Vranken Pommery operate in the premium segment of the sparkling wine category and generate higher margins. However, we feel that both the forward P/E of slightly over 10x earnings in 2014/2015, as well as price/sales of 0.35 is too low to be considered fair for Schloss Wachenheim. In the table below we have compiled an overview of past years income statements for Schloss Wachenheim.

(Revenues and profit figures, EPS and dividend as well as margins achieved: from the annual reports of Sektkellerei Schloss Wachenheim 2006-2014)
As can be seen in the table the company got hit hard by the crisis in 2008 when both volumes and sales dropped quite severely. The company has been quite strong in its recovery from the crisis, growing sales every year from 2010/2011 on, whilst achieving overall higher operating and net margins. The dividend was reinstated in fiscal year 2009/2010 and has been raised quite nicely since then, for a current annual payment of €0.34. EPS for 2013/2014 came in relatively high at €1.58 which gives the company a current P/E of about 8.8x earnings. The score on this ratio has been skewed by the very low tax rate paid for the year. Next year's earnings will probably come in lower because the company is expected to pay higher taxes. However, with a mean analyst EPS estimate of €1.34 for the current fiscal year (2014/2015) the company still has an exceptionally low P/E of about 10.4x forward earnings. Analyst estimates for 2016 call for EPS of €1.47, for a 2015/2016 forward P/E of 9.5.
Schloss Wachenheim currently has a market cap of €108.82 mln, while its stake in AMBRA of 61.12% is already worth roughly €30.4 mln (at its current market share price of 8.80 Polish zloty) leaving the German and French businesses valued at just €78.42 mln while having combined EBT of €13.8 mln. Given Schloss Wachenheim's exposure to a globally growing sparkling wine category, its opportunities for exports as a result of this, the positive margin effects of lower bulk wine prices as well as its innovation in newer (and growing) categories such as alcohol-free wines and wine-based drinks the company's current market valuation is simply too low. We believe the long term positive dynamics of the global market for sparkling wine offers growth potential for the company that is currently underappreciated. We acknowledge that the wine business is less predictable vs. other alcoholic beverage industries because of relatively high cost of product and unpredictable raw material prices, making margins lower and less secure, but we believe the easing of input prices will make the category more competitive into the future. While brand equity in the wine industry has historically been less powerful vs. the beer and spirits industry we feel brand equity is much stronger in sparkling wines than it is in still wines. We believe that a modest forward P/E multiple of 15x earnings is a better reflection of underlying value (especially given future growth in earnings before taxes). This would establish fair value for the company at €20.10 per share, with a dividend yield of 1.69% and a forward price/sales multiple of 0.52x. Our calculation of fair value offers upside of slightly more than 45% in the stock.
Sektkellerei Schloss Wachenheim trades on the Frankfurt Stock Exchange under the symbol SWA. Mutual fund management company Dimensional Fund Advisors has an estimated 7.48k share position in the company in its International Small Company Portfolio fund (MUTF:DFISX). Dimensional Fund Advisers is an investment firm from Dallas, Texas. Its International Small Company Portfolio fund invests in small capitalization companies from developed international markets such as Canada, Japan, the UK and continental Europe with the intention of long-term capital appreciation. The fund was created in 1996, has a 5 year average return of 9.27% and a dividend yield of 1.5%. The investment strategy is oriented towards value.
Disclosure: The author has no positions in any stocks mentioned, and no plans to initiate any positions within the next 72 hours. The author wrote this article themselves, and it expresses their own opinions. The author is not receiving compensation for it (other than from Seeking Alpha). The author has no business relationship with any company whose stock is mentioned in this article.