I'm setting up a portfolio of 7 stocks that I believe has the potential to outperform the market in the next 5 years. My goal is to create a balanced portfolio that will include not only dividend growth stocks but also companies that appear to be undervalued on a P/E and P/S basis. I will consider a few attributes when selecting these stocks, such as sector diversification, dividend growth, forward P/E and global exposure. The sectors represented are Oil & Gas (Equipment & Service, Offshore Drilling), Chemicals and Financials. The portfolio is something of a contrarian play, since it includes an offshore driller and a South American oil company. The benchmark for comparison will be the SPDR S&P 500 ETF Trust (NYSEARCA:SPY). I will set up the portfolio in equal dollar amounts for each stock and dividends will be set aside as cash for (eventual) purchases or reinvestment. Please consider this article as an exercise and perform your own research before investing.
Stock Picks: AFL, AIG, ATW, BAC, EC, LYB, NOV.
As mentioned above, the portfolio is diversified across industries, but 3 of the stocks could be considered a contrarian play. I don't expect some of these stocks to beat the market in the short run, especially Atwood (Offshore Driller), Ecopetrol (Colombian Oil Company) and LYB (Global Petrochemical industry). Offshore drillers are experiencing declining dayrates and low utilization, especially in the Gulf of Mexico. With oil prices declining, things could worsen before we see a turnaround. I'm not trying to time the market... I believe there is value in these 3 companies in the long run, but prices could suffer in the short term.
AFLAC (NYSE:AFL)
Aflac Inc. is a general business holding company and acts as a management company. The company sells supplemental health and life insurance in the United States and Japan. AFL has a forward P/E of 9.6x and a current dividend yield of 2.61%. The company is a dividend champion, with several dividend hikes along the way, as can be seen below. In 8 years the dividend has increased almost fourfold. Great article on this stock here.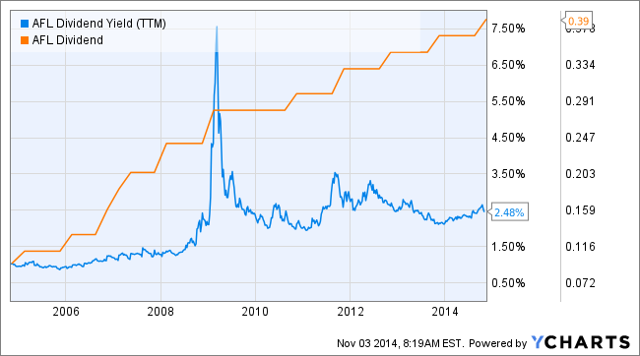 American International Group (NYSE:AIG)
American International Group, Inc. provides insurance products and services for the commercial, institutional, and individual customers in the United States and internationally. The company operates in two segments: AIG Property Casualty and AIG Life and Retirement. The company also provides private residential mortgage guaranty insurance and direct investment book services; and derivatives intermediary services. American International Group, Inc. was founded in 1919 and is based in New York, New York.
Those who read Ross Sorkin's "Too Big To Fail" (or watched the movie), would certainly think twice before (re)investing in AIG. Nevertheless, AIG has performed extremely well since the crisis (not so much in 2014) and is attractively valued in a P/TBV and forward P/E basis.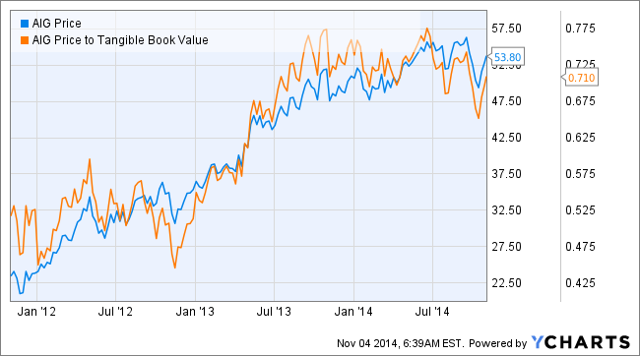 Atwood Oceanics (NYSE:ATW)
Atwood Oceanics, Inc. is an offshore drilling contractor engaged in drilling and completion of exploratory and developmental oil and gas wells. The company owns 13 mobile offshore drilling units and is constructing three ultra deepwater drill ships.
With a forward 1-yr P/E of just 6x, ATW appears to be undervalued. The entire Offshore Drilling industry has suffered from oversupply, and traditional companies such as Transocean (NYSE:RIG) and Ensco (NYSE:ESV) have seen their market cap shrink. ATW has a 5-yr P/E Ratio of 9.77x. If we consider mean estimates for 2015, EPS will reach $6.90. Therefore, with a 5-yr P/E Ratio of 9.77x, the expected market price for ATW should be around $ 67.00. Shareholders will also benefit from a 2.56% dividend yield while they wait for market cap to increase. ATW has initiated a dividend payment in 2014, which is great news and could transform this company into a dividend champion in the future. Interesting piece on this stock here.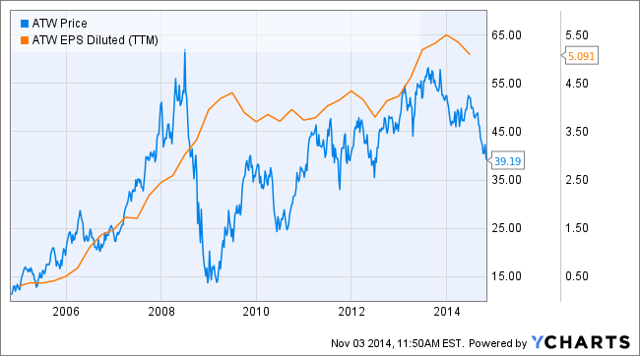 Bank of America (NYSE:BAC)
Bank of America Corporation, through its subsidiaries, provides various banking and financial products and services for individual consumers, small and middle market businesses, institutional investors, corporations, and governments in the United States and internationally. The company was founded in 1874 and is based in Charlotte, North Carolina.
Not unlike AIG, BAC is also a turnaround story. Share price performance post-crisis has been very interesting. With a forward P/E of just 11.58 and the announcement of dividend payments, the stock is poised for gains in the long run. The Street expects BAC to earn approximately $1.50 per share in 2015. With a low payout ratio of 17.95%, BAC could become a great income play as well as a capital appreciation one. For instance, Wells Fargo (NYSE:WFC) has a payout ratio of 33%. If we apply the same metric to BAC, the forward dividend yield could be close to 2.87% ($1.50 x 33%/$ 17.27 closing price November 3, 2014). Also, there's plenty of room for BAC to grow its earnings. With a mere 0.26% Return on Assets, BAC is the worst-performing bank among its peers.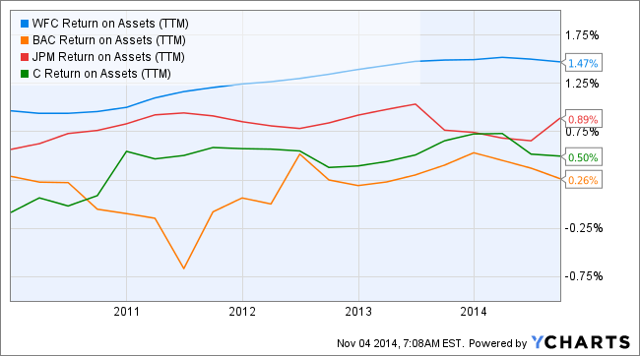 ECOPETROL (NYSE:EC)
Ecopetrol SA is a vertically integrated oil company. The company operates in three business segments: exploration and production, transportation and logistics, and refining and petrochemicals. From the get-go, EC's metrics are compelling. P/E ratio (Forward 1-yr) of 8.6x and a juicy 8.7% dividend yield. The chart below shows a unique scenario, where the share price has returned 2.79% since 2010, while the P/E ratio has tanked more than 50%. While a mere 2.79% return in 5 years is nothing to be proud of, when dividends are reinvested we can see a different picture. More on Ecopetrol here.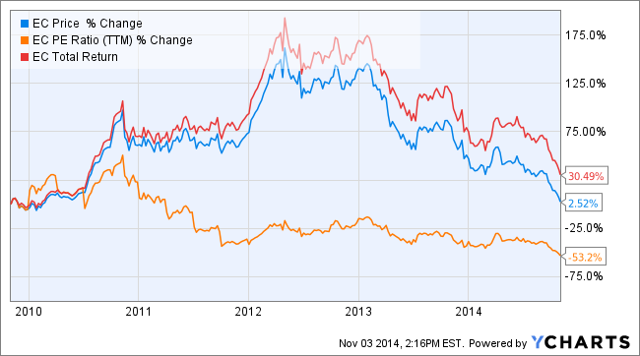 LyondellBasell Industries (NYSE:LYB)
LyondellBasell Industries N.V., together with its subsidiaries, manufactures chemicals and polymers, refines crude oil, produces gasoline blending components, and develops and licenses technologies for production of polymers. The company operates in the Americas, Europe, Asia, and internationally. LyondellBasell Industries N.V. was founded in 2005 and is based in Rotterdam, the Netherlands. LYB is attractively valued at 9.9x forward 1-yr earnings. The chart below shows an impressive correlation between share price and EPS. Recent share price softness has created a good entry opportunity.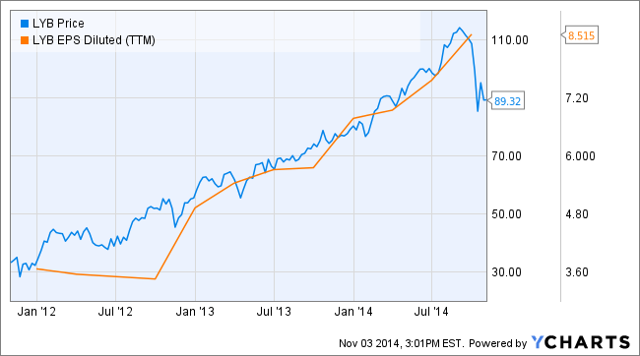 The dividend yield (3.15%) is also compelling. Dividends have decreased substantially from 2012 highs, when the payout ratio reached 160%. With a lower payout ratio (35%) and increasing EPS, as shown below, this stock can possibly turn into a great income security as well. Research on this stock here.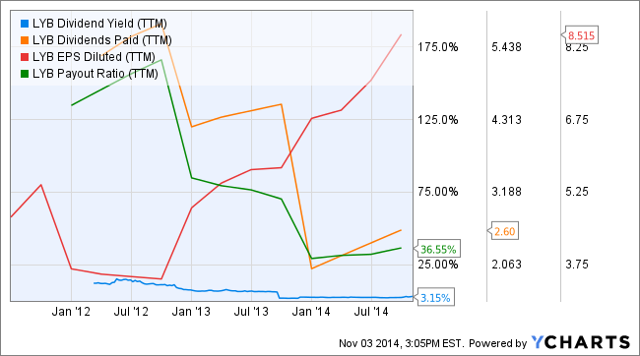 National Oilwell Varco (NYSE:NOV)
National Oilwell Varco, Inc. provides equipment and components for oil and gas drilling and production, oilfield services, and supply chain integration services to the upstream oil and gas industry worldwide. The company was founded in 1862 and is headquartered in Houston, Texas. NOV is not cheap, nor undervalued. However, it's a great company that has shown time and time again how to grow EPS and reward shareholders. The share price has outpaced EPS since 2010, meaning that earnings growth expectations have always been positive for NOV. EPS growth has worked as a support for share price growth, and as we can see below the share price is getting close to its support.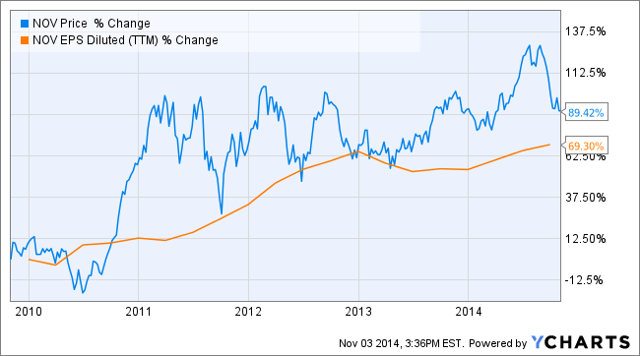 The dividend yield for NOV is attractive at 2.60%, because the company has increased it steeply and also due to the fact that the payout ratio (21%) is extremely healthy.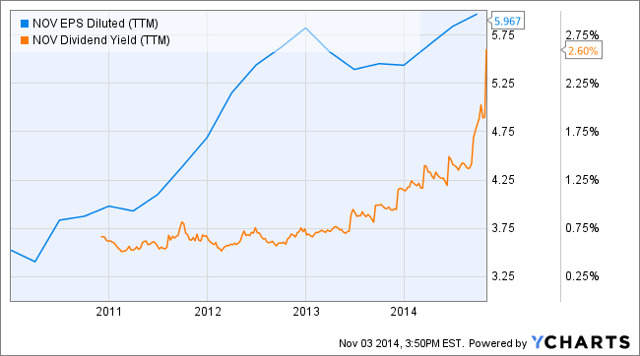 Analysts estimate that NOV should earn up to $7.00 per share in 2015 and, at a 30% payout ratio, that would mean a dividend of $2.10 per share, for a forward yield of 2.97%. NOV has grown its earnings per share in 70% during the past 5 years (and a staggering 796% since 2005). If NOV keeps on growing earnings even at a slower pace of, let's say, 50% per 5-year period, we are looking at a 5-yr forward yield of 4.50% (30% payout ratio).
Conclusion
I've set up a simple tracking spreadsheet, with almost equal initial amounts. As mentioned before, dividends will be set aside in the spreadsheet as "cash." When benchmarking, I will consider the SPY dividends as cash as well.

Disclosure: The author is long ATW, BAC, AIG.
The author wrote this article themselves, and it expresses their own opinions. The author is not receiving compensation for it (other than from Seeking Alpha). The author has no business relationship with any company whose stock is mentioned in this article.