The Decline of "N"
As our readers are no doubt well aware, there are only a few genuine bull markets in operation at present – the most impressive of which is the one in precious metals, which has produced new highs for over 10 years running. As central banks around the world – led by the Greenspan/Bernanke incarnations of the Fed - have pumped up the money supply over the past decade, investors have increasingly sought the safe haven of precious metals to preserve the purchasing power of their savings.
Investors have great difficulty in valuing gold, since its price is largely determined by monetary, or investment demand. All other precious metals have a large industrial demand component, which at least provides investors with hard and fast annual supply and demand data.
This is not the case with gold, as its industrial and fabrication demand represents only a negligible component of total demand. As we have previously pointed out, due to the large above ground stocks of gold, the inherently unmeasurable demand component of reservation demand is a major factor in determining the gold price.
What should its price be, some investors ask, given that it pays no interest and produces no earnings? The dilemma faced by so-called value investors who are normally trying to find undervalued investments by discounting their theoretical present value with the help of easily obtainable fundamental data and comparing the result with market prices has been nicely illuminated by Robert Blumen in "Value Investors Hate Gold."
In a recent article we have looked at the various fundamental drivers influencing the gold price – as we have noted on that occasion, one must approach the question of evaluating gold by indirect means. Since reservation demand is not directly measurable, one must try to determine which factors are of importance to individuals in exercising investment demand for gold. Then one must evaluate the current status of these factors and make an educated guess how they will likely evolve in the future.
In a recent interview, Jim Grant, editor of Grant's Interest Rate Observer, stated the following regarding the valuation question:
To me the gold price takes the form of a very uncomplicated formula, and all you have to do is divide one by "n." And "n," I'm glad you ask, "n" is the world's trust in the institution of paper money and in the capacity of people like Ben Bernanke to manage it. So the smaller "n," the bigger the price. One divided by a receding number is the definition of a bull market.

You'll notice that this had nothing to do with security analysis. This is conceptualizing, brainstorming, nothing to do with price/earnings ratios, other valuation methods like cash flows. It is a proposition or a hypothesis on what is driving the gold market. So the gold market is necessarily a speculative piece of business. It's not to be confused with the kind of investment that Ben Graham wrote about. Anyway, I happen to be bullish on it, but not for reasons that I can readily defend before a member of the fraternity of chartered financial analysts.
In our list of factors influencing the gold price, we have mentioned this factor "n" as well – the confidence, or lack thereof, people have in the centrally planned money administered by central banks and the financial establishment more generally. We can state that "n" is at present much smaller than it used to be and is evidently still declining.
The Technical Picture
Gold and silver continue to streak to new all time highs, with silver still trading at extremely overbought levels. There are no technical divergences in evidence as of yet that would suggest an imminent top. In fact, the chart of gold in isolation looks very constructive at present. However, this does not mean there are no warning signs on the horizon. One of those is the fact that precious metals stocks have begun to underperform the metals once again and have so far failed to clearly confirm the new highs in gold and silver. Also, gold in euro terms – although the chart looks constructive as well – has failed to confirm the new high in the gold price in U.S. dollar terms.
In order for precious metals stocks to confirm that the recent rally is sustainable, a breakout in the HUI to new high territory is required and – ideally – a breakout in the HUI-gold ratio as well. These breakouts could easily happen, since a fairly small gain would suffice to produce them. Alas, the fact remains that they have not happened yet. In conjunction with the extremely overbought silver market and the likewise overbought silver-gold ratio, this must be regarded as a slight warning sign for the time being.
Note however that the prices of precious metals stocks will often tend to get pinned during options expiration weeks in order to inflict 'maximum pain on option buyers (this describes the tendency of stocks to close out expiration week at levels where the maximum amount of options open interest expires worthlessly). This pinning is fairly easy to do with precious metals stocks, as they are comparatively illiquid. So there is a possibility that the recent non-confirmation is a result of this particular technicality. If so, it should become obvious early next week by means of a belated confirmation.
In several other non-dollar currencies, the price of gold has either confirmed the recent breakout in dollar terms or is close to doing so. Clearly, all the charts concerned continue to look bullish. Of special interest to investors in South African gold stocks: the Rand gold price appears finally set to eclipse its old high made back in early 2009. South Africa's high cost gold producers should as a result see a sizable jump in their earnings in coming quarters. Due to their high cost structure their earnings are strongly leveraged to the Rand gold price. Consequently these firms should experience the strongest percentage increases in earnings in the wider universe of gold mining shares – if from a low base. At the moment they also enjoy cheaper winter tariffs from South Africa's electricity parastatal ESKOM, which puts their profit margins on a somewhat more solid footing as well.
Gold in dollar terms, daily – breaking to new high ground. No negative divergences are in evidence as of yet.
Silver, daily. This market is still streaking from overbought to even more overbought. There are no divergences as of yet warning of a top and as stated previously, gauging the end of a blow-off move is very difficult. Clearly though this streak won't continue forever.
The silver-gold ratio – the comments on silver apply to this ratio as well. There are no technical warning signs yet, but it has become extremely overbought as well.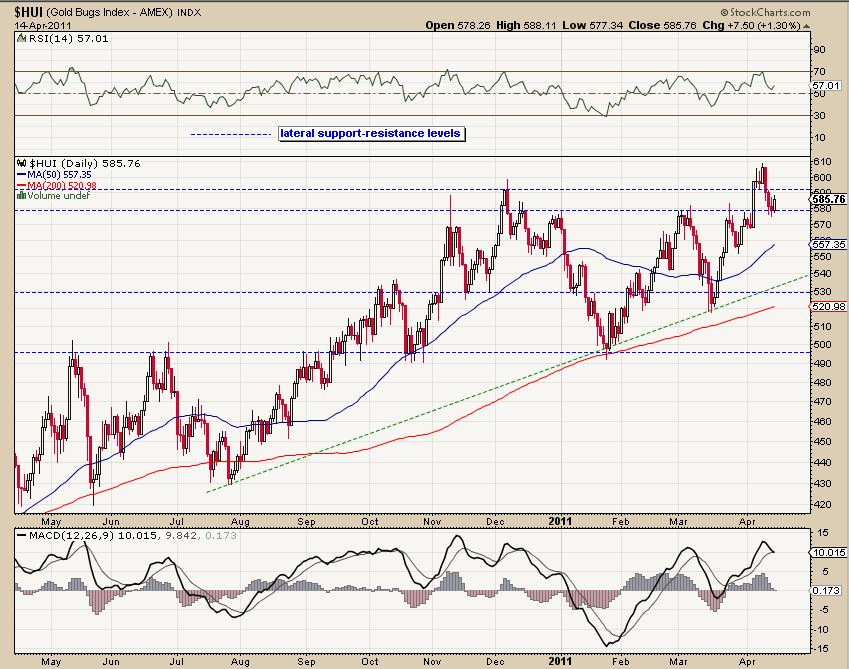 (Click to enlarge)
The HUI index of unhedged gold stocks – it won't take much for it to confirm the new highs in the metals, but at the moment, confirmation is still lacking. This is a fly in the ointment – a slight warning sign for now. Whether it is meaningful should soon become evident.
The HUI-gold ratio continues to drift sideways and has so far failed to break out from this consolidation. A breakout would go a long way toward confirming the intermediate term sustainability of the rally in the precious metals.
Gold in euro terms – the chart looks constructive, but so far, it is not yet confirming the new highs in gold in U.S. dollar terms.
Gold in yen terms – gold has broken out to new highs in terms of the yen as a result of recent yen weakness.
Gold in terms of the British pound – this is evidently also a bullish chart, although not quite yet making a new high.
Gold in terms of the South African Rand – finally the price is back above 10,000 Rand per oz., a level last seen in early 2009. This time, the rally looks more sustainable than the violent move that occurred in 2008/9 when the Rand plunged in the context of the global financial crisis.
The most marginal of the high cost South African gold producers, Durban Deep. The stock has belatedly reacted to the increase in the Rand gold price, but still remains far below it previous highs. Nowadays the company's business consists mostly of the re-treatment of gold sands and slimes that have been left as a residue of 150 years of gold mining in the Witwatersrand Basin. In earlier times, gold recovery from ore was far less efficient than it is today, which makes these low grade residuals worthy of re-mining. DRD also still owns a very high cost underground mine as well, Blyvooruitzigt. This mine will likely profit greatly from the higher Rand gold price due to its extremely slim profit margins. The surface treatment operations have much better margins, but they too will see a strong improvement. As a rough back-of-the-envelope calculation: at a gold price of $1,200, the margin of the surface treatment plants was roughly $400/oz. – at a gold price of $1,600 this profit margin would double.
Note that in today's trading, gold and silver both are once again reaching new highs – alas, the hoped for confirmation from gold stocks is still lacking.
Addendum:
Yesterday rumors have surfaced that Bolivia's socialist president Evo Morales wants to emulate his hero Huge Chavez by expropriating and nationalizing Bolivia's silver mines. This has contributed both to a surge in the price of silver (once mines are nationalized their production inevitably collapses) and a decline in the shares of CDE (OTC:CDEA) and PAAS (NASDAQ:PAAS), both of which have large mining operations in Bolivia. This has exerted some pressure on gold mining indexes and ETFs containing these stocks, so one must keep this in mind when evaluating their performance.
In the meantime, CDE has denied that its San Bartolome mine is in danger of being nationalized. However, the company is relying on assurances from Bolivian government officials that may not be worth much. After all, we have seen similar erratic behavior in Venezuela just before the mines of several foreign companies engaged there were in fact expropriated without compensation (the Venezuelan government simply refused to issue new mining permits to them, making their mining assets worthless).
Bolivian president Evo Morales, a former coca farmer. The man is enamored with Chavez-type socialism and privately owned assets are therefore no longer safe in Bolivia. This policy will inexorably lead to further impoverishment of the country.