It was a relatively uneventful week in the financial markets, as U.S. corporate earnings got underway. Even options expiration couldn't generate a great deal of excitement, and the VIX fell back near recent lows. It's one of those periods when bulls see the glass half full and bears see it half empty. Let's look back at the action before setting our sights on the road ahead.
Week in Review
Stocks: The major U.S. indexes were flat to slightly off again last week, and have now spent a month in choppy sideways trading. The tone firmed up toward the end of the week, as positive economic news brought a bid into stocks. S&P sectors showed continued defensive rotation, with health care and consumer staples out in front and financials bringing up the rear after B of A (NYSE:BAC) reported downbeat results. Major foreign stock markets were also choppy, the energy heavy TSX in Canada and Brazil's Bovespa selling off more sharply. Both were down nearly 3% on the week.
Bonds: The U.S. Treasury market enjoyed a nice recovery as yields on maturities ranging from 1 to 30 years erased all of the prior week's rise. TIPs, municipals and investment grade corporates also participated in the broad bond rally, but lower grades and some foreign sovereign issues were left behind. The European periphery once again attracted attention as investors and policy makers alike concluded that a Greek default remains possibile - if not probable.
Commodities: With the exceptions of gold, silver, and coffee, commodity prices softened modestly, the CRB Index retreating 1.6%. WTI crude ended the week just shy of $110. Most commodities remain in bullish trends, except wheat, lean hogs, and possibly copper, which seems ready to roll over.
Currencies: The U.S. Dollar index appeared to find near term support at the late 2009 lows in the mid 74 range. Although the index arrested its decline, the tone remains weak. The euro lost upward momentum and drifted in the 144-145 range. Like equities, currency trading was restrained and within a fairly narrow range. The Swiss franc was strongest among the majors, while yen staged a counter-trend rally from recent weakness.
The Week Ahead
Stocks: Though it's still very early, earnings season to this point has leaned to the disappointing side. Market reaction to a number of prominent reports has been mostly negative, and we can see that reflected in the choppy backing and filling that appears on the charts of leading equities as well as indexes. Trading action in blue chips like Alcoa (NYSE:AA), B of A (BAC), Morgan (NYSE:JPM), Apple (NASDAQ:AAPL) and Google (NASDAQ:GOOG) has been poor. Last week we said we would need to keep a careful watch on earnings, and more importantly the market's reaction, and would be looking for a break above the SPX 1344 level to add to long equity positions. At this point we haven't seen that, so my positioning remains defensive and overweight cash. We typically don't see a strong bullish move led by the likes of Kraft (KFT) and Coke (NYSE:KO).
I am not bearish however, as this looks to me like a sideways consolidation that helps to work off overbought conditions, setting the stage for the next advance. There is no real technical damage to be seen on the SPX chart (), and we even have the bullish possibility of an inverse head and shoulders as noted on the daily chart. For the coming week I will continue to monitor the tone of the market to get a sense of the next directional move. Risk/reward is balanced at this point, favoring neither upside or downside. When the market isn't telling me what to do, I do nothing.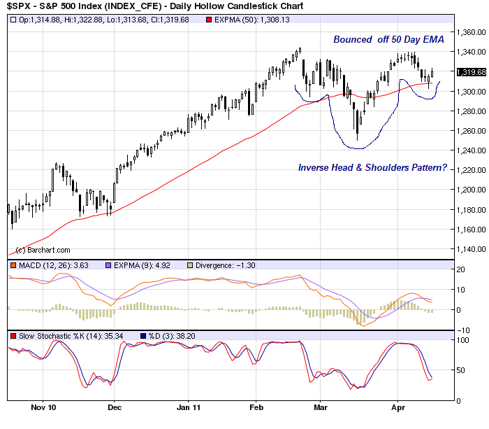 Bonds: Last week we said nervous bond investors had no reason to panic, and that an argument could be made for staying in quality and laddering out. As it turns out, that patience was rewarded. It is nothing short of remarkable that the bond market has remained placid in the face of a strong commodity rally. If a 30%+ rise in oil prices, improving manufacturing and employment data, and upturns in both core and headline CPI haven't rattled them, it's difficult to see anything on the visible horizon that will. Certainly many will attribute this to central bank intervention, but we're not interested in speculation or evaluating policy. We're interested in maximizing risk adjusted portfolio returns. Until market data tells us otherwise, my fixed income positions remain unaltered. Click to enlarge: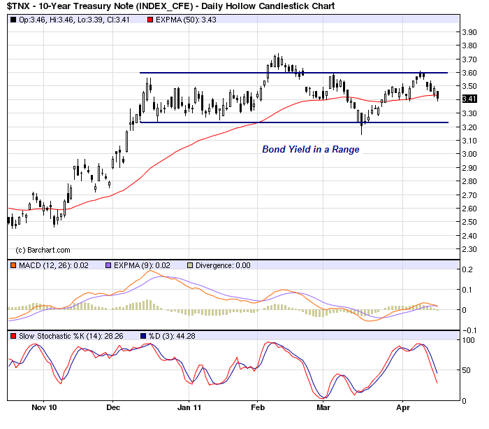 Commodities: The commodity bull seems to be pausing for a breather after a strong run, but the bias remains upward. As we have observed before, the move in the CRB index over the last 12 months has been quite orderly, with no parabolic moves or blowoff tops. This is the type of move that can be sustained. Whether it will, and when it will end, is anyone's guess. Of course guessing is not a strategy; for the investor who sees value in allocating part of the portfolio to commodites, that allocation still makes sense. Click to enlarge: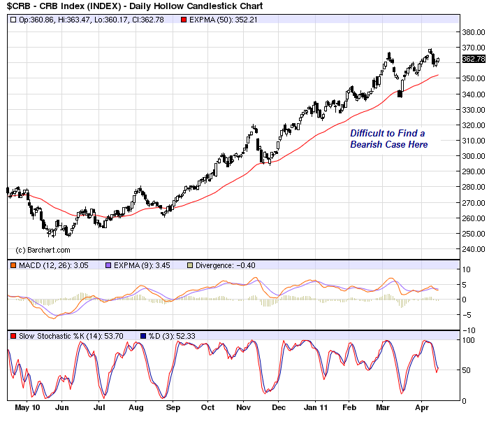 Currencies: The weak Dollar, which has helped to drive U.S. exports to an all time high, as well as fueling the commodity bull market, remains a key indicator in all our analyses. It's no coincidence that as it stabilized, commodities lost a bit of momentum, bonds firmed, and stocks couldn't generate much movement. As always, we should watch the dollar going forward as part of our broader analysis. If it holds and turns up from current levels, we will likely turn negative on commodities and more cautious on certain types of stocks. We'll see what happens.
Disclosure: I have no positions in any stocks mentioned, and no plans to initiate any positions within the next 72 hours.