This post is the latest in an ongoing series providing a detailed analysis on investment strategies outside of the stock market leading up to the end of QE2. The original post in this series is Best Post-QE2 Opportunities Lie Beyond Stocks.
Let me begin by saying that to this point I've been an unwavering silver bull for the last couple of years. Two key factors make silver appealing. As a precious metal, it provides hard asset protection against inflation and the declining value of the U.S. dollar. And as an industrial metal, it provides exposure to increased demand from the global economic recovery. I began buying silver via the iShares Silver Trust (SLV) back in April 2009 at just above $12 and continued to buy through May 2010 at just above $17. And I remain long silver today.
Despite all of my enthusiasm for silver to this point, the time may be coming soon to head toward the exits. Silver is now fully engaged in a mania phase. And while we may see some further upside in the weeks ahead – perhaps even another +20% before it's all said and done - we may now be in the very late innings of the powerful silver run. Three key indicators support these notions.
1. Gold / Silver Ratio
One way to evaluate the price of silver is to compare it relative to gold. While the point is well taken that 17 parts silver exist in the earth's crust for every 1 part gold, this has not served as basis for the price ratio between these two metals for well over a century. Instead the gold/silver ratio has averaged well above this level. For example, this ratio has averaged 52:1 since 1968.
images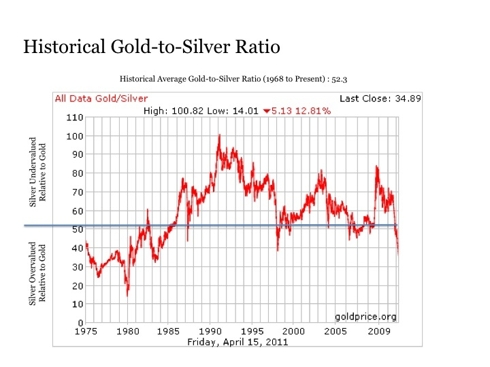 As recently as late last year, silver represented an attractive value relative to gold with a ratio hovering in the 65:1 range. But after gaining +40% year to date and more than doubling since last summer, silver is now trading at a premium relative valuation versus gold at 34:1 that was last seen almost 30 years ago.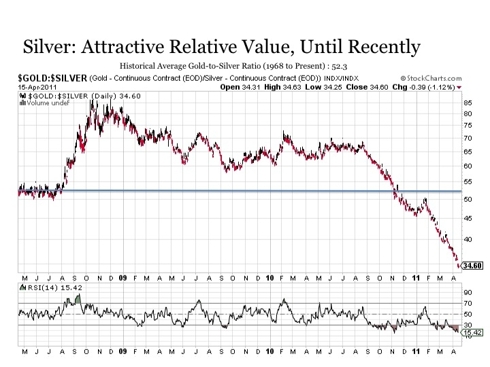 Perhaps we are witnessing a fundamental shift in the precious metals market. But I would like to see more evidence of sustainability in this shift before maintaining a long-term view on the white metal at this stage.
2. Fuel Behind the Silver Rally
As mentioned, I believe in the fundamental story supporting silver. But the timing surrounding the current silver rally cannot escape attention. Silver began exploding higher literally on the same day that Ben Bernanke gave his Jackson Hole speech confirming the delivery of QE2. Sure, the defense against currency debasement thesis for silver has clear merit in this case. But the notion that the QE2 liquidity injections may also be providing a powerful fuel behind silver rally should not be overlooked, particularly with the end of QE2 now only a few months away on June 30.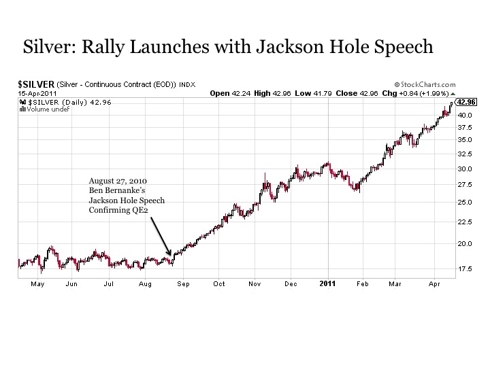 3. Previous Nominal Highs
This is not the first time that silver has entered into a parabolic rise. Back in 1980, when U.S. inflation was running in the double-digits, silver reached an intraday high in the futures market of $50.35. Of course, the forces propelling the rise back then were different. But the final outcome after this 1980 high, which included interventions from the Federal Reserve and the commodity exchanges, certainly warrants consideration this time around for any potential parallels taking place.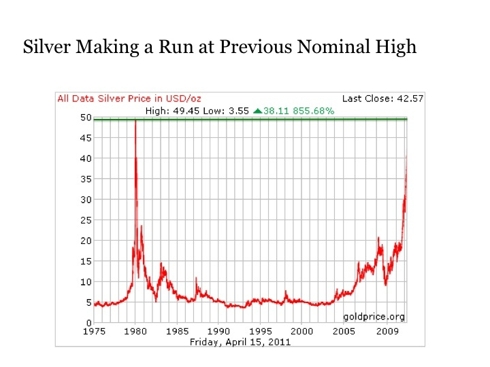 Trading Strategy
As mentioned previously, I am currently long silver via the SLV. However, a plan to exit this position sometime in the weeks leading up to the end of QE2 on June 30 would be prudent. Why exit a few weeks early? It's better to be safely out the door first with gains in tact than to be tied up in the masses trying to rush out at the last minute.
Even if Fed liquidity has not been a direct driving force behind the silver rally, the thesis behind the silver trade has been currency debasement. The end of QE2 represents an attempted move toward greater monetary constraint, which is dollar bullish. Of course, if the Fed begins touting QE3, then the silver rally may continue to new heights. But at this stage, the Fed seems determined to at least try and let the economy have a go at it for a while without QE. And even if the Fed eventually returns with QE3 later this year, a considerable amount of pain could be sustained in the silver market by the time it finally comes around. This, of course, may ultimately represent an attractive reentry point, but a variety of "ifs" have to play out first before we reach this stage.
An event that may justify exiting any silver position including SLV prior to mid June would be touching the previous nominal high of just over $50. Just like the Nasdaq was determined to take out 5000 before it topped out, the silver market appears equally focused on retaking the $50 level. This implies another +20% upside from current prices, which is certainly an attractive momentum move in its own right. But $50 will likely represent major resistance for silver prices going forward. As a result, any break above the $50 level for silver in the coming weeks may signal the time is now to lock in gains.
One final potential sell signal for silver between now and mid June would be a major technical breakdown along the way. SLV has been on a steady uptrend since last year and is currently trading well above its 20-day, 50-day and 200-day moving averages. However, if SLV were to make a sharp or sustained break below its 50-day moving average, this may also provide a signal that it is time to exit silver positions.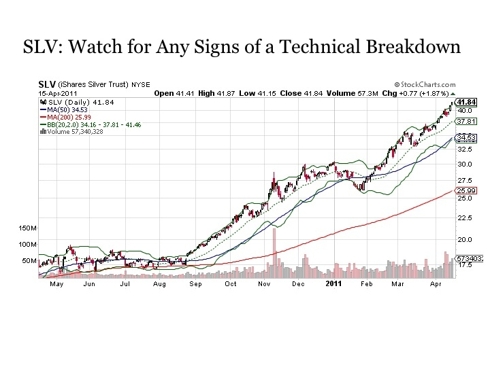 Bottom Line: The silver rally appears to be entering the late stages. Exiting current long positions and locking in gains may be prudent in the coming weeks leading up to the end of QE2 on June 30. Volatility is likely to continue for silver, particularly on the upside in the short-term, which may provide for early exit points ahead of mid June. Technical signals also merit close attention in the coming weeks to protect against any sustained breaks to the downside.
Lastly, the potential for QE3 may eventually extend the bullish case for silver, but the Fed appears determined at this stage to exit QE to see how the economy stands on its own. This could present a particularly difficult period for silver, but may ultimately provide an attractive reentry point if the Fed does eventually return with QE3.

Disclosure: I am long SLV, GLD.
Disclaimer: This post is for information purposes only. There are risks involved with investing including loss of principal. Gerring Wealth Management (GWM) makes no explicit or implicit guarantee with respect to performance or the outcome of any investment or projections made by GWM. There is no guarantee that the goals of the strategies discussed by GWM will be met.