Toronto-Dominion Bank (NYSE:TD) is the second largest bank in Canada. Like most of the large Canadian banks, it offers a full range of financial products and services. It has prominent holdings in the US, with exposure on the Boston Garden Center, where you can see its logo. It has completed the purchase of Chrysler Financial and is already meeting the new Basel regulations. It may have to move some money around which should only have a short term effect. With 71,049 employees and 19 million customers worldwide, TD is focused on 4 segments:
Canadian Personal & Commercial Banking - $2,668M in revenue
U.S. Personal & Commercial Banking - $1,219M in revenue
Wealth Management - $639M in revenue
Wholesale Banking - $677M in revenue
TD has a strong foothold in the United States, as you can see from the revenue generated. Recently, TD acquired Chrysler Financial.
Toronto-Dominion Fact Sheet
Stock Ticker: TD

Market Cap.: $72.55B

P/E: 15.34

EPS: $5.35

Dividend Yield: 3.22%

52-Week Low: $67.63

52-Week High: $86.82

The one year stock graph showed some nice growth in early 2010 and somewhat stayed within range for the reminder of the year, offering some buy opportunities in the low $70.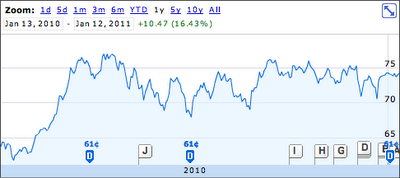 I had a look at the 10 year graph and thought I would show TD's growth over the past 10 years and how it recovered from the financial crisis.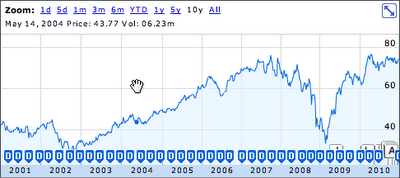 A little bump in 2002 and a major bump in late 2008, but it manages to recover. I would be curious to know if banking fees go through increases during these bumps. I had a look at its principal competitors during that time frame too. Looks like the banking sector sneezes together.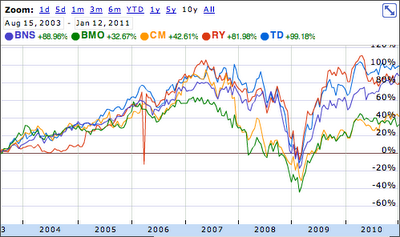 Toronto-Dominion Dividend Growth
TD's dividend growth is quite nice. Aside from the dividend freeze over the last couple of years due to the new banking rules, they have had 15 years of dividend increases over the last 16 years. However, I would like to highlight that over the past 16 years, TD increased dividends 21 times. They don't get credit for multiple increases in a year when it comes to the dividend aristocrat rules.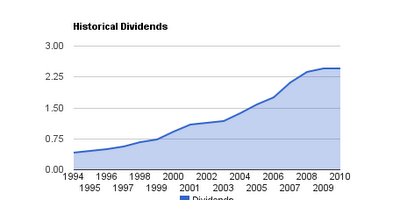 TD's payout ratio average was 46.58% over the last 5 years. It's been a bit of a roller coaster ride if you look at their graph, but they consistently were able to increase their dividends. The 2002 drop registered a payout ratio of 162% and they still maintained their dividends. They did not increase, but they did not drop either. The performance from a dividend perspective are quite surprising considering the loss of $76M in 2002. It doesn't even show in the dividend growth.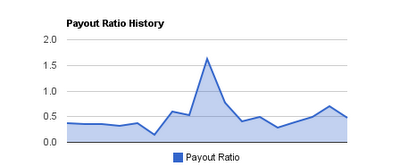 Toronto-Dominion Competitors
Even though TD does significant business in the U.S., I still consider its main competitors to be the other major Canadian banks. I have recently finished a review of all its major competitors in Canada. Each of them has a different strategy with their international and wealth management business to differentiate them from one another.
| | | | | | |
| --- | --- | --- | --- | --- | --- |
| | | | | | |
| | Competitors | Ticker | Price | Market Cap. | Yield |
| | | (NYSE:BMO) | $64.52 | $36.69B | 4.46% |
| | | (NYSE:BNS) | $59.53 | $64.20B | 3.63% |
| | | (NYSE:RY) | $62.59 | $89.33B | 3.29% |
| | | (NYSE:CM) | $85.95 | $35.10B | 4.15% |
| | | | | | |
Thoughts
As you may have noticed by now, the Canadian banks are in my favorite list. I do not currently own Toronto-Dominion as other banks currently have better yields, and since I believe in them (the Canadian banks), I tend to buy the higher yield banks first. A few of the banks have had better growth over the past 10 years if you look at the comparative graph above, but I like to see my re-invested dividend grow and compound. I find it more predictable than looking at picking which bank will grow the most.