Investing is not an easy task these days. Buying stocks has the risk of losing money, but with interest rates being what they are and inflation being a present reality, not investing means certain reduction in assets in real terms. One alternative is to invest in convertible preferred shares.
Preferred shares represent special ownership in a company. Preferred shareholders do not enjoy any voting rights of common stockholders. Preference shares pay a fixed dividend that does not fluctuate, although the company does not have to pay this dividend if it lacks the financial ability to do so. The main benefit to owning preferred shares is that the investor has a greater claim on the company's assets than common stockholders.
Please find the table of major U.S. preferred/convertible ETFs:

| | | | | | | |
| --- | --- | --- | --- | --- | --- | --- |
| Description | Symbol | 1 Yr | 3 Yr | 5 Yr | Avg. Volume(k) | 1 Yr Sharpe |
| SPDR Wells Fargo Preferred Stk | | 11.95% | NA | NA | 17 | 162.96% |
| PowerShares Preferred | | 9.64% | -2.01% | NA | 413 | 161.13% |
| iShares S&P U.S. Preferred Stk | | 10.7% | 4.88% | NA | 1,417 | 122.35% |
| PowerShares Financial Preferre | | 11.46% | 3.49% | NA | 450 | 113.26% |
| SPDR Barclays Capital Convertible | | 10.8% | NA | NA | 328 | 95.6% |
We rank the ETFs based on the Sharpe index. The Sharpe index is an indicator of risk adjusted returns. The higher the Sharpe index, the better the risk adjusted returns. When we look at just the returns, we don't really know the volatility required to get to this return level.
PSK has the best Sharpe ratio followed by PGX. The average volumes of the PGX are 413,000 which in terms of average volume is normal. PSK volumes are very low and therefore in a zone where we want to hold it for some time in anticipation that the volume will increase.
In term of volume and market capitalization (refer the table below for market capitalization). The average volumes are good in PFF along with promising returns for the 3 years. The greater volumes provide greater liquidity and ensure the prices cannot be manipulated easily.
Please find the market capitalization of the major ETFs of US as on 14/12/2010. We have not considered the new ETFs (CWB, PSK) in this calculation as there market sizes are very small in relation to the overall market these and do not impact the market.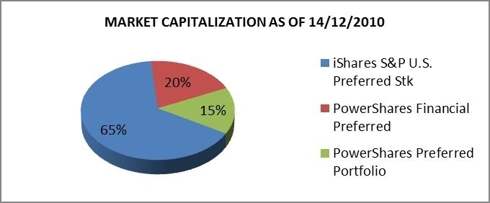 All the ETFs have heavy financial-sector exposure which should not be a surprise, since financial companies are among the primary issuers of preferred stock. The current offerings, despite their heavy financial-sector focus and commensurate risk, also include some downside protection in the form of their dividend payments.
It is important to understand that Preferred stocks have their own drawbacks. Preferred stock does not participate in any future earnings and dividend growth of the company, nor does it profit from any resulting growth in the price of the common stock. Like common stock, preferred shares have less security protection than a bond and don't necessarily have a date on which investors will get their investment back.
While preferred stocks may appreciate in value, that appreciation typically occurs in a range below that of common stock. If you are seeking growth, it is far easier and better to invest in an ETF that holds common stock. If you are looking for yield, then a corporate or municipal fund should also be a consideration, since the underlying investments provide a more senior and secure claim, as opposed to the subordinate position offered by most preferred stocks.
For the long term investor, it is important to look at all of the options through a prism of a consistent investment strategy: Are you looking for growth or are you looking for income? What is your time horizon and what is your ability to accept volatility? The answer to these questions will help you filter out what sort of investor you are and, more importantly, are not. Note that these preferred shares can be converted and this will be covered in a future article.

Disclaimer: MyPlanIQ does not have any business relationship with the company or companies mentioned in this article. It does not set up their retirement plans. The performance data of portfolios mentioned above are obtained through historical simulation and are hypothetical.
Disclosure: I have no positions in any stocks mentioned, and no plans to initiate any positions within the next 72 hours.