The Gabelli Global Utility & Income Trust (NYSEMKT:GLU) is a closed-end fund that invests at least 80% of its assets in foreign or domestic utility companies. A closed-end fund is a fund that has a limited number of shares that trade like a stock. You can see a list of GLU holdings here.

Closed-end funds usually have more volatility than the sectors they track because they have less of a float and the owners of the shares usually do not move in and out of the stock. For instance, right now GLU is trading at a 5.44% discount to NAV. This means that you are buying into the fund's companies at less than their market value.

We can use this volatility to our advantage in a pairs trade. By trading GLU against a utility sector ETF, we can hedge away market risk and capture the inefficiency of the market for GLU. Even if sellers of GLU are correct and the holdings of GLU are headed down, then the entire utility sector should also head down. This makes GLU a good candidate for a pairs trade. If we pair a long GLU position with a short VPU position, our market risk is hedged and we can profit from the inefficient market in GLU.

Below is a chart of GLU vs. VPU for the past six months.
[Click to enlarge]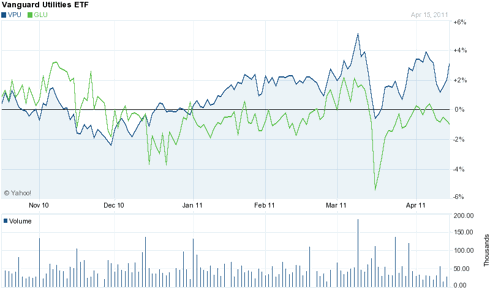 They have been trading off kilter now for about four months. They should return to an equivalent return over the long run. Could be an easy 5% return with little to no risk. On top of that, GLU's dividend rate is 6%, while VPU's is 3.75, meaning you clear 2.25% just holding this trade.

Disclosure: I am long GLU.

Additional disclosure: Short VPU