I wrote my first
article
on Salesforce.com (NYSE:
CRM
) on Nov. 29, 2010, when CRM was trading over 143. Currently it's trading around 133, but I feel it's a better short today than it was in November, due to the aggressive launch and pricing of Microsoft Dynamics CRM Online Cloud Service in January. CRM has some of the most expensive ratios in the market today.
Price/Sales – 10.51
PE (T12 GAAP) – 326
For these ratios to be justified, CRM should have everything working for it. The reality is there are lots of headwinds for CRM; this quarter's results could expose them. This quarter could see significant slowdown in sales (maybe even a fall in sales) or a significant squeeze in margins. In fact, the margin squeeze has been going on for more than a year now.
CRM conveniently ignores GAAP EPS
CRM reports its EPS on a non-GAAP basis. These numbers exclude stock-based compensation, amortization of intangibles and some non-cash interest expenses. For calendar year 2010, $159 million was not included in the non-GAAP EPS reported by CRM; $120 million is stock-based compensation, which should not be ignored.
Below is GAAP EPS versus reported non-GAAP EPS. GAAP EPS of CRM is significantly lower than reported EPS.
If the GAAP EPS was considered, the earnings have been falling for more than a year.
Net income margin has also been coming down for more than a year. It's very difficult to justify a PE multiple of 326 for a company with falling GAAP EPS and margins. The only justification could be the robust sales growth.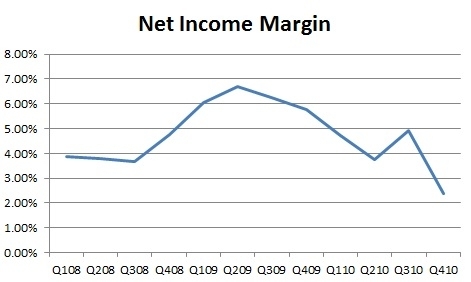 Robust Sales Growth
Sales growth of CRM has been robust. CRM has achieved over 5% average sales (sequential QoQ) growth per quarter for the last three years.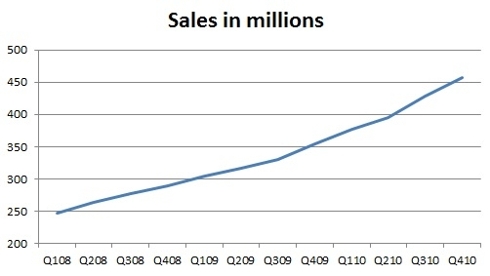 CRM could be facing significant difficulties in growing sales at the same rate. Though Salesforce.com was an early entrant into cloud-based CRM, there are now over 30 vendors currently who provide cloud-based CRM solutions. A detailed report on the Top 40 CRM vendors with their capabilities, strengths, pricing, etc. can be found
here
.
The reason this quarter is going be critical for CRM is because it is going to face some stiff competition from one of the biggest software companies: Microsoft (NASDAQ:
MSFT
).
Microsoft Dynamics CRM Online Cloud Service
Microsoft
launched
its Dynamic CRM Online Cloud Service globally in 40 markets and 41 languages on Jan. 17. Microsoft has priced this at $34 per user per month for the first 12 months of service for customers who sign up by June 30, 2011. That works out to $408 per user per year.
In addition to the cheap price, Salesforce.com and Oracle (NYSE:
ORCL
) subscribers who switch to Microsoft Dynamic CRM Online will receive up to a $200 per user credit, which can be used for services such as data migration and customization. This should reduce migration costs for users to switch.
Salesforce.com's pricing is around $620 per user per year in 2010. That includes subscription charges and support for one year.
| | | | |
| --- | --- | --- | --- |
| | Subscription & Support Rev | | |
| | | | |
| | | | |
| | | | |
The subscriber numbers can be found from the CRM website's
investor
section.
Microsoft's price of $408 per user per year is at a discount of 34% compared to CRM's pricing. In addition to the massive discount, the $200 per user credit should encourage users to switch.
This quarter's CRM results should show how it was impacted by Microsoft's aggressive move. I expect sales to slow or even fall. If CRM manages to maintain sales growth. then it would have been forced to slash its pricing, which would squeeze its already falling margins.
CRM is not in a position to justify its PE of 326. In fact, I don't think even half the current PE could be justified. CRM reports its results on May 20 for the Jan.-Mar. 2011 quarter. This result would the first to show the impact of Microsoft's aggressive pricing.
Analysts estimate a non-GAAP EPS of 0.269 for the quarter and CRM could disappoint big time. It's hard to justify even half the current PE for CRM.
Disclosure: I am short CRM.