A quick look at the "bear market" charts of former leaders like Akamai, Google (NASDAQ:GOOG), Salesforce.com (NYSE:CRM), F5 Networks (NASDAQ:FFIV) and Riverbed (NASDAQ:RVBD), reflects that institutional money has been steadily moving away from the technology sector over the past few months. As technology has fallen out of favor, one group to benefit from the rotation of money flows is the medical device sector. This trend accelerated last week, with a host of medical device names surging to new 52-week highs. Take a look at the 6-month charts of the SPDR Technology ETF (NYSEARCA:XLK) and the iShares Medical Devices ETF (NYSEARCA:IHI) below: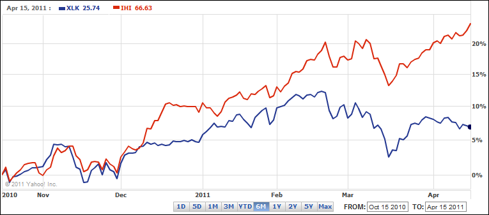 Source: Yahoo! Fianance

(Click chart to expand)
Expect this trend to continue. It takes months for institutional money to be re-directed from one former leading group to a new one. With nascent signs of improvement in capital equipment spending, the market has quickly begun to discount better days ahead for these medical device companies. For further proof of this, take a look at the recent surge in shares of Biolase Technology (BLTI). Observe how quickly the market rewards a company benefitting from a refreshed product cycle and a sizeable uptick in capital equipment spending.

With this trend in mind, we have identified 10 fundamentally sound medical device companies with strong technical price action, all of which appear poised for additional upside over the next few months. Many of these names should grow much faster than the overall market, opening the door for a sizeable revaluation of their shares in the short-to-intermediate term. Let's discuss:

Align Technology Inc. (NASDAQ:ALGN): Given the recent strength in its stock, we have to wonder if the smart money knows something ahead of Align's Q1 2011 earnings report, due out on April 20th. With its Invisalign product enjoying a virtual monopoly over the invisible braces market, Align's shares could easily trend to the high $20s by the fall on any signs of increased spending on its products. We look forward to the company's Wednesday earnings report.

Accuray Inc. (NASDAQ:ARAY): Accuray Inc. designs and sells the CyberKnife system, an image-guided robotic radiology system used for the treatment of solid tumors. Accuray's stock exploded 50% higher in the weeks following its January 27th earnings report. From the company's release:
"System backlog totaled $170 million at the end of the second quarter, up 12 percent and 27 percent, respectively, from the prior quarter and prior year quarter. Service backlog totaled $240 million at the end of the second quarter, up 5 percent and 25 percent, respectively, from the prior quarter and prior year quarter. Total backlog was $410 million at the end of the second quarter, up 8 percent and 26 percent, respectively, from the prior quarter and prior year quarter."

Accuray's stock has been consolidating over the past few weeks after its purchase of competitor, TomoTherapy Inc. Mark May 5th on your calendar. Should Accuray report a continued uptick to its backlog, a new up-leg in the stock will begin. We will purchase the stock on a any move through $10.20 and double-up our position with a subsequent close through $11.

Caliper Life Sciences (NASDAQ:CALP): While we may yet be early on Caliper, we nonetheless like what we see in Caliper's next-generation sequencing technology and the company's ramp toward sustainable profitability. Look for Caliper's key businesses to accelerate throughout 2011, opening the door to additional P/E expansion in the stock. With a market-cap of $342M, Caliper could be an acquisition target for Illumina Inc. (NASDAQ:ILMN) over the next 12 months.

In the near-term, we are looking for a move above resistance at $6.86 before purchasing Caliper. A close thereafter above $7.15 would be the sign a new up-leg has begun for the stock.

The Cooper Companies (NYSE:COO): Cooper Companies develops and markets vision care and women's healthcare products worldwide. Cooper posted a substantial earnings surprise last quarter, Q1 2011, reporting earnings of $0.85 a share, well above the $0.67 estimates. Profits more than doubled in the quarter on a year-over-year basis.

There seems to be the potential for $5.00 in earnings power for its next fiscal year ending in October, 2012. As things stand now, current estimates are only calling for $4.35 a share. Should we see another big beat when the company reports in early June, Cooper could easily be on its way to $100, as institutional investors reward the company with a 20 P/E multiple on $5.00 in earnings power.

DUSA Pharmaceuticals Inc. (NASDAQ:DUSA-OLD): A hat-tip to the authors of recent Seeking Alpha articles touting Dusa Pharmaceuticals' bright prospects. After reporting a blow-out Q4 in early March, Dusa's stock has been on a tear, doubling in price over the past six weeks. In our opinion, there is still additional upside in the shares over the remainder of 2011.

Dusa is gaining market share with its Levulan photodynamic therapy products. When one considers its high-margin structure and low-share count of only 24 million shares, Dusa's business has become a profit-generating machine, booking a 200% upside earnings surprise last quarter.

In the next two weeks, we are looking to buy into any pullback in the shares to Dusa's rising 20-day SMA. Such a pullback would serve as a low-risk entry for new investors. We see upside in DUSA to $8-$10 by the end of the year.

Dynatronics (NASDAQ:DYNT): Dynatronics is a capital equipment maker of physical therapy equipment. Recently, hedge fund manager, Joseph Levy, wrote a comprehensive article on Dynatronics, discussing the major transformation the company has completed after securing three significant contracts with Group Purchasing Organizations (GPO's).

Although DYNT has enjoyed a significant move higher since Levy's article was published, the stock is still quite cheap when one factors in the company's future prospects over the next 12-24 months. After speaking with management and listening to its March conference call, it seems clear that the revenues, combined with the higher gross margins attached to these contracts, will significantly expand the company's profitability over the next two fiscal years.

With a fixed cost structure in place and no need to ramp up its current level of SG&A, every $5M increase in sales should translate into an additional $0.07 a share in earnings for the company.

Assuming the Dynatronics can conservatively grow its revenues 12-15% over the next two fiscal years, DYNT's earnings should grow 100%+ during this time, allowing for $0.11 a share in FY 2011 and $0.23-$0.24 a share in FY 2012. Currently, the biggest problem in owning DYNT is the company's relative obscurity!

This will shortly change, however, as new investors discover the story and discern the leverage in the company's model. If our analysis is correct, we think DYNT could be $4-$5 within twelve months. As such, we remain avid buyers on any pullbacks to $1.60-$1.70 next week.

Intuitive Surgical (NASDAQ:ISRG): Surgical robotics maker, Intuitive Surgical, seems poised to break out to all-time highs in the next few days/weeks. After growing its earnings almost 60% in 2010, we believe ISRG will be able to grow its earnings faster than the current 20%+ forecast for 2011. We have taken a very small position in the name and will significantly add to our position on any gap up to all-time highs. Q1 2011 earnings are expected to be released after the market close on Tuesday, April19th.

Investors should also note that there has been recent speculation that Intuitive will soon apply its robotic technology for the cardiac surgery market. According to some analysts, should ISRG successfully penetrate this market, it could ultimately be an incremental $1.5B opportunity for the company. Should this occur, expect to see ISRG's share price move significantly higher in due time.

Synovis Life Technologies (NASDAQ:SYNO): Synovis Life develops and markets biological and mechanical products used by several surgical specialties to accelerate the reconstruction of soft tissue that has been damaged or destroyed by disease or injury. Growth accelerated for the SYNO last quarter, with revenues rising 28% and earnings growing by 125% year-over-year.

Current estimates for 2011 seem too low, especially when we consider the bullish commentary made by management in its last earnings release:
"Synovis is off to a strong start in fiscal 2011, with record quarterly revenue in multiple product lines," said Richard Kramp, Synovis Life Technologies president and chief executive officer. "In each area of focus, our products are gaining acceptance among physicians for their unique, differentiating features and superior clinical performance. Our specialized sales teams and distribution networks are expanding our customer base, developing solid relationships and becoming increasingly effective in our target markets."

We see $1.10-$1.20 a share in earnings power for SYNO in its next fiscal year. Put a 25 P/E on these numbers and you get a $30 stock in twelve months. We are looking to enter the stock on pullbacks toward $19 next week. Due to the limited liquidity in the name, we recommend a very small position-size to any investors buying into this name.

Zoll Medical (NASDAQ:ZOLL): Zoll provides products used for defibrillation and monitoring, and circulation and CPR feedback. We love the leverage in ZOLL's model. On an expected 14.5% increase in sales for this fiscal year and next, ZOLL's earnings are estimated to grow 37% this year and 41% next year.

With four consecutive quarters of earnings beats under its belt and a solid rate of expected earnings growth in the coming years, ZOLL should continue to benefit from strong money flows into its stock. Should growth accelerate in the coming quarters, we would expect to see the stock move toward $60 by year-end.

ISTA Pharmaceuticals (ISTA): ISTA Pharmaceuticals is a pharmaceutical company which provides products to treat diseases of the eye and certain allergies. ISTA also makes therapies for ocular inflammation and glaucoma, dry eye, and ocular and nasal allergies.

We took the liberty of including the ISTA within this medical devices piece for two reasons: First, we love the chart. While extended in the near-term, the stock recently made five-year highs. Look for a pullback to the $9-$9.50 range before initiating a position. With ISTA's 50-day SMA converging upon these levels over the next two weeks, we feel this would be a low-risk entry point to buy into the stock.

Looking ahead, ISTA's earnings are expected to grow 200% in FY 2011 to $0.17 and another 200% in FY 2012, to $0.54 respectively. After the company's big earnings surprise last quarter, we feel another substantial beat may be in the making. Q1 2011 earnings are due out on Monday, May 2nd.

Disclosure: I am long DYNT, ISRG.