Below are our estimates for what to expect from economic data due for release over the week.

NAHB housing market index
(Monday 18th) – The NAHB housing market index rose from 16 to 17 in March signaling that the housing sector may improve in the next few months after the negative data released in early 2011. Our estimate is for the index to remain unchanged in April at 17 – well below the long-term average at 49.6 – signaling that despite a slight improvement the housing sector will remain weak in the next few months amid the high number of houses in foreclosure. More demand from households is likely to remain subdued as the labour market is improving only at a moderate pace and conditions on the credit market remained tight.
Housing start
(Tuesday 19th) – Housing starts tumbled in February by 22.5% m/m to 479k, only slightly above the historical low at 477k posted in April '09. In March we expect the data to rebound to 512k as the housing sector is not likely to further deteriorate in the short term thanks to the mild improvement in the labour market. However we do not envisage the housing sector will experience a strong improvement in the short term amid the high number of house foreclosures on the market and uncertainties in economic outlook related to the increase in oil prices.
Existing home sales
(Wednesday 20th) – Existing home sales fell by 9.6% m/m to 4.88m in February but remained well above the average of second half 2010, a sign that the sector may slightly strengthen in the short term. Our estimate is for existing home sales to rise to 5.2m.
Leading indicator
(Thursday 21st) – The leading indicator is likely to extend in March its recent strong upward trend – in February the index rose for the eighth consecutive month – rising by 0.2% m/m. The major positive contribution should arrive from the yield curve spread and from the vendor performance, while the more negative contribution will come from consumer confidence. The increase in the leading indicator should confirm that U.S. economic activity may continue expanding at a moderate pace in the next few months.
Philadelphia Fed
(Thursday 21st) – In March the Philadelphia Fed climbed from 35.9 to 43.3 – the highest since January 1984. In April we expect the increase in oil prices and the uncertainties on global economic outlook amid the earthquake that struck Japan and the riots in Middle East to start taking a toll on business confidence. Our estimate is for the index to edge down to 35. However the index should indicate that the industrial sector will continue expanding at a healthy pace in the next few months.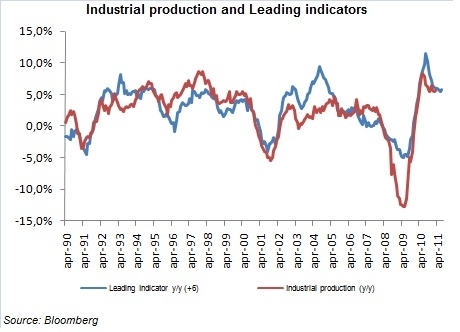 Disclosure: I have no positions in any stocks mentioned, and no plans to initiate any positions within the next 72 hours.