CLI Backgrounder
Peripheral Arterial Disease (PAD) affects an estimated 10% to 20% of all people over the age of 55, with prevalence increasing with age. Prevalence of PAD is also significantly higher, about 30% to 35%, in people with diabetes. PAD is defined as poor circulation to the limbs, and is commonly divided into four stages of disease severity: 1) mild pain when walking (claudication); 2) severe pain when walking relatively short distances (intermittent claudication); 3) pain while resting (rest pain); and 4) biological tissue loss (gangrene). Critical limb ischemia (CLI) is the most severe form PAD, and affects approximately 1 million people in the U.S. each year.
CLI is defined as inadequate blood flow to the limbs, and if left untreated can result in tissue loss, gangrene, amputation, and death. In fact, CLI leads to an average of 160k major limb amputations each year. CLI has a high mortality rate: 25% after 12-months and 75% after 4 years. Nearly 30% of all patients who undergo a major limb amputation will require another amputation at some point in the future. The mortality rate post-amputation remains high, at roughly 25% within the first year.
Therapeutic options for patients with CLI are limited. Besides being at significantly increased risk for heart attack, stroke, or vascular death, patients with CLI often live with several other co-morbidities, including diabetes, angina, dyslipidemia, hypertension, and renal disease.
Sanofi's Failure Opens Door
In September 2010, Sanofi-Aventis (NYSE:SNY) announced its angiogenic (gene) therapy candidate, NV1FGF, failed a Phase 3 trial called TAMARIS designed to show a reduction in amputations and death in patients with CLI. TAMARIS enrolled 525 CLI patients classified as "unsuitable for standard revascularization" or essentially "no option" patients heading towards surgical amputation. Patients were randomized 1:1 to receive eight injections around the leg of NV1FGF or placebo, on days 1, 15, 29, and 43. The primary endpoint was: Time to major amputation of the treated leg or death from any cause at 12 months. This is also known as Amputation Free Survive 12 months, or AFS-12.
Results of TAMARIS showed that 37% of patients receiving NV1FGF had a major amputation or death (26% amputation & 18% death), versus 33% for the placebo (21% amputation & 15% death). Results were not statistically significant. Serious adverse events were 61% for NV1FGF versus 59% for the placebo. Clearly these were very disappointing results.
When we look at the design of TAMARIS, we see the massive trial enrolled patients at over 170 clinical sites around the world in 30 countries. Some clinical sites were located in countries such as Belarus, Estonia, Mexico, Russia, Turkey, and the Ukraine. Besides the underlying fact that NV1FGF just flat out did not do what Sanofi thought it would do, we believe site selection played a role in the trials failure. There is very little way to standardize clinical practices, including standards of care and judgment calls on amputation) between 171 sites and 30 countries.
Focus Turns to Two Small Biotechs
With Sanofi's Phase 3 failure, focus has turned to two small biotech companies:
Aastrom Biosciences (ASTM) is developing an autologous cell therapy, ixmyelocel-T, that has recently completed a

Phase 2b (n=72) clinical trial called RESTORE-CLI. Full results of the trial are expected here in the second quarter 2011. Aastrom is currently trading at $2.58 per share, with a market capitalization of $78 million.

Pluristem Therapeutics (NASDAQ:PSTI) is developing an allogeneic placenta-derived stem cell therapy, PLX-PAD, that has recently completed a

Phase 1 (n=27). Pluristem is currently trading at $3.01 per share, with a market capitalization of $124 million.
Both companies have presented data that Bulls and Bears can sink their teeth into. Aastrom's first interim update on RESTORE-CLI showed very encouraging results. Product-limit survival function estimates after the first update showed a strong (statistically significant) trend in favor of ixmyelocel-T, with a 22% event rate for Aastrom's drug versus 50% for the placebo (p=0.0376). However, after the second interim update, the spread narrow greatly, and the 25% event rate for ixmyelocel-T was no longer statistically significant versus the 29% for the placebo (p=0.5541). The graph below shows the consistency of ixmyelocel-T versus the dramatic improvement in the overall placebo group as the trial progressed.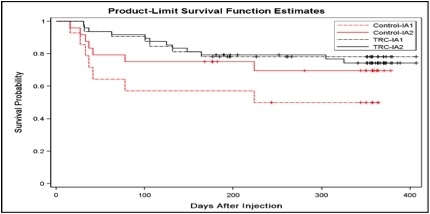 Full results from RESTORE-CLI are expected later in the second quarter. Not all patients in the second interim update had completed the full 12 months of the trial. If RESTORE-CLI hits statistical significance on the full data, it will be because the ixmyelocel-T group maintains an event rate around 25%, whereas the placebo group trends back up toward historic (and expected) levels of 35-40%.
Aastrom is currently talks with the U.S. FDA on the design of two pivotal Phase 3 trials. Management at Aastrom plans to operate both under special protocol assessments (SPA). The first trial is expected to test patients with "no option" for revascularization (similar to the Sanofi TAMARIS trial above) in around 500 patients. However, all sites will be in the U.S. or Canada. They also plan to standardize the protocol for amputation. This is something Sanofi did not do. We expect the finalized SPA will be back in the next few weeks, and management will be in position to start this trial this summer, with the primary endpoint AFS-12. The second trial is expected to test CLI patients that haven't quiet progressed to the "no option" stage. This "poor option" Phase 3 trial in around 250 patients is pegged to start in the fourth quarter 2011. Aastrom is in talks with the FDA on using a modified Major Adverse Limb Event Free Survival (MALE-FS) endpoint at 12 months. The chart below shows why we are optimistic on ixmyelocel-T.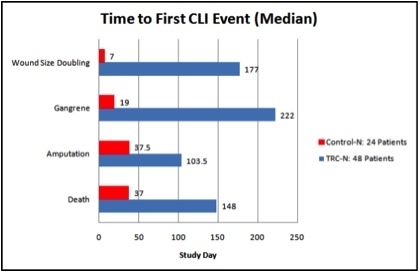 Pluristem only recently completed Phase 1 studies with PLX-PAD. The program was an open label design and only included data from 27 patients, all on PLX-PAD. Results show an impressive 4% event rate, far below the 25% event rate seen with ixmyelocel-T and the expected 35-40% for a placebo. However, there are huge differences between Pluristem's Phase 1 program and Aastrom's Phase 2b program that make us skeptical of calling PLX-PAD the better drug.
Firstly, Pluristem's Phase 1 trial did not include a control. The low 4% event rate is impressive, but there was no standard to compare against. Additionally, the 4% event rate was at 6 months, as opposed to Aastrom's data and the historical placebo data, which is all at 12 months. What will the data for PLX-PAD look like at 12 months? We don't know.
Secondly, we think there are major differences between the patient populations enrolled in Aastrom's Phase 2b versus Pluristem's Phase 1 trial. Aastrom was going after true "no option" patients, mostly all rated 5 on the Rutherford scale. Pluristem's trial enrolled both Rutherford 4 and 5 patients, and specified in the enrollment criteria, "In the opinion of the investigator, major amputation is not anticipated over a period of three months." It was only a six month study, that's half the trial! If this was a pure safety analysis, as most Phase 1 studies are, we would be ok with this. But Pluristem called this a critical limb ischemic trial and established the primary endpoint as amputation and death at six months. We would caution investors before getting excited over these data. The deck was clearly stacked in PLX-PAD's favor. Open-label trials with cherry-picked patient populations are ok for Phase 1, but the FDA will require far more for a registration program.
Pluristem plans to move PLX-PAD into a Phase 2/3 program by the fourth quarter 2010. It will be interesting to see the enrollment criteria, and whether or not the FDA will consider this to be a registration program. Pluristem is also planning a Phase 2 in intermittent claudication (IC) to start in the third quarter 2011. IC is a less severe form of PAD that management plans to file as a supplement to the Phase 2 /3 CLI data. Pluristem is also planning a Phase 2/3 in Buerger's Disease (BD) in the fourth quarter. BD is an acute inflammation and thrombosis of arteries and veins affected the hands and feet. Between these three programs, Pluristem should have the necessary data to gain a pretty wide label for PLX-PAD.
We think, ultimately, if both ixmyelocel-T and PLX-PAD make it to market, PLX-PAD has a larger peak sales opportunity because of the potentially wider label and patient population. There are an estimated 400,000 "no option" patients in the U.S. that would qualify for ixmyelocel-T. There are 2 million patients with earlier-stage CLI and IC that would qualify for PLX-PAD if all Pluristem's trials succeed. Additionally, PLX-PAD is an "off-the-shelf" product versus Aastrom's "off-site/two week" processing. PLX-PAD is an allogenic product, but thanks to the company's proprietary technology, no matching is necessary. The immunogenicity has been removed and PLX-PAD cells are stored ready-to-use as necessary.
This will be an interesting market to watch over the next several quarters. By the end of 2011, both Aastrom and Pluristem should be enrolling their respective trials, competing against each other for CLI patients. At this point, we are more comfortable with the development pathway, and data, laid out by Aastrom Bio. Pluristem remains somewhat of a wildcard given we have only seen preclinical and open-label Phase 1 data.
Disclosure: I have no positions in any stocks mentioned, and no plans to initiate any positions within the next 72 hours.