Orthopedic devices major Stryker Corporation (NYSE:SYK) is expected to release its first-quarter fiscal 2011 results tomorrow (April 19) after the closing bell. Although the Michigan-based company has not divulged any specific financial targets for the quarter, it expects foreign currency to favorably impact sales by roughly 0% to 1%.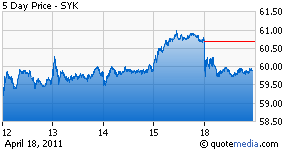 The current Zacks Consensus Estimate for first quarter is 89 cents, representing an estimated 11.55% year over year growth. With respect to earnings surprise, Stryker has posted three positive surprises in the preceding four quarters while it met the Zacks Consensus Estimate on one occasion. The company has produced an average positive earnings surprise of 3.26% over the last four quarters, implying that it has beaten the Zacks Consensus Estimate by that measure.
Fourth-Quarter Revisited
Stryker reported better-than-expected fourth-quarter fiscal 2010 results with adjusted (excluding one-time charges) earnings per share of 93 cents exceeding the Zacks Consensus Estimate of 90 cents. Profit dipped 3.6% on account of a hefty impairment charge associated with the company's divestiture of its bone growth product franchise (the "OP-1" product line) to Tokyo-based equipment maker Olympus Corporation (OTC:OCPNF) and higher expenses.
Revenues rose 8.8% year over year to $1,995 million, buoyed by healthy growth in Stryker's domestic sales and sustained double-digit growth at the MedSurg unit. While the company's hips and knees businesses posted growth, its spine franchise remained sluggish in the quarter.
Stryker backed its fiscal 2011 outlook with revenues expected to grow 11%-13% year over year while adjusted earnings are forecast to increase 10%-13%.
Estimate Revisions Trend
Agreement
Estimates for first-quarter 2011 demonstrate a lack of activity over the last week with just one analyst (out of total 29) raising his/her forecast without being accompanied by any reverse movements. Over the past month, estimates have been edging toward the negative side with 2 (out of 29) analysts lowering their estimates and one making a positive revision.
For full-year fiscal 2011, estimates reflect a positive consensus with 3 out of 32 analysts having lifted their forecasts over the last 7 days with none moving in the opposite direction. Likewise, over the past month, 4 analysts (out of 32) have hiked their earnings estimates with just a solitary reverse movement.
Magnitude
Given the relative lack of estimate revisions, the magnitude of revisions for the forthcoming quarter has plateaued over the last week and month. Moreover, despite a few upward revisions, the estimate for fiscal 2011 has been static (at $3.71) over the past 7 and 30 days.
Neutral on Stryker
Stryker has a well diversified product portfolio that continue to perform well in a challenging operating environment. We believe that the company is poised for growth across its Orthopedic and MedSurg units driven by new product launches, acquisitions and an improving hospital capital spending backdrop. The MedSurg division continues to grow at a healthy double-digit rate, benefiting from the synergies of the acquisition of Ascent Healthcare.
The $1.5 billion acquisition of Boston Scientific's (NYSE:BSX) neurovascular unit has provided Stryker access into the fast-growing therapy market. The acquired business complements the company's neurosurgery products range and positions it as the leading player in the neurovascular market.
Moreover, with the divestiture of the OP-1 business, Stryker is redirecting a part of the related R&D spending to other internal projects having the potential to deliver better returns, which is a positive step.
We feel that new products (including ADM and Rejuvenate) coupled with acquisitions should favorably impact 2011 results. Moreover, the ongoing transition from metal-on-metal (MoM) hip implants to next-generation hip systems represents a tailwind for Stryker.
However, Stryker faces stiff challenges from Zimmer Holdings (ZMH), Smith & Nephew (NYSE:SNN), CONMED Corp (NASDAQ:CNMD), Biomet and DePuy, a division of Johnson & Johnson (NYSE:JNJ), in a highly competitive orthopedic industry.
Moreover, the company remains exposed to pricing and procedure volume pressure on its hip, knee and spine products. Although recent trends indicate favorable procedure (hip/knees) volume growth due to the pent-up patient demand, a material turnaround is not likely in 2011. A still soft reconstructive implant market remains an overhang for the stock. This is reflected in our long-term Neutral recommendation on Stryker, which is backed by a short-term Zacks #3 Rank (Hold).