U.S. equity markets plunged to start the week as continued fears over Europe's debt situation and a surprise cut in the outlook for U.S. sovereign debt rattled stocks and commodities during Monday trading. The Dow, which at one point was off by over 240 points, managed to claw back some of the losses late in the session to finish down just 140 points on the day. The Nasdaq and the S&P 500 had similar outcomes, also sinking by 1.1% to start the week. Thanks to fears over a slowdown in developed markets in light of this news, oil prices tumbled. Crude fell by just under 2.1% in New York trading. Meanwhile, safe haven commodities such as gold continued their recent rally, as the yellow metal jumped higher by $11/oz. to finish just shy of the $1,500/oz. mark. Meanwhile, silver once again outperformed its yellow cousin in terms of a percentage move as the white metal gained over 2.1% on the day to finish above the $43.45/oz. mark. Despite the pessimism regarding the U.S. debt situation and the flight to precious metals, U.S. bonds did see some inflows today as yields sank across most of the long dated debt issues.
One of the biggest winners in the ETFdb 60 was the iPath S&P 500 VIX Short-Term Futures ETN (NYSEARCA:VXX), which rose by 2.1% to open up the week. These gains came as traders across the globe sold off equities in light of S&P's report regarding the U.S. debt situation and the lack of political will to get anything done to reign in the country's massive deficit. "The fiscal profile of the U.S. is increasingly diverging from that of its AAA peers," said David Beers, an S&P analyst, on a conference call. "This was the time to update our opinion." Thanks to this turmoil, VXX experienced extremely heavy volume of just over 32 million shares or close to double its daily average of just over 16 million. Nevertheless, the VXX ETF has had a rough couple of weeks as the fund is still down 2.7% over the past week and 5.3% over the last two.
Click to enlarge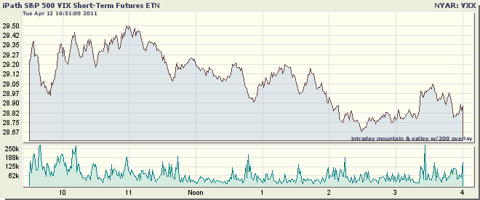 One of the biggest losers in the ETF world was the Vanguard MSCI European ETF (NYSEARCA:VGK) which tumbled by 2.5% on the day. These losses came thanks to European debt trouble as yields on two and five year Greek debt hit 18%, leaving many to question if or when a restructuring program for the nation's debt will have to take place. Meanwhile, an election in Finland cast a shadow over further bailouts, as the country's True Finns party took nearly 19% of the vote and remain opposed to further bailouts, possibly throwing a wrench into the system of those who are looking for more payments to come from the stronger euro zone members in order to prop up the peripheral, and fiscally weak, nations. To top things off, Spain didn't exactly have a great auction of its short-term debt as its auction of 12 month T-bills came in at a yield of 2.77% up from 2.13% previously. Thanks to all of these factors, equities in Europe sold off across the board, causing one of the most popular funds in the category, VGK, to tumble by more than 2.5% to start the week.
Click to enlarge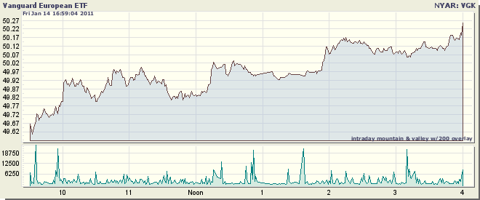 Disclosure: No positions at time of writing.
Disclaimer: ETF Database is not an investment advisor, and any content published by ETF Database does not constitute individual investment advice. The opinions offered herein are not personalized recommendations to buy, sell or hold securities. From time to time, issuers of exchange-traded products mentioned herein may place paid advertisements with ETF Database. All content on ETF Database is produced independently of any advertising relationships.