Demand Media (DMD) stock was down over 10% yesterday. Investors are worried about the potential impact of recent Google's (GOOG) algorithm changes on Demand Media's eHow website. Demand Media's management downplayed the potential impact and reaffirmed their 2011 guidance.
However, it appears that Google's algo changes have already started affecting eHow's traffic. Following are some of the traffic graphs for eHow website from Alexa, which confirms this.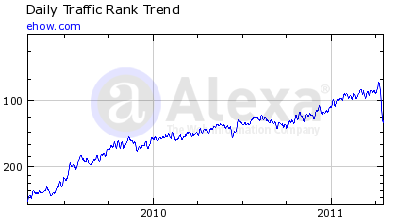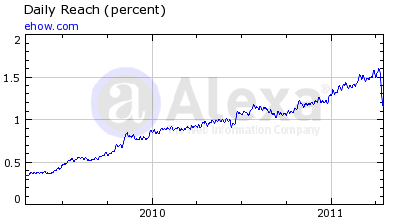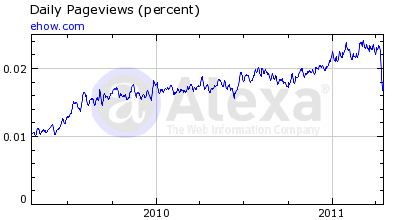 Contrary to what management has said, it appears the effect of recent changes in Google's algorithm is quite meaningful. Even a slight look at above graph tells that Demand Media's daily reach has reduced over 25% in past few days erasing all the gains it made Year to Date. Further, in addition to affecting company's bottom-line, this is also a big negative news for its contributors. Imagine some one earning $10 per article who would now have to settle for just $7. This adverse effect on contributor's morale could not be ignored as they are very important stakeholders in Demand Media's business. Also, this attitude change of Google towards content farm creates questions on the viability of Demand Media's business model itself.
Demand Media stock has already corrected quite a bit in past few days, but there is significant amount of downside still left in the stock given the company is way too overvalued (on P/E and P/S basis) and is hardly making any money. The investor expectations are way ahead of the fundamentals of the company and this is the first blow. I believe the stock is a good one to go short on.
Disclosure: I have no positions in any stocks mentioned, and no plans to initiate any positions within the next 72 hours.