By Tim Seymour
Turkey is still one of the most crucial markets out there, but after its recent wild swings is it a bargain or a profit-taking opportunity? That is the topic on this week's Trading the Globe.
First of all, why are we still talking about Turkey? For one thing, with 82 million people, it is still the 15th most populous country in the world, and 26% of that population is still under 15 years old.
In other words, the fundamentals have not gone away. Neither have the challenges that go along with that situation: Turkey has a big unemployment problem and inflation has been high on energy price imports.
But while Istanbul is the bridge between East and West, the market plunged 28% in dollar terms from early November to March 2 and has now bounced back 21%.
Is this enough of a bounce to take profits, or should you still be buying?
For one thing, the Turkish central bank has cut interest rates 75 basis points in the last three months and looks certain to stay there for awhile. They are trying to stop capital inflows — and so fight inflation — by hiking bank reserve requirements instead.
Since Turkey is not an oil-rich country, it is forced to import a lot of its energy. This means that any retreat in oil prices will be a buying opportunity as far as the Turkish lira is concerned.
Sector by sector, the auto names just got slapped with a 277-million-lira fine for potential price-fixing activity, but many of these companies are difficult to trade anyway.
Turk Telecom (OTC:TRKNF) is also tricky to trade. The company reports earnings today. While wireline companies have been an interesting play, Turkcell (NYSE:TKC) is the leader in mobile and has underperformed by 40% — time to switch this trade.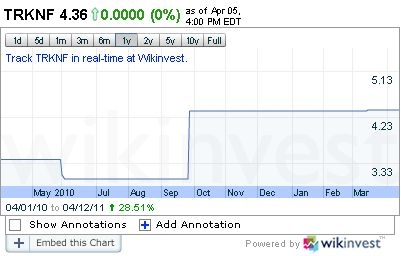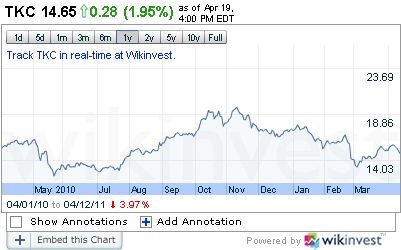 On the banks, Garanti and Halik Bank are still the best. You can get exposure to these companies via the broad TUR ETF: