Sometimes the prices that some investors are willing to pay for a stock get me to scratch my head and wonder what they are thinking. It really shouldn't since investors appear to make the same mistakes over and over. Buying at the high and selling at the low seems to be the order of the day for many more. Even without a high amount of due diligence and just running some basic numbers through a spreadsheet, while remaining emotionless, would reap substantial rewards. Maybe that is just the way it has to be and people will have differences of opinion. Sometimes though the warning signs are so large and so brightly lit up that there really is no excuse for not knowing what the likely outcome is. Crocs, Inc. (NASDAQ:CROX) is one of my favorite examples.
Overpriced shoes that have a simple design along with a massive high PE on the company spelled "short" for me and to aid in my timing I shorted calls. A more recent one was Compellent Technologies, Inc., which DELL bought out. With a price of over 100X earnings due to a run up in price from the buyout rumor, I shorted it knowing that DELL never paid more than 80X earnings and that was only once. I found it interesting that some would post comments that it may be bought out for numbers that would be 200X earnings plus. While DELL may have paid over 110X earnings and I may have lost on that short, I knew the odds where in my favor and that is about all I can ask for or need. Having an educated researched estimation on what likely will happen provides the edge needed in the markets.
When I look at the prices being bid for Sina Corp. (NASDAQ:SINA), I once again wonder what possible good thing investors may happen. I understand momentum and day traders moving in and out as the fundamentals do not matter in the least. As for buy and holds, these two portfolio train wrecks both appear to have one very obvious outcome and the word "happiness" does not come to mind. Looking at the current valuations we find important numbers that investors should be taking a look at.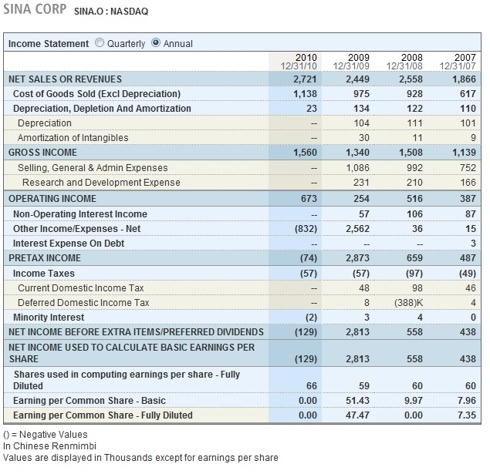 (Click charts to expand)
Price to sales for the past twelve months is over 20 to 1. Investors are paying 20 X the amount of revenue (not profit) for the last year per share. Looking at the profit, it appears that SINA reported about $1.72 in earnings for the last four quarters. That would give it a PE of almost 80. A PE is seldom justified and the rare cases where buying a multiple that high produces actual gains are almost exclusively of small high growth companies. SINA is neither, but it would appear that many believe what has not been happening may happen. SINA reported 2008 earnings of $80.64 million up from 2007. In 2009 SINA did report similar to a high growth company with an increase in earnings to $411.90 million for the year. Since then SINA has been anything but a high growth stock and in fact has been a laggard. In 2010 SINA reported a loss. More importantly, it is the top line growth or lack of it.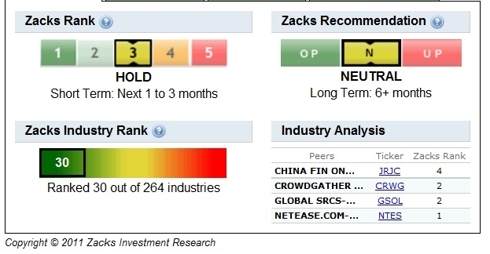 In 2008 SINA's top line reported results were $369.59 million. In 2009 the top line dropped to $358.57 million and 2010 sales reported $402.62. I am not sure what it took to get the top line number over the $400 million mark, but it appears I am not alone in thinking that perhaps some creative accounting may have played a part. The earnings estimate for the first quarter 2011 is down significantly from last quarter. With a low estimate of $0.21 and a high estimate of $0.37, SINA finds a mean estimate of $0.28. Even if SINA beats the estimate and guides higher, if they produce about $2 of income for 2011 that would be buying a company with slow growth with a forward PE of 70.
While the impairment from CRIC resulted in a write down of what would have been a better report, it doesn't take SINA out of nose bleed pricing. What if they miss? What if earnings in any of the next four quarters disappoint? Investors can see how stocks are treated when that happens. In the middle of January FFIV had a multiple like SINA and they reported record revenue and record earnings. What killed that stock was the guidance. It wasn't bad actually but it wasn't the growth level investors expected and a quick look at the chart shows what happens.
Of course, all of this assumes that what is being reported can be counted on and that there are no speed-bumps along the way. While China may or may not be growing its internet user base, the numbers should be interesting to those who are invested - or thinking of investing - in SINA. There have been a lot of investors lately with some serious battle scars after looking to the Middle Kingdom to exploit their growth. Many investors appear to be using the theory that there will be a greater fool to sell to, which works great until it doesn't, and valuations come back into line with reality.
What some forget is that investors can have the best of both worlds. In order to be exposed to China one does not need all the risk that comes with a "China only" play. Both Yahoo (YHOO) and Microsoft (NASDAQ:MSFT) have a huge presence in China and compete with websites that are nearly exclusive to China. I believe buying YHOO or MSFT and even Google (NASDAQ:GOOG) for China makes a lot more sense. The fear of accounting problems is lower, in my opinion, and not having all your eggs in a basket that is controlled by the current government may not be a bad idea. Unless one believes that GOOG will not re-enter the Chinese market, a discount on the shares would appear to be appropriate. While GOOG has a presence in Beijing for advertising, it also keeps the door open to talks for what, I believe, will be the eventual permission of search by the Chinese government.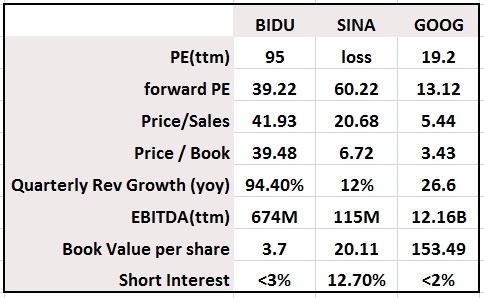 I use a proprietary mix of technical analysis, financial crowd behavior, and fundamentals in my short-term trades. While not exactly the same in longer swing trades to investments, the concepts used are similar. I believe the company and the company stock correlation have separated, thus leaving the stock to be over-priced relative to the performance of the company. I believe that if SINA hits a speed bump it could easily be in double digit pricing.
Disclosure: I am short SINA.