News hit several weeks ago that eBay (NASDAQ:EBAY) would separate its Marketplaces PayPal operations into two publicly-traded companies, a move we think is a good idea to unlock shareholder value. We've liked eBay for some time (see our October 2011 note: eBay Looks Like a Slam Dunk Investment), long before Carl Icahn brought attention to the massive mispricing in shares. As such, we agree with the rationale the company provided when it announced the intention to split on its company blog:
Creating two standalone businesses best positions eBay and PayPal to capitalize on their respective growth opportunities in the rapidly changing global commerce and payments landscape, and is the best path for creating sustainable shareholder value.

eBay and PayPal will be sharper and stronger, and more focused and competitive as leading, standalone companies in their respective markets…As independent companies, eBay and PayPal will enjoy added flexibility to pursue new market and partnership opportunities. And we are confident following a thorough assessment of the relationships between eBay and PayPal that operating agreements can maintain synergies going forward. Our board and management team believe that putting eBay and PayPal on independent paths in 2015 is best for each business and will create additional value for our shareholders.
Unlike Hewlett-Packard (HPQ), Symantec (SYMC), and PepsiCo (PEP), which either have announced a decision to split operations or have activist investors encouraging such a move, eBay is significantly underpriced. Under a scenario where eBay splits into two separate and distinct companies, the market will be forced to value each part of eBay individually (removing any 'conglomerate' discount). When this happens, the two separate companies should get a combined market capitalization far greater than that of eBay today.
We estimate eBay's shares are worth north of $70 each on a sum-of-the-parts basis, implying material upside from current levels in the low $50s. Our valuation breakdown of the company is shown below.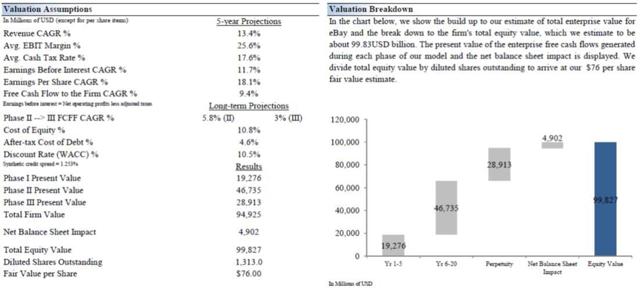 Image Source: Valuentum's 16-page report
Still, not everything is rosy at eBay. The company's third-quarter results came in slightly below consensus expectations on both the top and bottom lines. Revenue expansion came in at 12% during the quarter thanks to a 27% increase in enabled commerce volume (ECV). Mobile ECV spiked an impressive 67% during the period, to $14 billion (~21% of the total). eBay Marketplaces gross merchandise volume (GMV) also performed well, growing 9% thanks to a 7% increase in the US and 11% on an international basis.
These top-line growth rates are great, but earnings only nudged higher by a few percentage points in the period. We would have expected better operating leverage across the firm's business model given the robust pace of top-line growth. Total operating expenses on a GAAP basis increased 16.8% (faster than the 12% sales expansion). Gross margin fell to 68.1% from 68.6% in the year-ago period, while sales & marketing and product development spending also ramped up on a year-over-year basis. We applaud management's decision to keep investing in the business, but we'd still like to see a better pace of earnings expansion. eBay's outlook for the fourth quarter of 2014 also came in slightly lower than expected, albeit modestly.
We're not making any changes to our fair value estimate of the e-commerce and payments giant. Current market malaise could cause the price-to-fair value convergence to take longer than expected, but nonetheless, we think holders of eBay's stock will be rewarded over the long haul.
Aside from the valuation thesis, it's probable that PayPal, as a separate company, could become a take-out target by a suitor looking to make inroads into a payment platform. PayPal and Apple (AAPL) did not see eye-to-eye with Apple Pay, but a PayPal spin-off could change everything. A fresh new team at a spun-off PayPal could be more amenable to doing business with Apple and vice-versa. In the game of business, relationships are everything, and this may be why talks of a split have accelerated at eBay. The firm can't afford to do without Apple, which sports a culture of continuous innovation and is a threat across all verticals of consumer technology.
Of course we're not banking on a deal, but a transaction with any suitor would be icing on the "eBay valuation thesis" cake. The mobile payments space has a long way to go before maturation sets in, and PayPal will be faced with both opportunities and challenges. Breaking up is the right thing to do. In our view, eBay is flat-out a cheap stock.