Tech stocks have lagging the rest of the market lately. Given how poorly stocks in general have doing over the last few weeks, that's saying something.
So the contrarian outlook would suggest that tech, having been in the doghouse for a while, is ready for a comeback.
As a sector, tech might still be facing some struggles but it seems there are some individual names that are perking up.
After running the Alert HQ process Tuesday evening, I looked for stocks whose 50-day exponential moving average is turning up. The Premium Stock Screener turned up a modest list of stocks. Further refining the screen to identify those companies that are profitable, are in the tech sector and that have just shown a one notch improvement in Trend Performance results in a short list of three stocks:
Quantum Corp (NYSE:QTM) – electronic components
Spreadtrum Communications, Inc. (NASDAQ:SPRD) – semiconductors
VMware (NYSE:VMW) – software
The standout appears to be Spreadtrum. Here is the chart showing the 50-day EMA ():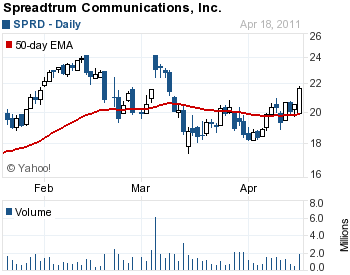 You can see the stock popped nicely recently.
Spreadtrum is a fabless semiconductor company that designs, develops, and markets baseband processors, radio frequency (RF) transceivers, and turnkey solutions for the wireless communications and mobile television markets. The company originally produced chips for GSM handsets, but most of its resources are now focused on the Chinese TD-SCDMA 3G standard. In addition to GSM and combined GSM/TD-SCDMA baseband chipsets, Spreadtrum also supplies chips for two Chinese mobile TV standards.
Zacks.com has written favorably about the company several times and with good reason. The following chart of financials speaks for itself ():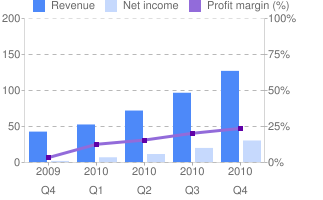 The steady improvement every quarter in revenue, earnings and profit margin is something rare in the semiconductor industry where things seem to swing between boom and bust.
Despite the excellent growth characteristics, the stock still demonstrates reasonable value. The trailing PE is in the teens but the forward PE is under 10. Though PEG, at a mere 0.5, indicates the stock is still cheap, other ratios (price-to-sales, Enterprise Value/EBITDA) suggest the stock is somewhere around fairly valued. With return-on-equity at a very strong 42, it is clear that management has the company growing nicely and fairly valued today may actually be undervalued given tomorrow's expectations.
Spreadtrum is primarily a bet on the continued growth of the Chinese cell phone market. That is probably a pretty safe bet. Currently, 64% of Chinese own a cell phone. There are many countries where the percentage is much higher. Given that there are over 1.3 billion people in China, there are still plenty of phones that can be sold into that market. Another positive is that the company expects that its supply chain will be unaffected by the disaster in Japan.
In summary, Spreadtrum has a history of delivering growth and at current prices and with the current chart setup, the stock looks quite attractive.
Disclosure: no positions in any stocks mentioned in this post.