Gold and silver have once again hit new highs. In our last letter, I said gold would climb to $1500 if it held above $1470 for the week. On Monday, gold fell below that threshold and thus it did not hit our target of $1500. However, it did climb to new highs and support levels continue to move up.
Not long ago in the recent letter Far From Over, I mentioned that gold has been showing incredible support and the line of least resistance is now to the upside - this hasn't changed.
Silver has also climbed to a new 31-year high, closing at nearly $43. While I believe silver will climb higher, I would use some caution as gold may move higher relative to silver in the near term. Here are the results from last week's survey, "Are You a Gold Bull or Bear?: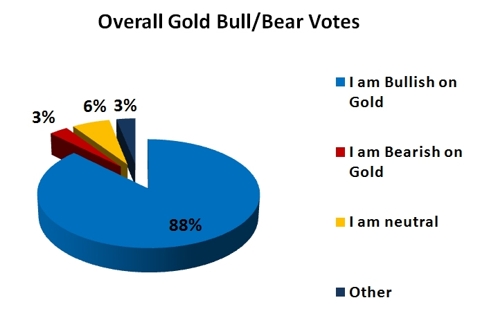 It's apparent that the majority of you are bullish on gold but many of you left comments in favour of silver. While I have liked silver for a long time, new highs often leave the potential forshort term weakness from profit takers.
If you're a buy and hold investor, the next few months would a great time to look at precious metal stocks - especially if we see a correction in commodity prices. Many of these stocks have yet to move with the high prices of both gold and silver, but this will eventually catch up - especially if prices stay high over the summer months.
As a matter of fact, there are many gold and silver producers that are making money hand over fist with these high metal prices and the real value of this increase in earnings has yet to be completely factored into share prices. While investors often feel a slight disconnect between silver equities and silver prices, many of the big silver names have performed relative to silver prices.
Take a look at this chart: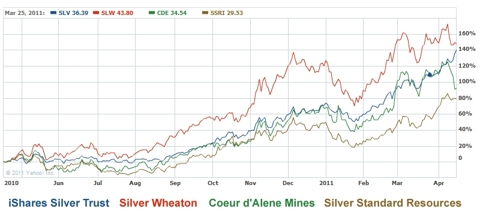 click to enlarge
When you compare the performance of silver equities such as Silver Wheaton, Coeur d'Alene Mines, and Silver Standard Resources with the iShares Silver Trust (as seen above), you can see that the performance of each stock almost directly reflects silver prices.
Last week silver equities moved down even as silver prices moved up, but I believe this is merely a temporary disconnect. If silver prices hold at these levels or continue to move up, the big name silver equities should catch up. If silver opens strong next week, look at the big silver names such as Silver Wheaton for a few percentage pop opportunity.
I am still looking for a strong surge by the precious metals juniors toward the later end of the year, as speculation in the sector becomes even more bullish.
The most interesting factor in the recent silver rise is the lack of long exposure by the managed money funds such as hedge funds, commodity funds, and other big money speculators. In the last few months, the managed money funds net long position have decreased nearly 10%, while the price of silver has risen over 30%.
That means the rise in silver prices are mainly as a result of the retail investor. Therefore, downside risk is minimized and the bull market train should continue to gain some speed. Why? Managed money funds often employ tremendous leverage. If silver prices were to drop slightly, many of these futures traders would be forced to liquidate to cover their long positions. Then, of course, the good ol' dominoe effect.
Retail investors, on the other hand, rarely use leverage as part of their investment strategy. As such, if silver prices were to experience a near term drop, they would not be forced to liquidate. The more investment demand into silver by retail investors, the less the metal price can be manipulated.
This scenario was very apparent this week when Goldman and other big name firms called for a sharp pullback. This caused both gold and silver to open the week in a slump, only to bounce back to new highs. We are now in a market where the demand for these precious metals investments has gotten so large that it is becoming harder and harder for the big name firms to mess with our markets. The investors are taking over. On Friday, Goldman said:
Mounting downside risks to current exceptionally high crude oil prices are leading us to recommend an underweight allocation to commodities on a 3 to 6-month horizon, but we maintainan overweight on a 12-month horizon on tightening fundamentals over the next year.
What does that even mean? I'll tell you what it means. It means Goldman wants you to sell your commodities and related stocks in the short term so that they can buy it all back at cheaper prices. Interestingly, this time frame does correspond with my predictions that precious metals equities will surge toward the later end of this year.
The silver market is small. There are not a lot of silver miners out there. That means big opportunities for some of the smaller producers to catch up with the market as the demand for silver increases. If you haven't already looked at some of these names, start looking. The silver companies mentioned in last year's letters have all doubled in value, if not more. If silver prices hold above $35 for the rest of the year, there's going to be a serious run by many of the lesser known silver miners. There are still bargains out there.
Overall, this week went as predicted. Precious metals moved to new highs and volatility in the markets increased. At this point, I am still waiting on April 27 to see what Bernanke has up his sleeve. Next week's volatility will be no different this as traders remain on edge.
Keep your eye on precious metals. Even as many call for a correction, gold could still climb above $1500 next week and silver to $45. That would be a major milestone for both. We shall see.