In November 2009, Porsche (OTCPK:POAHF) announced that it would offer as of January 2010 the first lithium-ion starter battery option. Even though the main motivation of this car maker to develop and introduce the new battery was "its lower weight to enhance performance and dynamics," there appear to have been other reasons as well. They pertain to size, practical output, power delivery, recharging, self-discharge, and service life, all of which point to significant advantages over conventional lead batteries.
One drawback of the new starter battery is of course its price: At $2,995, it can hardly be taken as a competitive choice. Another one may be its limited capacity at cold temperatures, which prevents it from year-round use in certain places of the world. Yet by May 2010, the battery could already be purchased as a "standalone part" or "as a factory option" on at least three Porsche models (911 GT3, 911 GT3 RS, and Boxster Spyder).
The Porsche approach to massify Li-ion batteries is now being followed by A123 Systems (AONE), albeit with two important variants. Unlike Porsche, A123's 12V Li-ion battery solution makes no compromise on cold starts. Second, it "is targeting the emerging stop-start/microhybrid market," possibility not mentioned by Porsche in its 2009 announcement.
According to A123, a version of its 12V battery solution has already been introduced in a bus application where it has been found to last 2.5 to 3 times longer than an absorption glass mat (AGM) battery, one of the most advanced lead-acid batteries today. This may be seen as a way to offset the higher cost of the Li-ion battery option.
In addition, its incursion in the stop-start/microbybrid market opens a new window of opportunity for the battery maker. Stop-start technology enables a car's engine to shut down when the vehicle stops but automatically powers it up when the driver hits the accelerator. The technology "claims to reduce fuel consumption by up to 15 percent in normal driving."
As a recent instablog indicates, "if lithium batteries can claim at least part of stop-start auto market, it will be a very dramatic change in the global demand picture." By using a chart elaborated by Pike Research, the blogger shows that between 2011 and 2015, the size of that market could grow from a little over 3 million vehicles to almost 9 million vehicles worldwide.
Of course, to obtain an important share of this market, A123 will have to compete not only with a number of enhanced lead-acid battery makers that already produce just about all of today's stop-start batteries but also with ultracapacitor manufacturers such as Continental AG (OTCPK:CTTAY) and Maxwell Technologies (NASDAQ:MXWL) which, following Pike Research, developed the ultracapacitors for the first stop-start vehicles delivered by PSA Peugeot Citroen (OTCPK:PEUGF) in 2010. So if A123 Systems now manages to advance the correct business strategy, chances are it could reach a rather huge market.
In a recent article, I argued that Toyota's (NYSE:TM) decision to introduce the first Li-ion battery-operated Prius ever in Europe may imply killing nickel metal hydride (NiMH) batteries. The question remains as to whether A123's recent move will contribute to a Li-ion conspiration against lead-acid batteries as well. That, again, will most likely depend on the kind of business strategy A123 is able to put together in the near future.
Until recently, prospects did not seem to look that promising for A123. As is well known, the innovative energy storage system manufacturer has been undergoing the most severe financial crisis since its very inception into the market, back in 2001. Following Goldman Sachs' (NYSE:GS) recent upgrading of its rating from Neutral to Buy while maintaining a $9 target, A123's shares spiked on April 18, closing at $6.13, one of the largest increases during the year (see the chart below).
Note also that this result reflected one of the highest volume of shares traded since the company went public. Among the factors cited by a Forbes article as major short-term catalysts for the stock -- other than having recently been able to raise $254 million to de-risk its capacity growth, improve its competitive stance, and increase its credibility -- are announcements of first sales to electric car producer Fisker; a major OEM associate for energy storage systems in the global automotive industry; a new CFO to bring more transparency; and a Department of Energy loan assurance.
[Click to enlarge]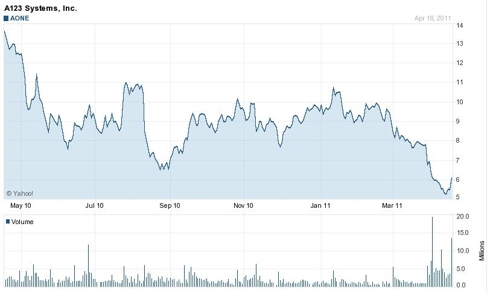 No doubt A123 has a lot of potential in the energy storage sector as a whole, particularly as we head toward a new lithium era in the world. It is perhaps the only company capable of leading the emerging advanced lithium battery industry in the US. But this may take at least another two or three years. Meanwhile, A123 urgently needs to show clear, concrete and immediate results to its shareholders. Lithium-ion battery massification in the ICE car industry may then be a way out of the financial crisis that has put this company at serious risk of survival.
Disclosure: I have no positions in any stocks mentioned, and no plans to initiate any positions within the next 72 hours.