By David Russell
In late March I started writing about healthcare stocks because I was worried about the fortitude of the broader market. I abandoned that argument at the time because I found even greater strength in metal and coal stocks. But the original idea had merit: Not because it's time to be defensive, but because healthcare might now be a good sector to go on the offensive.

As I wrote last year, the current stock market is the best I have ever seen: Just when you think the rally is over, another sector catches the mojo. That seems to be the case now with healthcare, a sector that has been in the dumps since early 2008 when the market started worrying about increased government regulation.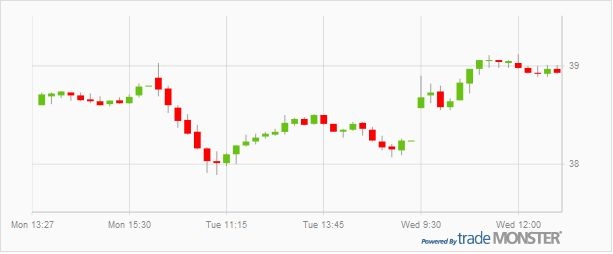 Researching different companies and perusing headlines more recently, I'm finding that things are looking better. For instance, Questcor Pharmaceuticals (QCOR) leaped more than 20% on April 5 after reporting a giant revenue number on the strength of its Acthar multiple-sclerosis gel.

Cubist Pharmaceuticals (CBST) surged 15% after settling a patent dispute. The agreement itself was minor on the surface, only affecting a six-month period far into the future. But the real impact was that it lifted a cloud of uncertainty because management can now sign marketing deals. In other words, value was waiting to be unlocked.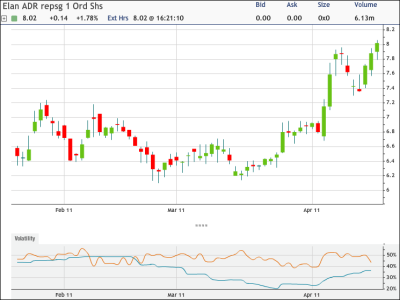 Also that day, we saw a flurry of bullish activity in Irish drug maker Elan (NYSE:ELN). I won't waste space on the details here because most of the key information is here. But I will refer readers back to the discussion of moving averages. ELN is now looking pretty interesting as it breaks free of its 500-day moving average and its other key long-term averages line up bullishly.

Another company that can be purchased around its current levels is Baxter (NYSE:BAX), which is trying to fill a bearish gap that occurred almost a year ago on a terrible earnings report. It has frequently appeared on our Heat Seeker as it climbed from the low $40s to over $50. But for the last five months Baxter has been consolidating those gains. The provider of blood products is now finding support at the higher end of that range and looks like it's ready to fight its way back as it prepares to bring new products to market.

CareFusion (NYSE:CFN), which saw a bullish ratio spread recently, could be played for a limited move. It could be purchased for $28 or less with a $0.50 stop and a $30 price target. Not a barn burner, I know, but not a bad risk/reward either.

There are a few other categories of stocks I want to mention. The first are runaway breakout names such as Cerner, AmerisourceBergen, and Mako Surgical.

Cerner Corp. (NASDAQ:CERN) is riding the bullish wave in medical IT and software, while AmerisourceBergen (NYSE:ABC) is benefiting from the trend of patients shifting to lower-cost generic drugs. MAKO Surgical (NASDAQ:MAKO) has been selling its orthopedic devices like hot cakes. At the end of March, the company exploded higher after receiving a big order.

Hospital stocks such as Health Management Associates (NYSE:HMA), WellPoint (WLP), and HealthSouth (HLS) also look interesting and appear to be accelerating to the upside. They can be purchased around their current levels with tight stops, or on steeper pullbacks to their 30- or 50-day moving averages. Another buy possibility around here is McKesson (NYSE:MCK), which is in a similar business as ABC and has been consolidating after raising guidance on February 1.

The third group are the beaten-down stocks sitting near long-term support. I generally wouldn't recommend buying these when others are actually climbing, but they should be watched for their potential down the road. These include Teva Pharmaceutical Industries (NYSE:TEVA), Amgen (NASDAQ:AMGN), and MedcoHealth Solutions (NYSE:MHS).

Saving the best for last, I want to end with Endo Pharmaceuticals (NASDAQ:ENDP). This company, whose main products are in pain management, made a giant move last year. It has consolidated and is just now breaking into new territory. ENDP may pause around the $40 level or even pullback toward $38-$39, but it seems to be in the midst of a secular bull run and will probably be much higher in one year.

The valuations are especially enticing because its trades for just 9 times forward earnings, despite 30% revenue growth. It also has a price/sales ratio of less than 3 times, less than half the premium that many other drug makers command.
Disclosure: None
(Editor's note: This article appeared in optionMONSTER's Open Order newsletter of April 6.)