The Vanguard Information Technology ETF (NYSEARCA:VGT) over the past year has generated performance similar to that of the S&P 500 index (NYSEARCA:SPY). However, as is typically the case, the individual holdings within a sector fund span a range of performance; and they span a range of fundamental and valuation parameters as well.
Let's look inside VGT to view the top 10 holdings of that fund to see some key valuation and fundamental attributes, and also some price behavior indicators, and some analyst opinions about each:
Apple (NASDAQ:AAPL)
Microsoft (NASDAQ:MSFT)
IBM (NYSE:IBM)
GOOGLE (NASDAQ:GOOG)
Oracle (NYSE:ORCL)
Intel (NASDAQ:INTC)
CISCO (NASDAQ:CSCO)
Hewlett-Packard (NYSE:HPQ)
Qualcomm (NASDAQ:QCOM)
EMC (EMC)
Click to enlarge charts
First, some charts. This first chart shows the percent performance of VGT versus SPY: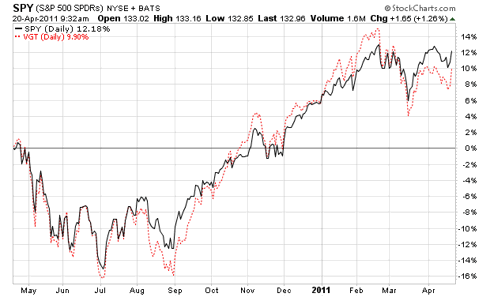 The next two charts show the performance of the top 10 holdings versus SPY: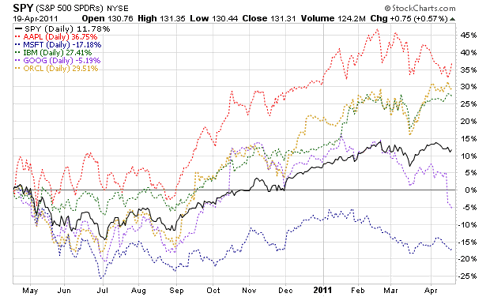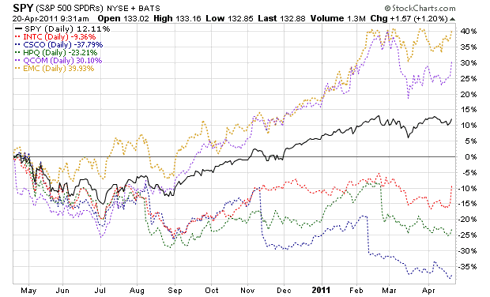 These three charts certainly argue for stock selection over passive indexing for this sector over that time period. There were some big winners and some big losers in both absolute and relative terms.
The top three (from higher to lower) and better than the S&P 500 were:
The bottom three (from worse to better), and worse than the S&P 500 were:
Now let's look at a table that contains fundamental, valuation, price behavior and analyst opinion data (as of April 19, 2011):

Click to enlarge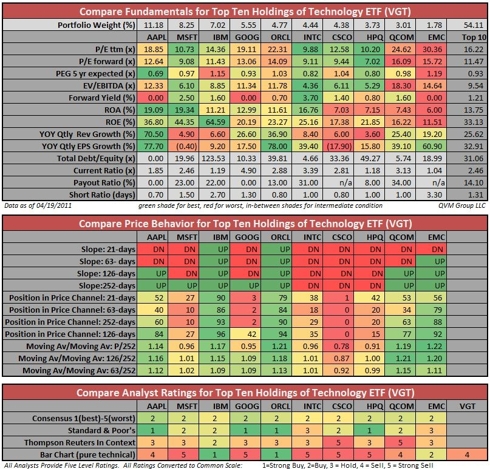 The color coding may help visually capture the data better than the detailed numbers inside each cell. Green is most positive. Red is most negative. Yellow is neutral. Intermediate shades are for intermediate conditions.
The first major thing we see is that EMC, which led the group in stock market performance, has the least favorable pricing, and return on assets and equity, but good growth. Its price behavior is all in the green, except for the most recent 21-day (1-month) slope. It is rated neutral to positive by the fundamental and technical services cited. This is the kind of prey that momentum hunters seek (if they can deal with the negative price reaction that could occur if growth and profits fall below expectations).
The second major thing we see is that INTC, which is among the worst stock market performers, has relatively attractive valuation parameters, and fairly solid fundamental characteristics, and a fat 3.7% dividend, but a dismal stock price behavior and negative "technical" indications. This is the kind of prey that value investors may seek (if they can deal with it possibly becoming even more attractive later).
The company with probably the best combination of fundamentals, valuation, price behavior and analyst opinions is ORCL, or perhaps gray-beard IBM.
AAPL, the media sensation (and our company go-to supplier of devices) is having difficulty lately in the price behavior dimension. It's even rated Sell technically by BarChart. At 70+% growth, it is bound to cool down at some point, so disappointment risk is higher than for the other stocks, but it's clear design and marketing leadership, along with continual innovation in an unsaturated market will not put brakes on the company any time soon. It is facing increasing competition from the Android system and other device makers, but there seems yet to be plenty of untapped market to go around at this point. Even with an extraordinary cash position, and no debt leverage, AAPL is generating high return on assets and equity. This stock is very strong thematically and fundamentally, well liked by most analysts, but breaking down in the price charts lately. Traders probably are out, and long-term investors are probably staying in. Income investors aren't involved.
GOOG is OK and solid in the valuation and operating performance areas, but has lost its old luster with investors and is struggling in the price behavior dimension. Also well liked by analysts generally, it has a Strong Sell rating from a pure technical perspective.
Perhaps one thing that might be taken from these data is to realize that individual companies cannot stay on top forever, but that just because they are no longer front page news, they are not necessarily poor investments.
Apple is today's wonder-company. Google was in that spot just a few years ago. Microsoft was everybody's dream holding in the not too distant past, and 30-40 years ago IBM was the place to be. IBM fell totally out of favor, redefined and rebuilt itself, and is now once again an attractive asset, according to these data.
In this market, we would favor individual technology stock selection over passive technology sector fund investment.
Pre-Publication Post-Script: We generated this data table and wrote this article on the 19th, and today the 20th is a brighter story, particularly for Intel. Not a bad day to have a 6+% gain on a company with a nearly 3+% yield.
Apple reports tonight, and if the iPad and iPhone sales expectations hold up, there may be some nice follow through from today - AAPL up about 1.6% mid-day today.
The argument for stock selection versus the passive technology index held up today too. VGT approximates SPY in performance, but selected stocks beat the SPY handily - Intel being the positive standout.
Click to enlarge charts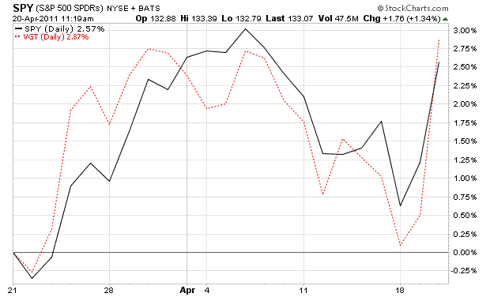 Here are daily one-month charts for the top ten VGT holdings: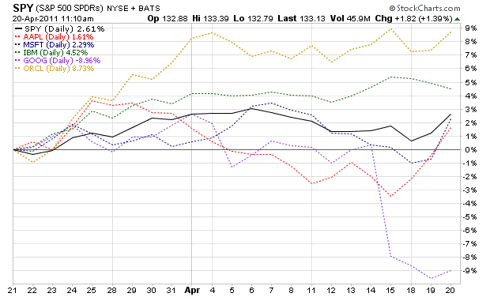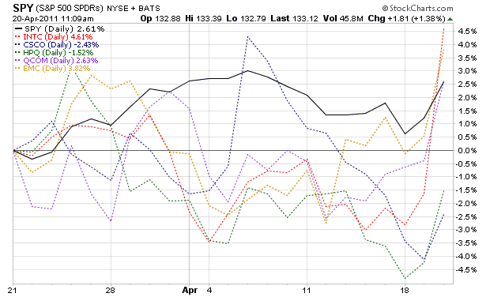 Disclosure: We hold SPY and AAPL in some but not all managed accounts as of the publication date of this article. We may purchase one or more of the individual stocks discussed in this article in the near future.
Disclaimer: This article provides opinions and information, but does not contain recommendations or personal investment advice to any specific person for any particular purpose. Do your own research or obtain suitable personal advice. You are responsible for your own investment decisions. This article is presented subject to our full disclaimer found on our site available here.