In July of 2009, a struggling publicly traded company on the NASDAQ exchange, CombinatorRx, entered into a stipulation-laden all-stock merger agreement with a privately held company, Neuromed. CombinatorRx was primarily interested in Neuromed's selective ion channel modulation platform and its then yet-to-be-approved product for the treatment of chronic pain, Exalgo. The merger was closed in December of that same year.
On 03/01/10, the FDA approved Exalgo for the management of moderate to severe pain in opioid-tolerant patients needing long-term round-the-clock opioid analgesia. In September of 2010 the company announced that it was changing its name to Zalicus, Inc. (ZLCS). At that time the stock was trading around $1.30 a share.
Last month, I read an article on Zalicus written by fellow Seeking Alpha contributor, Michael Murphy. The information and analysis in the article was carefully presented and compelled me to perform my own due diligence on the company. Shortly thereafter, I entered a long position based primarily upon Zalicus' long-term growth potential.
In addition to Exalgo, which is being marketed and sold by Covidien (COV), the company has a promising pipeline. On 3/29/11, the U.S. Patent and Trademark Office granted Zalicus' current lead product candidate, Synavive, a composition of matter patent. The new patent is broad in its scope and provides critical protection through 2025.
Synavive is currently being developed for the treatment of arthritis and already has successful phase 2 clinical trials under its belt. It is set to initiate a phase 2b study in the near future for rheumatoid arthritis, and may eventually be studied for other indications due to its safe and rapid acting anti-inflammatory effects. The CDC reports that 50M U.S. adults currently suffer from some form of arthritis.
Pipeline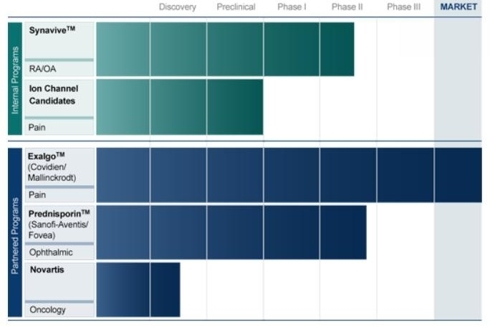 Is Wall Street wise to Zalicus' impressive long-term growth potential?
Time (and regulatory filings) will tell. Though the stock has already quietly risen more than 74%, year-to-date, many believe it still has a long way to go before the year is up. On 04/20/11 it broke resistance and a new 52-week high was forged at $2.99:
ZLCS YTD Chart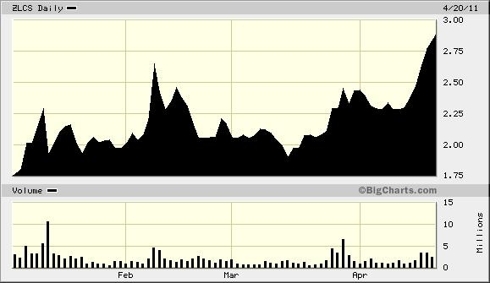 While institutional and mutual fund ownership stands at a meager 33%, leaving the vast majority of the float in retail hands, the recent daily volume and share price increases both have me thinking that new big players are entering, existing large holders are adding, or some combination thereof may be taking place.
Regardless of whether the market has yet to realize Zalicus' growth potential, its stock is certainly garnering some attention. Given the steadily increasing royalty payments resulting from Exalgo's sales and the company's potential future revenue streams and upcoming events, as previously detailed by Michael Murphy, I must echo the sentiment of previous analysis and agree that this stock will close the year above $4.00 a share.
Many investors would argue that my expectations are unreasonably low but, for the sake of my mental well-being, I prefer to err on the side of caution when it comes to projections. I will be looking to add on any substantial pullback from current levels.
Disclosure: I am long ZLCS.