While not perfect, the study conducted by Purdue University researchers that sought to quantify investment performance on the basis of Seeking Alpha contributor sentiment was novel, if not useful. Just as the iPod trumps the Walkman, new media often bests old, lending support to the notion that sites like Seeking Alpha hold more (or as much) sway with (or offer as much value to) investors than institutions like The Wall Street Journal.
Seeking Alpha contributor Cameron Kaine followed up the Purdue study with an article that provided support for the finding that Seeking Alpha articles "contain quantifiably valuable information for investors" that sometimes outdoes what you'll find at mainstream outlets such as The Journal. Generously, Cameron focused on my call to sell Apple (NASDAQ:AAPL) as evidence that Seeking Alpha authors sometimes suggest plays that make the smart money's consensus seem foolish.
In this article, I review my sentiment towards AAPL as well as other stocks I have gone clearly bullish or bearish on in Seeking Alpha articles. While some appear quite straightforward as clearcut winners or losers, others come off a bit more murky. In this business of stock picking, timing is everything. For instance, in the case of AAPL, analysts with $400 price targets are probably right if you take a 12-month view of things; however, in the near-term, my call to sell at times came off as something resembling impressive.
Before I review my recent performance, I want to discuss a few methodological points. I selected companies from the 84 Seeking Alpha articles I had written, as of April 19, that I was obviously bullish or bearish on. I did not include stocks that I made passing reference to; rather, I only selected stocks that I suggested an investment strategy for on the basis of my sentiment and/or outlined a strong case for or against. Stocks in approximately 25 percent of the articles I reviewed meet this criteria.
In some cases, I mentioned a stock in several articles. For the purpose of this article, I generally look at my performance from the date of the first mention, unless it made sense to use more than one date. In most cases, I substituted a long or short call on the stock when I either suggested an option play or simply suggested making no play at all in relation to sharply bearish sentiment.
While I do not intend for this analysis to be all-encompassing, I think it provides a fair view of my performance as a Seeking Alpha contributor. That said, I do not believe stock picking performance comprises the sole value of this site to investors. As I state often, I do not expect investors to take my suggestions and run with them. Instead, I offer them as a starting point for their own research. I hope I provide unique analysis that, whether ultimately "right" or "wrong," gives investors another way to think of a stock before making the decision to buy, sell, hold, or do nothing.
When I note that "I reserve the right to be wrong," I do so with humility. I don't think I am perfect, nor do I want or expect to be. While I want to "perform" well, at the end of the day, I think there's more to this venture than counting wins and losses, particularly when the call to buy or sell a stock can be incredibly "right" one day and horribly "wrong" the next. In fact, as I write this I am not even certain what my performance will look like. I have everything structured in my draft of this article, except for the actual statistics. If I lose more than I win, I will still submit this article as is.
First, I review what I consider some of the more interesting or controversial stocks I have gone bullish or bearish on. Then I look at the remaining winners and losers before summarizing up the results. I refer to each stock's historical prices at Yahoo Finance. I use the stock's closing price on each day for entry and exit points.
Apple (AAPL). When I first started writing for Seeking Alpha, I was as bullish on "America's Company" as bullish gets. I started publishing bullish AAPL sentiment on February 22, turning bearish on April 3, as Kaine noted. If you rode my bullish wave between February 22 and April 3, you took AAPL from $338.61 to $344.56 (AAPL's close on April 1). If you sold AAPL as a result of the bearish April 3 article, you missed out on a decline in the stock from $341.19 on April 4 to as low as April 11's close of $330.80. AAPL touched an intraday low of $320.16 on April 18. I never suggested an outright short of the stock, as I have always maintained my long-term bullish stance.
AAPL, however, is a stock that speaks to timing and the market's gyrations. As of intraday Wednesday, AAPL trades between $341.50 and $345.75. My call, at that point, no longer looks so good. After Apple reports earnings, my move to sell will either turn genius again or look like an incredibly rash, not to mention unprofitable, move.
Zipcar (ZIP). I never made a call to short the ZIP IPO, but I did suggest staying away from it unless you could get shares at the offer price. Like many overhyped IPOs, ZIP performed as expected. The stock opened to the market at $30, about double its offer price. It promptly closed $2 lower on its first day of trading. Before hitting a 52-week and session low of $25.90 on April 19, ZIP powered to close the day at $29.27. As of intraday Wednesday, ZIP trades in a range of $28 and $29.90. If you believe in the company's long-term prospects, which I do not, buy ZIP on a much larger dip.
Netflix (NASDAQ:NFLX). I commenced public NFLX bearishness on March 14, when the stock closed at $201.20. Clearly, I have been burnt. As of intraday Wednesday, NFLX continues its climb trading between $239.41 and $244. For the record, I only went short NFLX recently, via long put options, and stand by my call for reasons stated in past and forthcoming Seeking Alpha articles. As with Apple, much hinges on Netflix's earnings release, slated for April 25. NFLX will likely make a massive move up or down in step with investor reaction to whatever information it surrenders during its pseudo-conference call.
Google (NASDAQ:GOOG). Like NFLX and AAPL, GOOG moves big with earnings. Uncertain of the direction Google would go post-earnings, I suggested looking into a May $575 (put)/$580 (call) options strangle ahead of earnings. Because the timing of your entry and exit points means so much with this trade, it's difficult to determine its success. The charts below, however, courtesy of Optionistics, show that you could have profited from the trade.
[Click all to enlarge]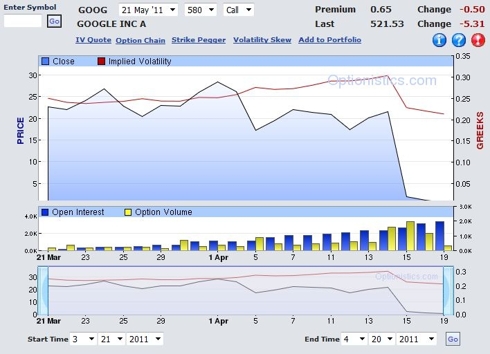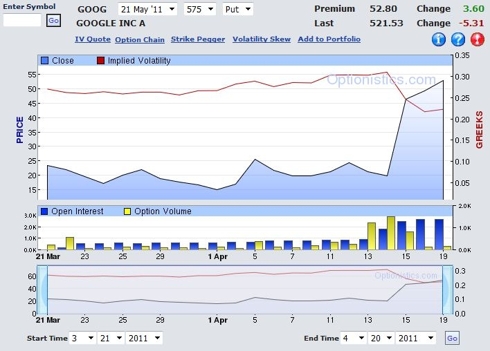 Sirius/XM (NASDAQ:SIRI). Yet another stock that could live or die when it reports earnings, I never felt as if I was all that bearish on SIRI. I highlight it, however, because of the passion some of my articles on the company prompted from what I assume are SIRI longs. Even though I suggested holding call options for a potential run to $2 -- something that Kaine thinks will take place -- let's just humor a few folks who think I am paid to short the stock. Had I taken a short position on the day Seeking Alpha published my first article that questioned Sirius/XM, I would have gotten in at $1.82 on March 3. I could have ridden SIRI to session lows of $1.62 in early April. As of intraday Wednesday, SIRI trades at $1.87 a share.
The following tables display stocks I offered negative and positive sentiment on in Seeking Alpha articles, along with entry prices using the closing price on the day of the first mention (unless otherwise noted) and the intraday price, as of approximately noon, Wednesday, April 20.
Negative Sentiment

| | | | |
| --- | --- | --- | --- |
| Company Name (Ticker) | Date, 1st Mention | Entry Price | Intraday Price, 4/20/2011 |
| Activision Blizzard (NASDAQ:ATVI) | 3/18/2011 | $10.61 | $11.38 |
| Build-A-Bear Workshop (NYSE:BBW) | 3/25/2011 | $6.25 | $5.87 |
| Rite Aid (NYSE:RAD) | 3/25/2011 | $1.05 | $1.02 |
| Coinstar (NASDAQ:CSTR) | 3/25/2011 | $46.11 | $47.77 |
| Yahoo! (YHOO) | 3/25/2011 | $16.96 | $16.92 |
| Research in Motion (RIMM) | 3/25/2011 | $56.89 | $54.15 |
| Sino Clean Energy (SCEI) | 4/04/2011 | $4.30 | $4.28 |
With the exception of CSTR, I remain bearish on all of these stocks. I think all of the prospective trades have significant life left in them, particularly RIMM. I intend to write articles on CSTR and RIMM in the next week. For the purposes of the ledger, however, if you went short 100 shares of each company on the date I first issued bearish sentiment, you would have had to put up $14,217 in a mix of cash and margin. You would be up slightly, by about 0.5 percent, with the cost to cover, as of midday Wednesday, at $14,139. Factor in a NFLX short from around $244 and you have a loss of just under $4,300, as of midday Wednesday. As noted, I am not including AAPL, SIRI, or ZIP as shorts.
Positive Sentiment

| | | | |
| --- | --- | --- | --- |
| Company Name (Ticker) | Date, 1st Mention | Entry Price | Intraday Price, 4/20/2011 |
| ProShares Ultra DJ-UBS Crude Oil ETF (NYSEARCA:UCO) | 2/24/2011 | $50.09* | $60.68 |
| Walmart (NYSE:WMT) | 3/07/2011 | $52.02 | $53.84 |
| Nvidia (NASDAQ:NVDA) | 3/11/2011 | $18.05 | $18.53 |
| Advanced Micro Devices (NASDAQ:AMD) | 3/11/2011 | $8.65 | $8.53 |
| Ford (NYSE:F) | 3/14/2011 | $14.30 | $15.15 |
| Amazon.com (NASDAQ:AMZN) | 3/11/2011 | $168.07 | $184.51 |
| Proctor & Gamble (NYSE:PG) | 3/17/2011 | $60.43 | $63.80 |
| Wisconsin Energy (NYSE:WEC) | 3/17/2011 | $29.45 | $29.96 |
| Sprint (NYSE:S) | 3/25/2011 | $4.68 | $4.84 |
| Best Buy (NYSE:BBY) | 3/18/2011 | $31.53 | $30.15 |
| Cisco Systems (NASDAQ:CSCO) | 3/19/2011 | $17.39** | $16.90 |
| Snap Interactive (STVI.OB) | 3/18/2011 | $2.42 | $2.39 |
| Open Table (NASDAQ:OPEN) | 3/28/2011 | $104.29 | $110.85 |
| Qualcomm (NASDAQ:QCOM) | 3/28/2011 | $52.18 | $54.87 |
| Expedia (NASDAQ:EXPE) | 3/28/2011 | $21.62 | $23.70 |
| Target (NYSE:TGT) | 3/29/2011 | $49.16 | $50.32 |
| Whole Foods Market (WFMI) | 3/29/2011 | $64.35 | $65.69 |
| Electronic Arts (ERTS) | 3/29/2011 | $19.66 | $20.36 |
| First Solar (NASDAQ:FSLR) | 3/17/2011 | $154.00 | $139.05 |
| Tesla Motors (NASDAQ:TSLA) | 4/01/2011 | $26.66 | $25.66 |
| Public Storage (NYSE:PSA) | 4/04/2011 | $111.73 | $112.71 |
| Forest City Enterprises (FCE-A) | 4/04/2011 | $18.61 | $18.41 |
| CBS (NYSE:CBS) | 4/06/2011 | $24.51 | $24.66 |
| Regal Entertainment Group (NYSE:RGC) | 4/08/2011 | $13.97 | $13.62 |
| Time Warner Cable (TWC) | 4/08/2011 | $72.85 | $73.39 |
| Disney (NYSE:DIS) | 3/29/2011 | $42.94 | $42.06 |
| Microsoft (NASDAQ:MSFT) | 4/08/2011 | $26.07 | $25.99 |
*Used UCO post split price, as of 2/25/2011;**Used CSCO closing price on 3/21/2011
It would have cost you approximately $124,316 to buy 100 shares of each issue I waxed bullishly on since late February on Seeking Alpha. As of intraday Wednesday, you would be sitting on about $129,062 for a gain of 3.8 percent. Bringing together positive and negative sentiment, the NFLX loss would have capped combined gains to right around $500. If I include the period where I was long AAPL, that brings the total gain to just over $1,000.
This exercise accomplishes several things. First, it shows that timing is everything. And that fortunes can change in a flash. For example, as of this writing, NFLX drags down my numbers, but if the stock dives with earnings, my picture should drastically improve. Second, investors, like political junkies, suffer from information overload. Really, it's a double-edged sword. If you know how to sort through information and pick and choose what suits you best, Seeking Alpha can help inform your investment decisions and even make you money, possibly in some direct fashion. Most of all, by going over my recent history, I effectively hold myself accountable. Several sites, including Seeking Alpha, do this with Jim Cramer's picks. We should all face similar, if not the same scrutiny.
Disclosure: I am short NFLX.
Additional disclosure: Author is short NFLX via a long position in put options. Author may initiate long or short positions in AAPL or AMZN over the next 72 hours.