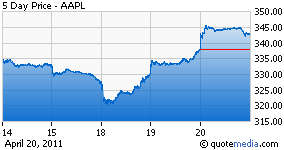 By Mark Vickery
Earnings home run slugger Apple Inc. (NASDAQ:AAPL) went yard once again when it announced earnings results for second quarter 2011 Wednesday after the bell. Earnings of $6.40 per share beat the Zacks Consensus Estimate of $5.35 by 19.6%. Quarterly revenues of $24.67 billion easily topped expectations of $23.1 billion.
The after-market cheered the results and sent AAPL shares up nearly $9 after the closing bell, for a gain of over 2.5%. This followed a more tempered 1.35% gain during normal trading hours today.
Sales of iPhones stood out - 18.65 million phones were sold in the quarter, up from the 16.3 million expected. Verizon (NYSE:VZ) now offering iPhones has clearly been a positive, as was AT&T's (NYSE:T) report earlier that its iPhone business performed better than expected in the quarter.
Gross margins of 41.4% show continued strength - the company's earlier warning about gross margin compression has yet to manifest. Macs sold totaled 3.67 million, which was in line with expectations, but iPad sales of 4.7 million were notably fewer than the 6 million anticipated.
Apple's earnings beat is all the more impressive considering that there has been extensive upward pressure on earnings estimates over the past month. Thirteen analysts had upwardly revised AAPL estimates for the quarter in the past 30 days, pushing the EPS estimate from $5.25 at the start of the quarter to $5.35 before earnings were announced.
Even more impressive is that the 19.6% positive earnings surprise is actually lower than the surprise average over the preceding four quarters. In the year-ago quarter, Apple Inc. brought in $3.33 - a 37% surprise over the Zacks Consensus Estimate. Year over year, Apple Inc's EPS has increased a stunning 82.73%.
Typically, Apple Inc. has followed up the big earnings and revenue beat with conservative guidance for the following quarter. The company now says it expects $5.03 per share in its fiscal third quarter, where the Zacks Consensus Estimate was $5.25. But count on that $5.03 figure getting beaten soundly. Few people look with dire concern at lowered guidance from Apple these days.