I was debating what kind of title to put to this article. I thought about something along the lines of "how much longer can financials underperform the market without some sort of a correction in broader equities" but alas the title is a bit too long. Take a look below (click to enlarge images) at the price ratio of the Financials Select SPDR ETF (NYSEARCA:XLF) to the S&P 500 (NYSEARCA:IVV). As a reminder, a rising price ratio means the numerator/XLF is outperforming (up more/down less) the denominator/IVV.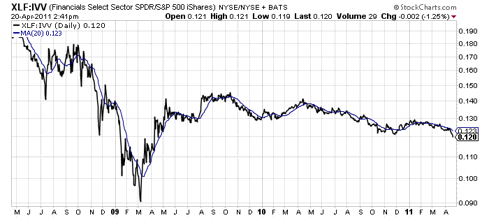 The length of time that financials have underperformed the market for is nothing short of amazing if you're a believer in mean reversion. The price ratio is currently at 0.12, the lowest since mid-April of 2009. Despite brief periods of outperformance, financials have on average been a poor sector to put money to work in for 2 years now, failing to outperform and making investors continue to shy away from banks.
The weakness hasn't just been confined to big-cap financials either. Take a look at the SPDR KBW Regional Bank Index ETF (NYSEARCA:KRE) relative to the S&P 500.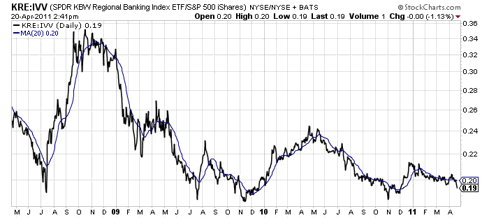 In other words, nearly all banks, big and small, have failed to perform as well as broader markets. If anything, we may be at the early stages of a renewed weakness given that the ratio is beginning to trend down once again. Looking at some of the stocks within the XLF ETF, Bank of America (NYSE:BAC) is over 11% below its 50 day moving average. Morgan Staley (NYSE:MS) is over 7.5% below is 50 day MA.
What does all this mean? Either financials are warning of some kind of a correction, or in a surprise exhibit mean reversion and lead the next bull leg higher. There are studies that suggest that financials, given the sector's importance to the health of the overall economy, can lead the market should a big enough differential in performance occur between it and the stock market on average.
What that means is that as it stands now, mean reversion for financials would occur not on the upside, but rather through the market catching up (or should I say catching down) to the performance of financials.
Disclosure: Pension Partners, LLC, and/or its clients may hold positions in securities mentioned in this article at time of writing.