I've decided that sometimes you don't have to do much more than manage risk to make money. The trick as I see it is answering the question, "How do you measure making money?" In my opinion, you have to make more than inflation after taxes.
It's my opinion that inflation is understated and that inflation in emerging markets is a real threat to a lot of people's ability to feed themselves. This is why I'm measuring the purchasing power of money in gold at the moment. Back in the last market crash, I made 3 charts that I reference monthly to see if we are setting up for another crash. Right now, things are not crashing, but it looks like we could get into some trouble if oil prices go up much more. Looking at this next chart gives you an idea of when oil prices are spiking in terms of America's ability to purchase oil. Right now, I think we are OK.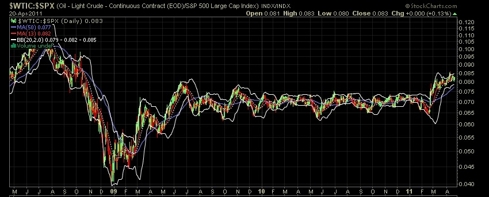 (Click charts to expand)
This next one gives you an idea of how far we've come in the last 2 years on the S&P500 (NYSEARCA:
SPY
) after you factor out the devaluation of the dollar. As you can tell, we are about where we were at before the crash happened. Corporate profits are at all time highs in some industries. It's up to you to guess whether or not the market is undervalued overall. Personally, I see a lot of systemic risks, including people gradually stepping away from the Euro as Portugal, Greece, and eastern Europe fight their way out of being accountable - and responsible countries of the European Union like Germany start to get fed up with having to continuously throw out life preservers to countries that say they want them and then turn around and act as if they want to drown.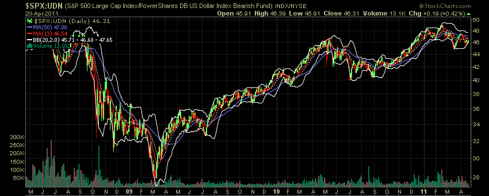 And then you have what I call the "get ready for it" chart.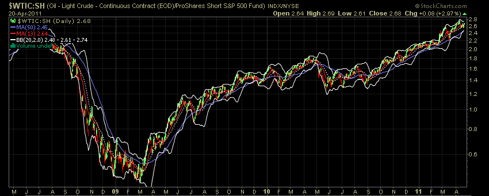 So, you might be wondering what my strategy is? My latest strategy is fairly simple. Every day that silver sets a new high, I don't do anything or I buy more silver. I've been buying or holding ETFs like the Silver Trust (NYSE:
SIVR
), the iShares Silver Trust (NYSE:
SLV
), and my personal favorite the ProShares Ultra Silver ETF (NYSE:
AGQ
).
The systemic risk here is in two parts:
What if Silver is a bubble and it collapses? Well, that's why if it doesn't set a new high every day, you take it off the table.
What if the ETFs actually don't have the silver backing them they claim to have backing them, aka they are worth the paper they are printed on and no more? Well, that's why I'm taking profits out of the ETFs and rolling them into actual silver that I hold in my hand.
Silver is a lot more exciting than Gold, but I am doing this with Gold as well. The ETFs that I am using there are the SPDR Gold Trust (NYSE:
GLD
) and the ProShares Ultra Gold ETF (NYSE:
UGL
).
The idea is that the only risk that I'll be exposed to after all of this is the devaluation of the hard assets. I'm perfectly fine taking this risk because Helicopter Ben seems perfectly happy monetizing the US deficit. As long as he's happy, I'm happy.