Geneva, Switzerland-based Weatherford Intl Ltd (NYSE:WFT), a leading provider of equipment and services used in the drilling, evaluation, completion, production and intervention of oil and natural gas wells, announced its March 2011 quarterly report after the market close yesterday. Non-GAAP earnings at 10 cents came in significantly below the street consensus estimate of 18 cents and revenue was in-line at $2.86 billion versus the $2.82 billion estimate. For the next June 2011 quarter, the company guided down to 15 cents to 17 cents in earnings versus analyst estimates of 20 cents.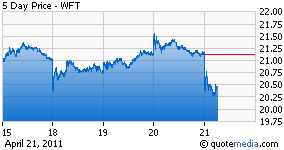 The in-line revenue for the current quarter masks the regional variations in growth. March 2011 quarter revenues at $2,856 million came in 23 percent higher than the same period last year. North America revenues, which made up 47 percent of the total revenues for the current quarter increased 53 percent year-over-year, while international revenues were up only four percent year-over-year. The main reasons for the decline in international revenue were the political disruptions in the Middle East and North Africa, and the challenging weather events in Australia and China, and the winter effect in the North Sea, Russia and Caspian Sea.
Shares of WFT dropped on March 2nd when the company filed to delay its annual report 10-K filing to the SEC, citing material weaknesses relating to determining the tax consequences of intercompany amounts over multiple years. Their internal testing revealed $500 million in errors during the period from 2007 to 2010, with the amount of error for each year ranging from $100-150 million. That revelation led to a break in the prior $12 to over $25 rally in the company's shares over the prior 9 months, and since that announcement prices have fallen to as low as just over $19 and closed yesterday at $21.13.
A total of 32 analysts currently cover the stock, with 17 recommending it as a buy, while 14 rate it a hold, and the remaining one has a sell rating on the stock. On average, the analysts expect an upside to $26.00, 23% above yesterday's closing price of $21.13, and they project FY ending December 2011 at $12.2 billion in revenues and $1.04 in earnings, while FY 2012 is projected at $14.06 billion revenues and $1.63 earnings. Based on that, WFT is currently trading at a forward P/E of 20 based on FY 2011 earnings and a forward P/E of 13 based on FY 2012 earnings; however it is trading at a 'rich' 35 P/E based on trailing twelve-month (TTM) earnings. Also, it is trading at a rich 103 times levered cash flow, which is the amount of cash available to stockholders after the company has made interest payments on the debt.
Historically, WFT shares have generally traded between 10 and 20 forward P/E, and as such the stock could tread weaker following this earnings report but will probably remain range-bound between $19 and $24 until the impact of higher oil prices on the increased demand for oil drilling is reflected in the company's financial statements and guidance going forward, and their international business resumes its growth trajectory.
Institutions have been net buyers of the stock recently, with 550 Institutions holding a total of 561.3 million shares or 75% of the shares outstanding shares, up from 73% in the prior period.
Credit: Historical fundamentals including operating metrics and stock ownership information were derived using I-Metrix® by Edgar Online® and Zacks Investment Research. The information and data is believed to be accurate, but no guarantees or representations are made.
Disclaimer: Material presented here is for informational purposes only. Nothing in this article should be taken as a solicitation to purchase or sell securities. Before buying or selling any stock you should do your own research and reach your own conclusion. Further, these are my 'opinions' and I may be wrong. I may have positions in securities mentioned in this article. You should take this into consideration before acting on any advice given in this article. If this makes you uncomfortable, then do not listen to my thoughts and opinions. The contents of this article do not take into consideration your individual investment objectives so consult with your own financial adviser before making an investment decision. Investing includes certain risks including loss of principal.


Disclosure: I have no positions in any stocks mentioned, and no plans to initiate any positions within the next 72 hours.