The share price divergence between MFS Government Income Fund (NYSE:MGF) and its benchmark ETF iShares Barclays MBS Bond ETF (NYSEARCA:MBB) since November of last year appears material and raises the question as to whether this is a mispricing of MGF.
Widening Relative Spread: At the end of every month an analysis called "Current versus Rolling Premium/Discounts" is performed. This analysis compares the current premium/discount to the average rolling premium/discounts for the 500 plus CEFs premium/discounts the three previous quarters.
A CEF with a premium that is smaller than its rolling previous three quarterly average, or a discount that is greater than its previous three quarterly average, would generate a negative spread. This would likely reflect a decline in price. (Example: Current Premium less Premium Roll: +8% - (+10%) = -2 %; Current Discount less Discount Roll: -10% – (-8%) = -2 %.)
Looking for a Pony: Not surprisingly, many of the CEFs with the largest negative Current-to-Roll Premium/Discounts spreads are a function of reductions in distributions. However, sometimes there is a CEF where the relative change in its premium or discount many not be deserving of the relative change in its share price.
Further Study: One of the CEFs that looks like it should be further examined is MFS Government Income Fund. As the name implies, it invests in mostly U.S. government and its agency debt. Approximately 50% of the portfolio is asset backed bonds—mostly housing—while another third of its portfolio is Government bonds. The credit is bifurcated with a third "AAA" and 40% non-rated.
[Click to enlarge]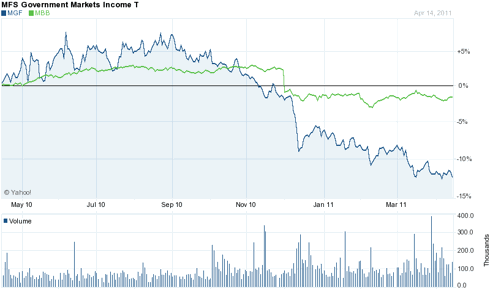 MGF employs a management distribution program and is currently paying an annualized monthly yield of approximately 8.0% of which more than half is coming from net investment income (4.3%). MGF has approximately a quarter of a billion in assets and no debt. Its management fee is 0.79%.
Since late last year the stock has been careening downward and its "Current to Rolling Premium/Discount" is the third greatest of all the CEFs. While its dividend has bounced around a bit, its band of change is fairly narrow. Comparing MGF to MBB
Caveats: A detailed analysis of the portfolio has not been undertaken, its divergence seems excessive without a clear identification of a credit or any other risk factors.
Disclosure: I am long MGF.