One of the factors that investors need to consider when selecting an emerging market for investment is the country's trade with other emerging markets. Countries such as China that depend heavily on exports to the developed world will not fare better should the developed countries experience another downturn. Emerging market countries that depend on exports to other emerging countries offer better investment options. Brazil matches the profile of such an emerging country.
Brazil's trade with China from 1999 to 2010 is shown in the chart below:
Click to enlarge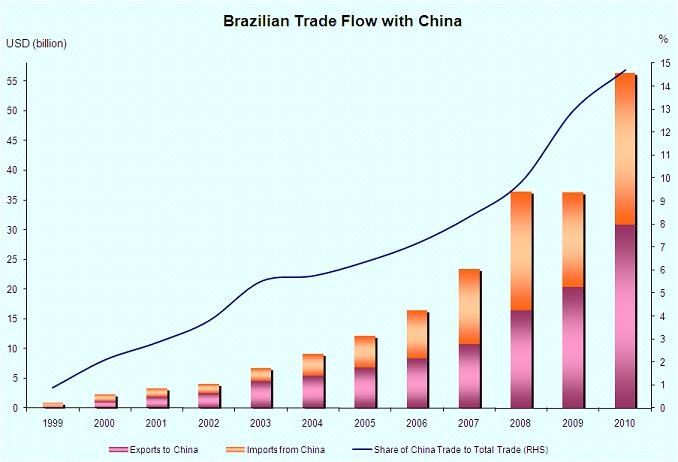 Source: CEIC Data
From CEIC Brazil Data Talk Report:
The total trade between Brazil and China has expanded aggressively during the past 12 years. Brazil's exports to China grew by a Compound Annual Growth Rate (OTC:CAGR) of 46.9% annually while imports from China grew by a CAGR of 37.8% annually from 1999 to 2010. The growth rates are high compared to its aggregate exports and imports which saw a CAGR of 12.7% and 11.5% respectively.

The growth in Brazil's exports to China are largely commodities based, led by iron ore, soybeans and crude oil. Total exports of iron ore amounted to USD13.34 billion in 2010, representing 43% of Brazil's exports to China. At the same time, soybeans and crude oil combined exports constituted USD11.19 billion or 36.34% of Brazil's exports to China. These commodities have been displayed an upward export trend since 1999, coinciding with China's increasing demand for commodities and fuel sources, as China broaden its net beyond its established suppliers in Asia and the Middle East.
Brazilian companies operating in the industrial metals and mining sector are listed below with their tickers:
MMX Mineracao e Metalicos (MXHMY)
Gerdau (GGB)
Companhia Siderurgica Nacional (SID)
Paranapanema (PNPPY)
Usiminas (USDMY)
Vale (VALE)
Three of the Brazilian oil companies include:
Petrobras (PBR

)

OSX Brasil (OSXRY)
OGX PETROLEO E GAS PARTICIPACOES (OGXPY)
The iShares MSCI Brazil ETF (EWZ) offers a simple and easy way to gain exposure to the Brazilian market.
Disclosure: Long PBR