Over the past few months, I have been noticing a lot of articles on Warren Buffett in which dozens of authors have been using all kinds of angles trying to figure out what stocks Mr. Buffett would buy next. I don't blame these authors for using his name in their articles, as it has a similar effect as having the Rolling Stones be the opening act for your local garage band.
So since everyone is doing it, I thought I would join in the fun, but instead of trying to predict what Warren Buffett will do next, I thought it would be more instructional for Seeking Alpha's readers to use Warren Buffett's actual formula that he presented to the world in his 1986 letter to shareholders of Berkshire Hathaway (NYSE:BRK.A) http://www.berkshirehathaway.com/letters/1986.html and find the top five stocks that Mr. Buffett would hate. I have tried the other game of trying to predict what he will buy next, and it is as close to impossible to do so, because Mr. Buffett, like Thomas Jefferson, is not only the smartest person in the room when he enters, but is smarter than all the people in the room combined. I have spent 30 years studying his work, and I am still humbled by it.
I compare Mr. Buffett to Thomas Jefferson, and here is a quote from President Kennedy which sums up my thinking on both men.
I think this is the most extraordinary collection of talent, of human knowledge, that has ever been gathered at the White House - with the possible exception of when Thomas Jefferson dined alone. - John F. Kennedy
I am a veteran of the dot. com era and have multiple purple hearts or black and blue marks to prove it. I am always concerned when I see investors piling into stocks that operate in an environment "characterized by a syndrome of overvaluation, overbought conditions and overbullish sentiment"- Dr. John Hussman http://www.hussmanfunds.com/wmc/wmc110411.htm
Market Climate
As of last week, the Market Climate for stocks was characterized by a syndrome of overvaluation, overbought conditions, overbullish sentiment, and rising yield pressures that has historically been hostile to stocks on average. Every component of this syndrome worsened last week. Our estimate of 10-year projected total returns for the S&P 500 is presently just 3.4% annually, the major indices remain overbought on an intermediate-term basis, and Investors Intelligence reports that bullish sentiment has surged to 57.3% bulls and only 15.7% bears, which is close to the spread we observed at the 2007 market peak. Investors Intelligence observes "extreme readings, as we are experiencing right now, historically have major significance."

This article is not a demonstration on "How to make enemies on the Seeking Alpha comment boards in five easy lessons or less," as many of the investors in these five stocks may have a deep emotional attachment to them (Love), and my numbers may cause them to try and tar and feather me on the comment boards. But before they do so, I caution them that gravity plays a major part in the universe we live in and that they should always remember that the numbers don't lie, only people do.
I experienced such a blind passion personally in 1998 when I invested in (or fell in love with) Nokia (NYSE:NOK) and made a fortune in two years, only to lose most of it when the dot com crash occurred. I was one of the lucky ones and got out with what I originally invested, but many out there made the mistake and used margin and got totally wiped out.

I have had similar tremors of love recently with NetFlix (NASDAQ:NFLX) and Apple (NASDAQ:AAPL) but sold out when the stocks hit my cold unemotional sell signals. Anytime I can make 100-150% on a stock in less than a year and those stocks hit my sell signals, I get out as I have seen "The Dark Side" of excessive overvaluation and what happens to a stock when gravity hits and everyone starts running for the exits. Since there are no buyers to be found, we then get an education that only Plato can teach us when he said "experience is what man calls his mistakes." Everything is wonderful as long as there is a bigger sucker willing to buy your stock and drive it even higher, unless you are the last sucker, and then the party's over = look out below.
Here are the five stocks analyzed only using Warren Buffett's Owner Earnings formula, which you can read about in about 40 of my previous articles.
Owner Earnings = Cash Flow – Capital Expenditures (Buffett's Version of Free Cash Flow)
I have done a 60 year backtest of the DJIA using that formula and you can download it for free by going here http://www.mycroftresearch.com/60_Year_Backtest_of_DJIA.html

The Five Stocks:

SalesForce.com (NYSE:CRM)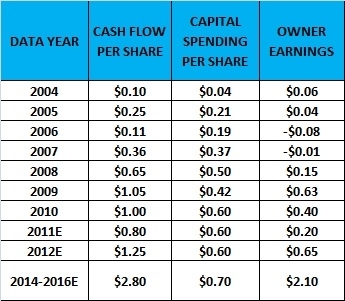 The current stock price for the stock is $139.87 and if we use Value Lines 2011 estimate for Owner Earnings [OE], we get a price to owner earnings of 699.35 for 2011, 215.18 for 2012 and 66.60 for 2014-2016. I am sure the company will have a tremendous future on Main Street, but on Wall Street, we probably need to go out to 2020 to have the numbers line up with a reasonable valuation for someone to buy it.
Successfactors (NYSE:SFSF)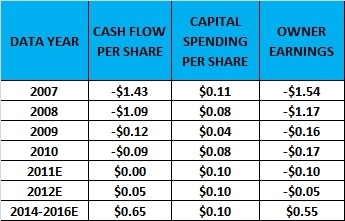 The current stock price for the stock is $39.39, and if we use Value Lines 2011 and 2012 estimates for Owner Earnings [OE], we get a price to owner earnings that are negative for those years. If we go out to 2014-2016 we get a price to owner earnings number of 71.62. In my backtest, I proved that buying at less than 15 times P/OE is where one can achieve the best results using Mr. Buffett's formula.

Acme Packet (NASDAQ:APKT)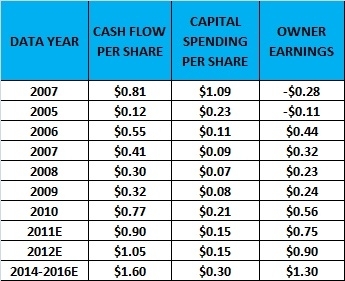 The current stock price for the stock is $77.03 and if we use Value Lines 2011 estimate for Owner Earnings [OE] we get a price to owner earnings of 102.70 for 2011, 85.58 for 2012 and 59.25 for 2014-2016. This is the best of the bunch, as it is profitable from an OE point of view, but still way overvalued in my opinion.

CREE (NASDAQ:CREE)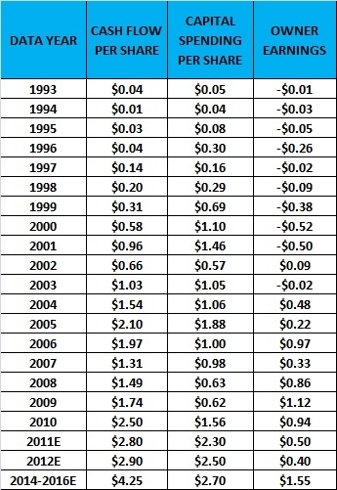 The current stock price for the stock is $39.04, and if we use Value Lines 2011 estimate for Owner Earnings [OE], we get a price to owner earnings of 78.08 for 2011, 97.60 for 2012 and 25.20 for 2014-2016. I previously wrote an article on Cree back on January 20, 2011 seekingalpha.com/article/247494-cree-is-...
when it was priced at $52.36, and I explained in that article the same thing I am trying to demonstrate here in this one. It has fallen 25% since I wrote that article, and has much more to fall in my opinion as the company has a culture of not generating enough OE to justify its stock price, but the worst of the bunch in my opinion is Green Mountain Coffee.

Green Mountain Coffee Roasters (NASDAQ:GMCR)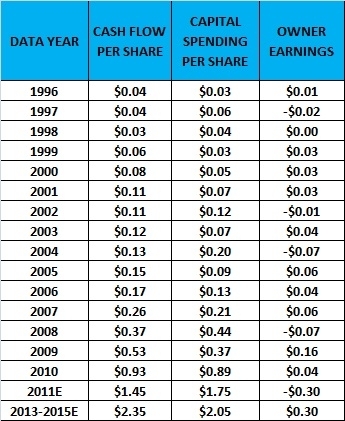 The current stock price for the stock is $65.64, and if we use Value Lines 2011 estimate for Owner Earnings [OE], we get a price to owner earnings that is negative for 2011 and 218.8 for 2013-2015. Management continues to grow cash flow at a nice clip, but they do so by spending all that cash flow in capital expenditures. I am all for high growth of cash flow, but if you spend 90-120% of your cash flow each and every year, there will eventually come a time when it will catch up with you. Green Mountain has a market capitalization of $9.2 Billion, but by using Value Lines [VALU] future estimates, the company has only generated or will generate $45 million in combined free cash flow from 1996-2015. It has generated $979.87 Million in cash flow during all those years but has spent $934.56 in capital expenditures to do so. If we take out the 2013-2015 estimate of .30, then the company has only produced $2.83 million in free cash flow in 20 years. That, in my opinion, is a sad state of affairs.
In conclusion, what you just saw was a demonstration of an Owner Earnings analysis based on Warren Buffett's formula. This is just one type of analysis, but I have found it to be the most powerful kind out there, and by judging from size of Warren Buffett's wallet, that should be proof enough that it works. I did not write this article to ruin anyone's day, I did so just to give investors a little insight into how powerful owner earnings is and how easy it is to implement in analyzing your portfolio and protecting your retirement savings, especially in the dangerous economic times we are currently living in.

Disclosure: I am long NOK, VALU, HDGE. I am invested in symbol (NYSEARCA:HDGE), which may be short some of these or all of these stocks at various times, and I use that ETF as a type of insurance policy for my clients in case of a sudden downturn. I do not short stocks for my or my clients portfolios.
Disclaimer: Always remember that these are the results of our research based on the methodology that I have outlined above and in other articles previously published. This research is provided as an educational tool and should not be considered investment advice, but just the results of our research. There are many ways to analyze a stock and you should never blindly follow anyone's work without doing your own due diligence or by seeking the help of an investment advisor, if you so need one. As Registered Investment Advisors, we see it as our responsibility to advise the following: We take our research seriously, we do our best to get it right, and we "eat our own cooking," but we could be wrong. Please note, investments involve risk and unless otherwise stated, are not guaranteed. Past performance cannot be used as an indicator to determine future results. Strategies mentioned may not be suitable for everyone. We do not know your personal financial situation, so the information contained in this communiqué represents the opinions of Peter "Mycroft" Psaras, and should not be construed as personalized investment advice. Information expressed does not take into account your specific situation or objectives, and is not intended as recommendations appropriate for you. Before acting on any information mentioned, it is recommended to seek advice from a qualified tax or investment adviser to determine whether it is suitable for your specific situation.