An article recently posted on MSN Money explaining how gold could reach $5000 an ounce caught my eye. My first thought was: Could it happen? My answer was yes, mainly due to rising oil prices and the falling dollar. I talked about oil heading higher mainly due to conflicts in the Middle East and North Africa here and here. My second question was how to profit from this and by how much. $5000 an ounce divided by the current price of about $1500 an ounce gives a gain of 333% if one just buys the bullion.
Also, the chart of the gold vs. Dow ratio from US Gold's website shows that gold could go much higher.

An easy way to do profit from gold would be to buy the SPDR Gold Shares (GLD) or Central GoldTrust (GTU), which I mentioned here. Both ETFs hold 100% gold bullion. I also wrote about Paramount Gold and Silver (PZG) here, where I claimed it was a good buy based on gold and silver deposits. Below is a price chart of each of the three investments.

Thus, on average, GLD had about 33.3% annual gain from 2005 - 2010. GTU nearly mimicked GLD's price rise, while PZG, which is a miner and not a holder of bullion, had a roller coaster ride, going up and down. Interestingly, the 33.3% annual gain for GLD predicts that gold will rise to $5000 or 333% in ten years.
But being greedy, I want to look into gold stocks which could yield more than 33.3% annual gain. The screen below is from finviz.com and is set to screen gold stocks which rose 50% in the last half of the year, thus weeding out non-performing investments.


Quickly scanning the list for the most number of green highlighted numbers in the group brought me to ANV. The green highlighted statistics in the screen indicate very bullish numbers. The red highlighted statistics indicate bearish numbers. I also like to look at very positive insider trading, so I also picked out MDW and UXG.
Allied Nevada Gold (ANV) – Up 136% (insider buying up 74%)
Despite the high PE ratio and PEG ratio, the company looks to be the best in the group based on high projected earnings per share growth for next year, high insider buying, high current ratio, and high profit margin. Current ratio is very high, meaning it has more than enough current assets to cover its current liabilities. Its Hycroft mine is among the largest gold producers in the US and the largest silver producers in the world.
In the first quarter of 2011, the company sold 21,241 ounces of gold and 59,383 ounces of silver. That's about $34.66 million. That is a 47% increase from a year ago. Assuming gold and silver production stays the same, yearly revenue would be about $138 million, about the same as 2010 yearly revenue. Taking a 47% increase in $138 million gives $204 million in 2011 revenue, higher than the $201 million in revenue analysts are expecting. The company expects to mine 125,000 to 135,000 ounces of gold in 2011. Taking 125,000 ounces of gold and 8% silver to gold ratio yields about $203 million in revenue, also higher than estimates. But if silver and gold prices rise, which is likely, the revenue could be much higher. Earnings announcement is on May 5th.
The technicals say that a pullback or flat pause could happen before the stock resumes higher.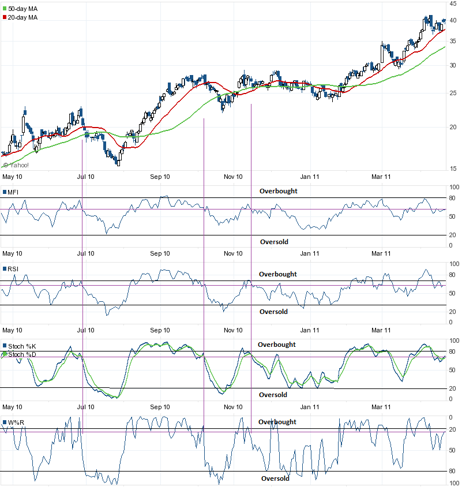 Midway Gold (MDW) – Up 227% (insider buying up 103%)
Unfortunately none of the other statistics from the table are worthy of making this a buy candidate. The Canadian company, however, has no debt and $6 million in cash. And a price/book of 3.98 is not high compared to other gold miners.
75% of its 87 drill holes in its Silicon Valley Project in Nevada hit gold. It is working with Barrick Gold (NYSE:ABX) to explore the mine.
Technicals say that the stock could move higher if it can break resistance.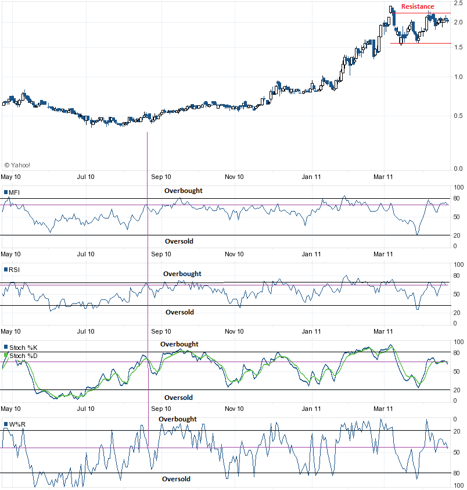 US Gold (UXG) – Up 204% (insider buying up 31%)
Though the company has no earnings yet, its current assets are over four times it current liabilities. It has no debt and $11 million in cash. It reports earnings on May 2nd. The shares trade at 6.1 times that of current book value.
Technicals say that shares could continue their uptrend.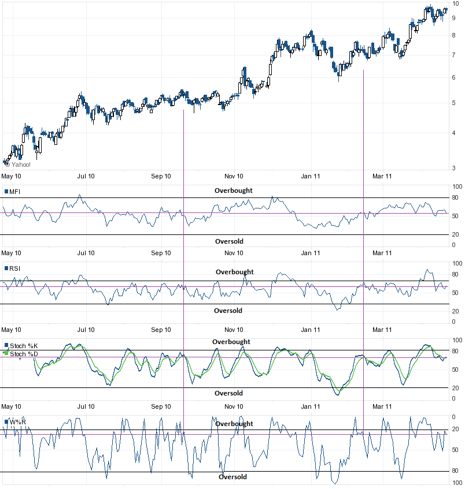 Other stocks that look good from the screen based on green highlighted numbers are:
- Fronteer Gold (FRG) – Up 166% (high current ratio)
- Gammon Gold (GRS) – Up 50% (highest gross margin in group)
- Kimber Resources (KBX) – Up 65% (second highest current ratio in group)
- Northern Dynasty Minerals (NAK) – Up 45% (highest current ratio in group)
- Richmont Mines (RIC) – Up 99% (second highest quarter over quarter sales growth)


Disclosure: I have no positions in any stocks mentioned, and no plans to initiate any positions within the next 72 hours.