Digital Realty Trust, Inc. (NYSE:DLR) will be holding its Q1 2011, conference call Thursday, April 28, at 1:00 pm ET.
The company's results will be closely watched as Digital Realty may be considered a bellwether for the wholesale data center market that has so far delivered solid returns YTD. Other players in the sector include Dupont Fabros Technology (NYSE:DFT) and CoreSite (NYSE:COR).
Analysts expect the company to report revenues of $245.8 million, on average. Digital Realty reported total operating revenues of $238.7 million in Q4 of 2010, and FFO of $0.98 per diluted share. FFO per diluted share for the full year is projected to be between $3.80 and $3.95. As shown in this chart, this result would represent the sixth consecutive annual increase in FFO performance since 2005 (the company went public in October 2004)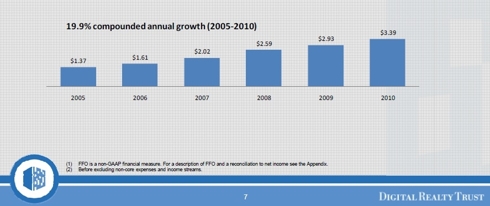 (Click charts to enlarge)
On April 25, the company disclosed some metrics about its leasing results for the first quarter of 2011. While these numbers should not be taken exactly as an indication of the company's performance, they are still interesting.
Digital Realty signed leases during Q1 totaling approximately 320,000 square feet of space. This includes over 57,000 square feet of Turn-Key Datacenter space, leased at an average annual GAAP rental rate of $177.00 per sq.ft., approximately 186,000 square feet of Powered Base Building space, leased at an average annual GAAP rental rate of $23.00 per sq.ft., and approximately 42,000 square feet of non-technical space leased at an average annual GAAP rental rate of $25.00 per sq.ft.
In spite of the difficulties in analyzing these numbers on a quarterly basis, here is a chart showing the trend achieved by Digital Realty in the last two years: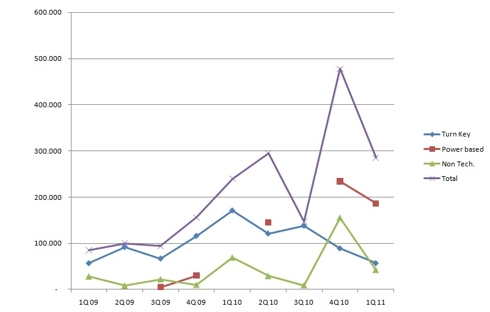 Digital Realty recently released (pdf) the results of its most recent survey of US market demand for data center services among large enterprises. In this report, 85% of companies indicated that they definitely/probably would expand their data center capacity in 2011, and 84% of firms said they are definitely/probably planning expansions in 2012, too.
According to the findings of this survey, demand for data center space in the next 12 to 24 months should not show any decline. Most enterprises (9 out of 10) will look for a partner to design/build and/or lease the additional facilities they will need, which should bode well for Digital Realty and the other wholesale providers active in the market.
Disclosure: I have no positions in any stocks mentioned, and no plans to initiate any positions within the next 72 hours.