By Tim Seymour

News that gigantic gold miner Barrick (NYSE:ABX) wants to buy junior copper miner Equinox (OTC:EQXMF) keeps reverberating through the commodity markets.
While the pace of consolidation in the copper world reminds us of the cartoon — little fish eaten by big fish, eaten by bigger fish — the fact is that copper is a real business.
Gold, however, has always been unique, even in the mining space.
Are the gold miners now trying to get into the emerging markets growth that has pushed copper and other industrial metals through the roof?
If so, the copper bugs worry that this could be a replay of AOL buying Time Warner to create a sort of copper-oriented "Barrick AOL."
But the fact is, Barrick can deal quite handily with local African operating risks, which makes the Equinox assets more valuable in combination.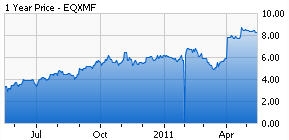 The key assets here are the Zambian and Saudi Arabian copper mines. ABX, like a lot of gold miners, knows Africa well and can deal with corporate governance and ownership questions in regimes as centralized as Saudi Arabia.
Compare that to First Quantum (OTCPK:FQVLF) and its difficulties in Congo. FQVLF sold its 16% stock in Equinox last year to fund its own growth. At the time, it settled for $6.40 a share.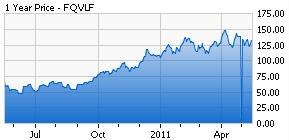 And ABX already gets 10% of its sprawling revenue from copper. If this deal happens, it will raise that ratio to 20% — moving the needle away from the almost pure gold business that the company is in now, but not exactly creating a pure 50-50 hybrid.
But why is China accepting this? Beijing claims the deal was too expensive and so state-controlled Minmetals pulled out.
The reality is that they were not willing to get into another embarrassing losing takeover battle after being burned on PotashCorp (POT) and elsewhere.
If gold miners are in the copper game, that is a lot of cash now available to chase these assets and push the valuation bar higher.
ABX is paying 13.5 times EBITDA or 1.39 times enterprise value for EQXMF. By comparison, Freeport McMoRan (NYSE:FCX), the giant in copper, trades at 4 times EBITDA — a bit misleading due to tax rates, but you can see the froth here.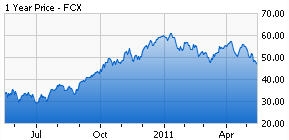 In fact, FCX may be the ultimate emerging markets success story, with both Tenke in Congo and its Indonesian property turning into home runs.
(Remember, it is Freeport McMoRan Copper "and Gold" anyway. ABX is not the first miner to cross the divide between industrial mining and precious metals mining. Many of the biggest gold strikes contain enormous quantities of porphyry copper, and vice versa.)
And if copper stays over $4 a pound, this is a good deal. Copper inventories are being depleted — this is not gold, but a metal that gets used up — and so these prices are a reality, not a bubble.
BHP and RIO also dabble in copper and are cheap — 7.2 times EBITDA and 4.4 times EBITDA, respectively.