There's a growing civil war between utilities and the solar industry and it will challenge the fundamental value of both industries by pitting them against one another in a zero-sum, cost-shift game.
Even without federal tax credits, which are set to expire in 2016, solar power offers homeowners a great way to save money. For some it's about more than saving money, it's about being less of a drain on the environment. For others it's about living off the grid, without the need for government subsidy of any kind. Whatever the reason, the "case" for solar energy has both price and passion behind it.
Renewed Growth in Solar
Solar energy first made waves 20 years ago, but the cost was prohibitive. Now that volume manufacturing has brought costs down residents in places like California, Arizona, Massachusetts, New Jersey and Hawaii are signing up for more. The chart below, published by the California Solar Initiative, illustrates the rapid decline in costs over the past 7 years.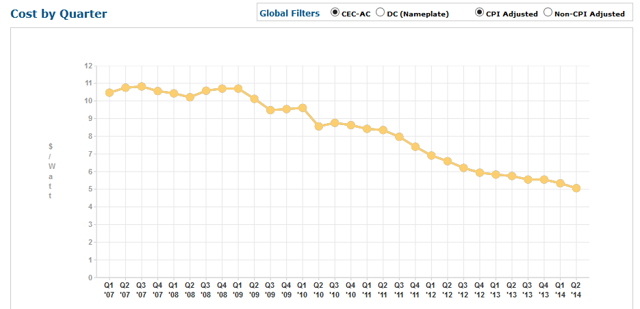 Source: California Solar Initiative
According to the Solar Energy Industries Association (SEIA) over 100,000 houses went solar in 2013 and installations increased 41% over 2012. Here are a few more interesting statistics published by the SEIA:
There were 140,000 individual solar installations in the U.S. in 2013, and a total of over 445,000 systems operating today.
Q4 2013 was by far the largest quarter ever for PV installations in the U.S., with 2,106 MW energized, up 60% over the second-largest quarter (Q4 2012).
More solar has been installed in the U.S. in the last eighteen months than in the 30 years prior.
According to an article in the Scientific Monitor (1) more than 15 rooftop arrays are installed on homes in AZ every day growing from 4,770 in 2010 to more than 30,000 today. This trend has utilities concerned.
Both Arizona Public Service (APS) and PG&E are worried, though you wouldn't know it from the stock price. APS is the largest electric utility in Arizona. It is also the primary subsidiary of Pinnacle West Capital Corporation (NYSE: PNW). PG&E is the leading subsidiary of the PG&E Corporation (NYSE: PCG) providing natural gas and electricity to most of northern California.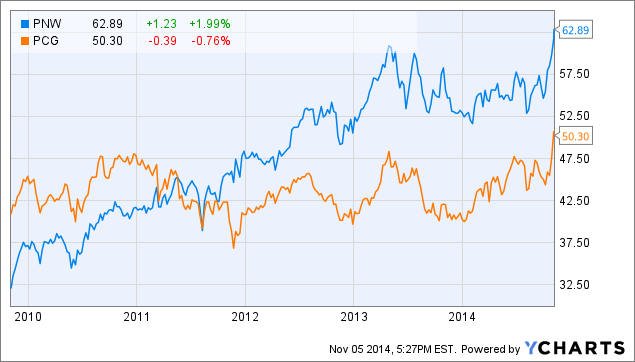 PNW data by YCharts
Both have experienced a growth spurt over the last two weeks due to a decline in bond yields but that's only because investors view utilities as the closest thing in equities to a bond -- that view may prove to be a mistake as the solar civil war heats up.
Net Energy Metering - Follow the Cost-Shift
Like The Civil War, both sides of this debate can use passionate social arguments in their version of what's at stake, but the underlying issue is economics.
Here's a chart by the SEIA ranking states in 2013 by the percentage of new electrical capacity from solar energy.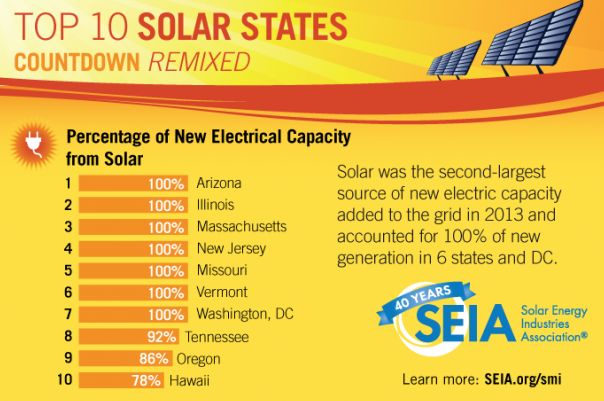 Source: SEIA
More than 40 states allow homeowners to sell excess energy back to the energy grid in a process referred to as net energy metering (NEM). Electric companies fear that the growing use of NEM by solar homeowners will put them out of business so they're enacting legislation that increases the total cost of going solar.
It's no secret that California is the "solar" energy state. According to the SEIA, California installed over 50% of all US based solar in 2013, and installed more than the entire country in 2011. Due to California's growth in the market let's take a look at what PG&E is doing to address the issue.
The following are excerpts from the most recent 10Q issued on Oct. 28 in response to AB 327, a residential energy rate reform bill, which requires the adoption of a new rate structure for NEM. It is to be implemented no later than July 1, 2017:
California's net energy metering program currently allows customers installing renewable distributed generation to receive bill credits for power delivered to the grid at their full retail rate. Increasing levels of self-generation of electricity by customers, coupled with net metering and retail rates that do not reflect PG&E's cost structure, has shifted costs to remaining customers. AB 327 gives the CPUC new authority to reduce the cost shift associated with renewable distributed generation through residential rate and net energy metering reform.

If the CPUC fails to adjust the Utility's rate design to bring rates closer to actual costs, or to adequately address the impact of increasing net energy metering and the growth of distributed generation, there will be increasing rate pressure on remaining customers. These increasing rate pressures could, in turn, cause more customers to seek alternative energy providers or sources, further exacerbating the Utility's risk it will not recover its costs to provide electric service.
Clearly PG&E sees the NEM as a serious threat to the cost structure if not "reformed" and the feeling is rising across the US.
The Arizona Corporation Commission (ACC) has already taken steps to implement a surcharge of ~$5 per month for solar homeowners and APS plans on continuing their efforts to increase this amount in 2015. Don Brandt, the Chairman, President and CEO of APS had this to say about ACC's decision:
The ACC determined that net metering creates a cost shift. We applaud the ACC for cutting through the rhetoric and focusing on how the cost shift impacts non-solar customers.

Of course, having determined that a problem exists, we would have preferred for the ACC to fix it. The proposal adopted by the ACC, and surprisingly championed by the state's consumer advocate RUCO, falls well short of protecting the interests of the one million residential customers who do not have solar panels. We will continue to advocate forcefully for the best interests of our customers and for a sustainable solar policy for Arizona.
Clearly APS and PG&E are aligned and both plan to continue the attack. Oklahoma and Wisconsin have also increased ad campaigns against solar. The effort recently paid off in Oklahoma where Gov. Mary Fallin signed a bill allowing utilities to charge customers generating energy from solar panels or small wind turbines. Oklahoma Gas and Electric and Public Service Co. of Oklahoma are both in support of the bill.
We Energies, a Wisconsin utility, wants to raise the "fixed charge" on all electric bills from $9 to $16 a month, as well as reduce net metering by adding a new charge for solar customers.
In Hawaii, Hawaiian Electric restricted new solar-at-home connections. Just last Friday, however, the company announced that it plans to clear the way for thousands of rooftop solar energy systems by December 2015.
Barry Goldwater, a former congressman, argues that any fees charged for roof-top solar were being done more so as a way to profit from the coming trend rather than recoup revenues. In fact, a recent study commissioned by the Nevada Public Utilities Commission found that solar costs are not raising costs for those that use the grid:
...net metering customers will allow the state savings of somewhere around $166 million in avoided transmission network and generation costs, all of which would have shown up on Nevadans' electric bills.
Perhaps the economic argument can go in either direction.
Conclusion
It is important to remember that NEM is not solar specific -- it can pertain to any form of energy production. This exposes the utilities industry to a ubiquitous and growing set of challenges that will continue to increase as alternative forms of energy become more affordable and grow in popularity.
One of the main reasons solar has grown in popularity is because costs have come down and the NEM has much to do with that. Getting rid of the NEM and/or adding a surcharge makes solar more difficult to afford. The result is a decrease in demand for solar. On the other hand, if NEM prevails and the growth of solar continues, it will put the public utilities industry on its knees and in search of new business models.
Key Takeaway: Cutting through all the weeds and politics, public utilities in states with legislation in favor of NEM will perform worse than those in states against it. Either way the cost-shift will eventually be industry-wide making this a critical debate to follow if you're invested in solar or utilities.
(1) SOLAR WARS. By: Biello, David, Scientific American, 00368733, Nov2014, Vol. 311, Issue 5
Disclosure: The author has no positions in any stocks mentioned, and no plans to initiate any positions within the next 72 hours.
The author wrote this article themselves, and it expresses their own opinions. The author is not receiving compensation for it (other than from Seeking Alpha). The author has no business relationship with any company whose stock is mentioned in this article.