A client asked us about buying the top yielding stocks in each sector, instead of buying a dividend fund or a broad equity index. We set up some rules and studied the question. You might find the results interesting.
The specific comparison is between investing equal amounts in each of the three highest yielding stocks in each of the 10 sectors within the S&P 1500, versus investing in the S&P 500 Dividend Aristocrats (proxy SDY), the S&P 500 equal weighted index (proxy RSP), or the S&P 500 market-cap weighted index (proxy SPY).
Because we used a larger universe than the S&P 500 to find our prospects, we also compared the performance of the 30 high yield stocks to the S&P 400 mid-cap index (proxy MDY) and the Russell 2000 small-cap index (NYSEARCA:IWM).
While we were going to the trouble, we also compared the results to that for the MSCI emerging markets index (proxy EEM, but used VEIEX because it has a 10 year history); and to the BarCap Aggrgate US Bond index (proxy BND, but used VBMFX because it has a 10 year history), and to a money market fund (VMMXX in this case).
Because so many investors are using high dividend stocks as quasi-bond alternatives in this low rate environment, we thought the bond fund comparison would be interesting too.
Here's how we examined the question and what the data showed.
First, we identified the 1500 stocks that compose the large-cap S&P 500 index, the mid-cap S&P 400 and the small-cap S&P 600 (proxy IJR). Then we sorted them by Sector, Industry and Yield.
From that sorted list we selected the 3 highest yield stocks from each of the 10 sectors, subject to a few rules to avoid picking favorites, to create a hypothetical portfolio of 30 individual stocks.
The rules were that to be eligible for selection, a stock must show (1) positive current EPS, (2) current EPS equal to or greater than the prior year EPS, (3) a positive 5-year EPS growth rate, (4) have paid dividends for at least 5 years, and (5) have 10 years of history. That meant we had to skip over some of the highest yielding stocks (as well as some favorites) until we came to those that met these rules.
We had one more rule, and that was that each selection had to come from different sub-industries, and if different sub-industries did not have qualified companies, then the companies had to be in substantially different business areas within a sub-industry. Telecom was the only sector that posed a problem getting different sub-industry representation.
In alphabetical order, these are the companies that came out of that rule-based selection process:
ACI ARCH COAL, INC.
AGL AGL RESOURCES INC.
AJG GALLAGHER (ARTHUR J.) & CO.
ATNI ATLANTIC TELE-NETWORK, INC.
AWR AMERICAN STATES WATER CO.
BMS BEMIS CO., INC.
CAG CONAGRA FOODS, INC.
CPSI COMPUTER PROGRAMS & SYSTEMS, INC.
CTL CENTURYLINK, INC.
CVX CHEVRON CORP.
DD DU PONT (E.I.) DE NEMOURS & CO.
GEF GREIF, INC.
GPC GENUINE PARTS COMPANY
HCSG HEALTHCARE SERVICES GROUP, INC.
HNZ HEINZ (H.J.) CO.
LDR LANDAUER, INC.
LLY LILLY (ELI) & CO.
LMT LOCKHEED MARTIN CORP.
MAT MATTEL, INC.
MCHP MICROCHIP TECHNOLOGY INC.
MSFT MICROSOFT CORP.
NE NOBLE CORP.
NYB NEW YORK COMMUNITY BANCORP, INC.
PAYX PAYCHEX, INC.
RAI REYNOLDS AMERICAN INC.
SNH SENIOR HOUSING PROPERTIES TRUST
STRA STRAYER EDUCATION, INC.
T AT&T INC.
UPS UNITED PARCEL SERVICE, INC.
Organized by sector, sub-industry and yield, with the qualifying data, these are the same companies:
click image to enlarge

Here are the broad comparisons between the 30 stock portfolio and the several index funds. For the portfolio the assumption is monthly rebalancing. For the funds, the assumption is buy and hold.
All data that follow are generated with Morningstar Principia.
click image to enlarge
Color Coding:
The table above shows the results for the 30 stock equal weighted portfolio in the left-side, gray shaded column. The columns for the various comparison funds are shaded in either green or pink. Green means the comparison fund did better by the dimension for the row, and pink means it did worse.
Important Factors Not Considered:
No tax effects or transaction costs are considered. Transaction costs would be significant or insignificant based on the size of the portfolio. Tax-exempt organizations and tax-deferred retirement accounts would see these results. Taxable accounts would have experienced diminution from taxes, and the relative tax burden would have varied from fund-to-fund and for the portfolio.
Also not considered is the backward look. We are picking stocks based on their yields, dividend growth histories and profitability now and looking back as if we had chosen them back 10 years ago when they might not have been picked using the same criteria.
And, not considered is the improbable behavior of investors to hold all of those stocks through thick and thin. Presumably, there would have been substitutions along the way in practice, either on a methodological or emotional basis. How that would have impacted results is not known.
Observations:
The color shading quickly reveals that the 30 stock portfolio was broadly superior to the S&P 500 market-cap weighted portfolio in all but one dimension (the "best 3-month period"). Bonds, as expected, did not keep up with the "best" periods for stocks.
The stock funds mostly had higher returns during their "best" periods, all had more severe downward movements during their "worst" periods. Bonds, as expected, did better than stocks during stock "worst" periods.
The 30 stock portfolio has a higher yield now than any of the stock or bond funds.
Over 3, 5 and 10 years, the 30 stock portfolio had higher mean returns, lower volatility and better Sharpe Ratios than the stock funds, except that emerging markets squeaked by for 5 years and had a higher mean return over 10 years but with more volatility and a lower Sharpe Ratio.
Bonds were less volatile over 3,5 and 10 years, and had better Sharpe Ratios over 3 and 5 years, but not over 10 years.
Individual Stock Returns:
This table presents the total returns for each of the individual stocks, for the portfolio as a whole, and for the portfolio versus SPY as a benchmark for 3 months and for 1,3,5,and 10 years through March 31, 2011.
The 30 stock portfolio beat the SPY in all periods, although not all individual stocks beat the SPY in each period.
click image to enlarge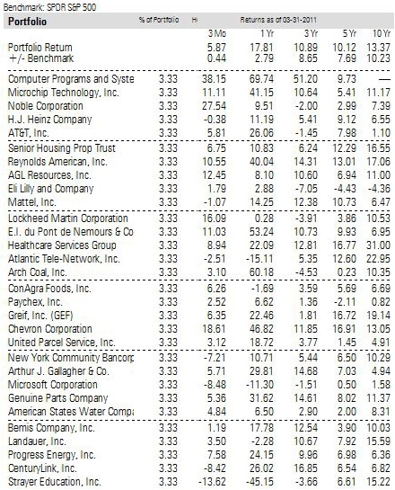 .
Quarterly Performance Versus S&P 500 Market Weighted Index:
This chart shows the difference in quarterly returns between the 30 stock portfolio and SPY.
click image to enlarge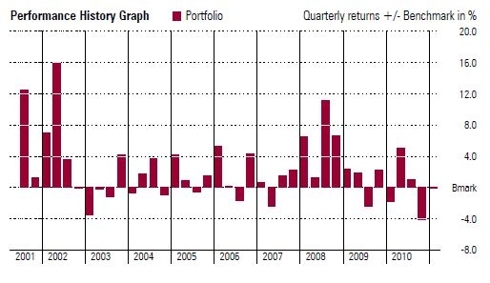 The 30 stocks underperformed SPY in 11 of 40 quarters, but the quarters of outperformance substantially outweighed the underperformance quarters in both number and magnitude.
Portfolio Style Matrix:
The portfolio is 44% large-cap, 36% mid-cap and 19% small-cap. It is also, 46% value, 33% blend and 20% growth by style category.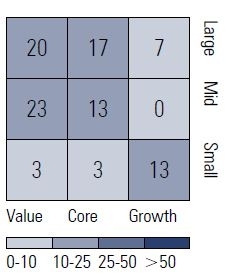 Sector Breakdown:
The portfolio is equally weighted according to the 10 sectors of the Global Industry Classification System developed and used by MSCI and S&P. Morningstar has their own sector categories and according to that classification system the portfolio is not equally allocated.
The 10 S&P sectors are (with proxy ETFs in parenthesis):
The allocations among the Morningstar sectors for the 30 stock portfolio and the S&P 500 benchmark are as follows: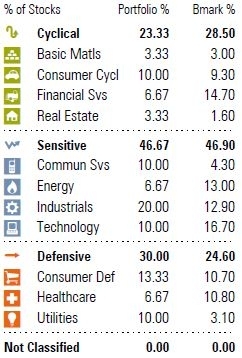 Type Breakdown:
Morningstar also goes at allocation from another angle they call "type". The breakdowns of the portfolio and the S&P 500 index by "type" are as follows:
click image to enlarge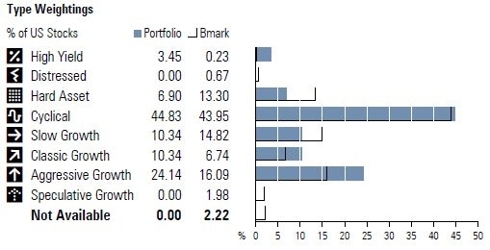 The portfolio relative to the benchmark is low on hard assets, slow growth, speculative growth and distressed assets, while high on aggressive growth and classic growth.
Valuation Multiples and Profitability Measures:
The portfolio has a slightly lower P/E multiple, but higher P/B, P/S and P/CF multiples than the S&P benchmark -- but not greatly different.
The portfolio companies have smaller net margins, lower ROE and ROA, and higher debt ratios than the benchmark S&P 500 index.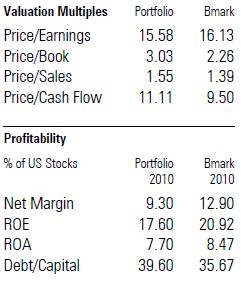 The geometric average market capitalization of the portfolio is substantially less than the S&P 500 index (8.5 billion versus 50.2 billion).
Conclusion:
The idea of investing in the top yielding stocks per sector, has conceptual appeal.
It resembles the "dogs of the Dow" concept, but is not overworked as the "dogs" were (once an idea gets very popular, it typically stops working).
It may work, but this analysis, which is the best we can do with readily available data and tools, is not diagnostic, because it makes the stock selection now and looks back, instead of making the stock selection back 10 years ago and looking forward. If this article can be found 10 years hence, we will have a clearer answer about how well it works.
Proof aside, it seems to be a reasonable proposition worth further consideration. We intend to search for old data to recreate this exercise with choices made 10 years ago -- but that could take some time to accomplish.
This is not a recommendation, just an exercise to explore an interesting inquiry.
Symbols Referenced In This Article:
SDY, RSP, SPY, MDY, IJR, IWM, XLE, XLB, XLI, XLY, XLP, XLV, XLF, VGT, VOX, XLU, GPC, STRA, MAT, CAG, HNZ, RAI, ACI, CVX, NE, AJG, SNH, NYB, LDR, CPSI, LLY, LMT, UPS, HCSG, PAYX, MCHP, MSFT, DD, GEF, BMS, CTL, T, ATNI, PGN, AGL, AWR.
Disclosure: We hold AJG, CVX, HNZ, MCHP, T, SPY, MDY, SDY, and XLU in some but not all managed accounts as of the publication date of this article.
Disclaimer: This article provides opinions and information, but does not contain recommendations or personal investment advise to any specific person for any particular purpose. Do your own research or obtain suitable personal advice. You are responsible for your own investment decisions. This article is presented subject to our full disclaimer found on our site available here.