Summary and Recommendation
Buy recommendations remain in place for now, despite some favorites trading above a McDep Ratio of 1.0, because we see oil and natural gas price trending to higher levels than incorporated in McDep Ratios currently. Nonetheless, investors whose portfolio representation in oil and gas income and small cap stocks exceeds targeted overweight levels might reasonably sell enough shares to rebalance to target positions.
Since oil is still a long way from $200 a barrel, we are not considering any reduction in the target percentage. We encourage investors not well represented in buy recommendations to build participation. Among peer stocks offering comparable attraction we raised estimated Net Present Value (NPV) for Cross Timbers Royalty Trust (NYSE:CRT) to $45 a unit from $37 on the basis of expected distributions and higher reported reserves. An increase in NPV raises the denominator and lowers the McDep Ratio.

Government Actions Befriend High Oil and Gas Price
Numerous examples support the rising energy price trend. Just in the last few days the U.K. government increased its punitive tax on oil producers to 32% from 20%. The U.K. "supplementary charge" is on top of normal income tax, thereby making it punitive. The change in rules chills investment in new oil production and is sure to reduce U.K. supply from what it would be otherwise. In a tight global market, the incremental effect is to drive global price higher.
In the U.S., new oil production from Canada and North Dakota is bottled up by the refusal of the U.S. government to permit new pipeline capacity to take oil out of the region to supply the rest of the U.S. As a result, the widely quoted price for crude oil traded in the U.S. futures market, currently $105 a barrel, is some $10-15 a barrel below the effective global price.
Similarly the virtual shutdown of deep water Gulf of Mexico drilling limits the future supply of oil from that prolific source. Government leaders exaggerate the impact of an accidental oil spill to justify a drilling prohibition that benefits oil companies with existing production. The effect once again is to encourage buyers to bid higher for long-term oil supply.

Government Actions on Oil Befriend Defense Industry
The demand for military equipment and spending arising from conflict in Libya has roots in the oil price controls of the 1970s. In one of our more memorable research pieces from the past, "Billions for Tribute", August 1973, we credited Federal price controls with reducing domestic oil and gas production and arming Colonel Gaddafi by paying him several times what U.S. producers received for the equivalent amount of energy. Logically, the politician in charge of price controls, or the Economic Stabilization Program as it was called, went on to become Secretary of Defense twice. Sales of arms to Libya, financed by high oil price, in turn supported more Defense Department buying of arms for the U.S.

Government Monetary and Fiscal Policy Increases Supply of Dollars
To sustain high market oil price caused by government policies, government gives away dollars for consumers to apply to oil and other needs. Monetary policy managed by the Federal Reserve expands dollars in circulation by lending at rates below inflation or buying assets with money created by computer code. Fiscal policy in the form of Federal spending in excess of revenue uses borrowed funds to finance consumption of oil and other goods and services by persons who would not otherwise have the means to do so. As a result, with government actions reducing oil supply and government actions promoting oil demand by increasing the supply of dollars, the price of oil naturally rises.

No Change in Course Evident
The concept of a potential near-doubling to $200 oil by November 2012 is inspired by history from thirty-two years ago. To get there, the price might rise by $4-5 dollars a month allowing time to adjust expectations along the way. A three-fold rate of gain in 1979-1980 was snapped with the election of a new president in November 1980 and two years of recession in 1981 and 1982. By picking a lower target than what was achieved then in terms of percentage gain, we are suggesting that government policy may be able to avoid a strong recession.
By our strategy, we are likely to continue suggesting rebalancing should the trend continue as it appears now. If the course changes, global growth will likely continue to demand energy on a more moderate, but positive price trend. A recession would be a negative outcome, temporarily, but it has a low probability of occurring soon, as we see it.

Government Actions Also Cause Recessions
A reversal of the fiscal and monetary policies that promote high oil price can also cause a recession and a softening of oil price. Eighteen months of increasing interest rates, ultimately to double digit levels, eventually wore on inflation and oil price to end the trend of 1979-1980. An abrupt increase in taxes could have the same effect. Neither of those changes is in sight for now.

Natural Gas Price May Be Turning Up Slowly
Finally, the Japanese earthquake and tsunami reminds us that we can always be surprised. The failure of nuclear plants to withstand the natural calamity thereby releasing radiation diminishes the outlook for that energy source and enhances the outlook for natural gas as the most readily available economic alternative.

Latest quote for natural gas for delivery over six years at $5.54 a million btu remains above its 40-week average for the second week since the nuclear disaster (see chart below Natural Gas Six-Year Futures Strip). From a fundamental point of view, the long term outlook for natural gas has strengthened irrefutably.
Natural gas in Europe and Asia has responded strongly in the short term. As North American producers develop export capability over the next three years and more, the global natural gas markets will become linked again and could then trade closer to the heating equivalent of oil.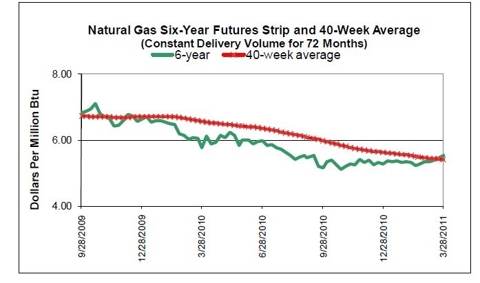 Originally published on March 25, 2011