Well I learned my job I learned it well
Fit myself with religion and a story to tell
First they made me the king then they made me pope
Then they brought the rope

Bruce Springsteen, Local Hero


I remember seeing Springsteen in concert in recent years. He had pulled Born in the U.S.A. out of the archives in opposition to Bushian policy and the Iraq war. When introducing the iconic anthem, Bruce said something to the effect of "I wrote this song about the Vietnam War, didn't think I'd have to write it again." Today, in relation to Netflix (NASDAQ:NFLX), I feel like Springsteen. It's like warning people about the 1999-2000 dot.com implosion all over again.

As an investor, you need to be aware of what's happening here. It's vitally important not only to your investment decisions and money, but to the larger issue of exactly what happens in the dysfunctional relationship between company, brokerage house/investment firm, and clients, ranging from heavy hitters to retail investors. On the day after a downright horrific outlook from Netflix, many analysts continue to upgrade and raise price targets on the stock. I get up early on the West Coast -- around 5:00 a.m. on most days -- so I thought my Briefing.com InPlay screen was a dream. Here's the most recent screenshot, as of early morning Tuesday.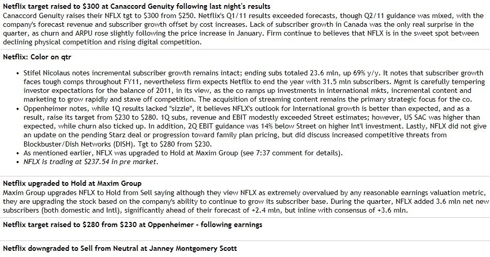 Canaccord Genuity and Oppenheimer raised price targets. Stigel Nicolaus defends and Maxim Group upgraded the shares. According to TheStreet.com, Goldman Sachs (NYSE:GS) increased its Netflix estmates through 2013 on the basis of higher operating margins with a price target of $300. The only hint of sanity comes from Janney Montgomery Scott, who downgraded NFLX from netural to sell.

It's beyond baffling how these firms could ignore what I think the three key points are from Netflix Q1 report.
EPS has a real chance of declining between Q1 and Q2. Amidst still rising revenues this points to only one thing -- obscene expenses.
The company will add just 1.2 to 2 million domestic subscribers next quarter compared to 3.3 million this quarter.
Netflix will stop reporting key subscriber metrics, including growth, in 2012.
And this does not even get into the continuation of the financial smoke and mirrors the company continues to play. It's almost as if Netflix CEO Reed Hastings parents many of the analysts who cover his company. No matter what the facts state, Hastings tells everybody not to worry. And, from there, maybe cognitive dissonance ensues and the analysts ignore the obvious and ride the bandwagon. I just hope that these people are not telling clients to buy NFLX and ride it to their unrealistic price targets. That might have flown last year, but now, clearly, the jig is up.

I think it's more complex than that though. As Hastings noted on the conference call, Netflix intends to spend more money on content as its subscriber base grows. No matter how you look at it, combined with the losses associated with international expansion, this cannot be good for the bottom line. And as subscriber growth slows, deletions and additions will likely move out of their current sync, dinging that all-important total subscriber number. If Canada serves as any indication, the total sub figure hardly gets a boost from international users.

At the end of the day, Netflix will need more money to compete with cash-rich players in what amounts to a cutthroat environment. I don't think all of these analysts are dumb; I just think they are shamelessly irresponsible. Could they all be angling for the inevitable secondary share offering or whatever else Netflix might do to raise cash later this year or early next when it really hits a wall? Or do they want to get their hands in on the only thing that could save Netflix -- a takeover by Apple (NASDAQ:AAPL), Amazon (NASDAQ:AMZN), Google (NASDAQ:GOOG), Dish Network (NASDAQ:DISH), or another large player? In any case, they play a game of chicken with their client's money in the process.

If Netflix sees EPS decline quarter-over-quarter some time soon, the next stop will be an operating loss. I think both of these things will happen. When, and if, they do, we could see the typical Wall Street analyst nonsense as firm after firm finally abandons ship and downgrades the stock. For many of the bag holders it will not be better late than never.

But, it doesn't end there... There's more from the conference call that lends itself to analysis.
Is a dream a lie if it don't come true
Or is it something worse

-Bruce Springsteen, The River
A commenter to my Seeking Alpha article on Netflix's (NFLX) Q1 earnings report and call pointed something out that I thought was worthy of investigating. This person's keen observation points to the real dangers inherent in conducting a conference call as Netflix does. Instead of going live in the true sense of the word, the company essentially prescreens questions and controls the flow of the entire event. This format allows Netflix to get away with things, sidestep questions, and not even address queries that would get sprung on them in a traditional setting.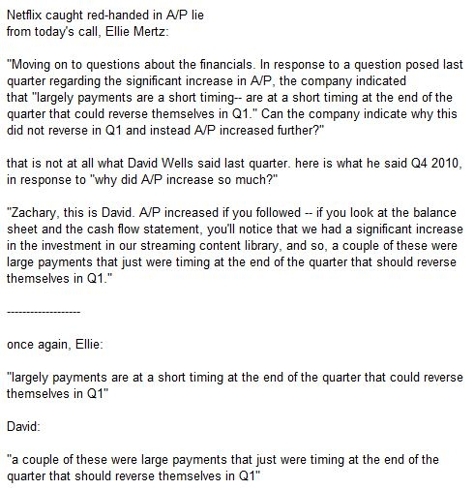 Before I continue, I must interject that this comment helps illustrate one of the great things about the Seeking Alpha community. For the most part, it consists of thoughtful people, whether contributors, commenters, those who simply make their voices heard privately via email, and, presumably, individuals who only read and quietly observe. Many articles end up taking on a life of their own, thanks to contributions that come from beyond the original contributor. Along with the evolution of new and social media, investors appear to be realizing that traditional sources of financial information often do them wrong. You simply cannot trust what somebody says, simply because they work for a large firm or a major network. A diversity of voices is never a bad thing.

To be fair, Netflix VP of Investor Relations, Ellie Mertz, could have been reading a question, verbatim, from an analyst or investor. The analyst or investor could be the person who got the quote wrong. Unless Netflix or the person who asked the question comes forward, we'll likely never know the answer. Herein lies a major issue with Netflix's conference call format, no matter how much the company and analysts supposedly like it. Onlookers, who might have money on the line, are left to wonder if the person who emailed the question made a mistake, if it was an honest mistake by Mertz (maybe she was nervous?), or if it's something worse. Even worse, because Netflix has stopped naming who submitted the questions they choose to read, we cannot even follow up with this person. Even if everything is on the up and up, this still highlights the paramount problem with Netflix's pseudo-conference call -- there's just about zero accountability.

Somebody must be responsible for vetting the questions that come in. I don't believe for a second that Netflix takes them off of the cuff and on the fly. In any case, when the company receives an email quoting one of its executives, shouldn't Mertz or an assistant check to see if the quote is accurate? As this case illustrates, a couple of letters or words can make a big difference. And if Netflix actually operated on the fly in its call, shouldn't David Wells, the company's CFO, make the correction? For something like this, wouldn't it make sense to come back and make a quick correction later in the call? I've heard it done several times on the hundreds of calls I have listened in on.

Compare the transcripts from each call for yourself. You can view the Q4 2010 transcript here and the Q1 2011 transcript here. The difference between "largely" and "large" and "could" and "should" are quite significant. What's even more alarming is Wells' backflip from Q4 when he noted that the timing of large payments at the end of the quarter "should reverse themselves in Q1." Fast forward to Q1 and Wells' new response: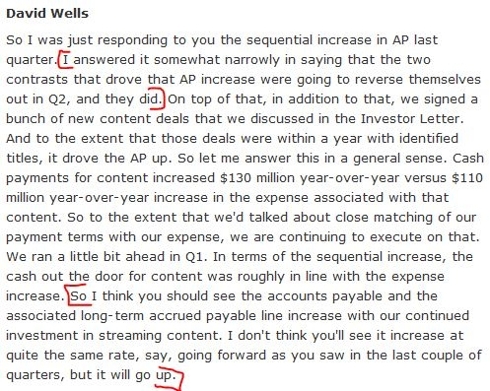 First, I am not really sure where Q2 comes into play. This notion of playing it "narrowly" does not wash no matter how you slice it. Wells is right, however, when he says A/P will continue to rise. Take a look at the A/P line from Netflix's financials released on Monday.





Assuming Wells has seen these numbers before, it's beyond me how he could ever use the word "reversal" when discussing them. There has been no "reversal" since the end of 2009. We'll have to wait and see if Wells is correct or if he ends up correcting himself on his prediction that A/P will increase, but not "quite at the same rate, say, going forward as you saw in the last couple quarters." If the A/P increase slows, another line item related to content acquisition costs will likely rise harder and faster because, remember, as Netflix notes in its latest 10K:
For the titles recognized in content library, the license fees due but not paid are classified on the consolidated balance sheets as "Accounts payable" for the amounts due within one year and as "Other non-current liabilities" for the amounts due beyond one year. Changes in these liabilities are classified in the line items "Accounts payable" and "Other assets and liabilities" within net cash provided by operating activities in the consolidated statement of cash flows. Commitments for the titles not yet available for streaming are not yet recognized in the content library and are included in footnote 5 to the consolidated financial statements.


Netflix rarely publicly discusses "Other non-current liabilities" and the amount it assigns to titles "not yet recognized in the content library." I have yet to receive a response from IR regarding how much it included in the latter category for Q1. That number ended 2010 at over $1 billion. It appears they expect me to wait for the release of their 10Q by the SEC, which, historically, takes several days.

Netflix's explanation of its buyback raises serious questions as well. It said litlle more than we buy back shares to offer a sort of "dividend" to our shareholders. As several observers have pointed out, it's highly unusual for a company in hypergrowth mode to return capital to shareholders in any way, shape, or form. And unless you're Apple, most shareholders would never expect it. Could the buybacks actually represent another possible slight of hand by the company; one that most shareholders would hardly appreciate?

It appears that the buyback essentially cancels out the massive insider selling the stock continues to experience. While this approach is not incredibly uncommon for tech companies, it's yet another thing Netflix refuses to be straightforward about, disguising it as a gesture to shareholders. At the end of the day, buying back stock means very little to investors unless, concurrently, insiders are buying, not selling.

Investors do not like uncertainty. If institutions did not hold so many of the company's shares I would wonder how Netflix has managed to hold such a high valuation for so long. As the uncertainty continues to grow and it becomes clearer that Netflix will experience a decline in EPS and possibly even an operating loss in the future without an infusion of cash and/or a buyout, the uncertainty might even become too much for the big boys to take. I fully expect both retail and instiutional investors to make the move that Fidelity made with foresight and start trimming their stakes in NFLX before their on-paper profits further evaporate.


Disclosure: Author is short NFLX via a long position in NFLX put options. Author may initiate a long or short position in AAPL or AMZN, possibly via options, at any time.