After years of strategizing behind the scenes, China TechFaith (NASDAQ: CNTF) looks ready to set themselves in motion. The company has refocused their core cell phone business to prosperity, built its cash position to close to $4 per share and incubated an online gaming unit that's awaiting its big spotlight in the weeks to come.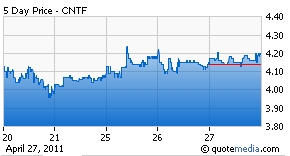 CNTF has received venture funding from one of the most successful China venture firms in the business, IDG Ventures, a $3 billion fund. IDG has funded the who's who of Chinese NASDAQ listed companies such as: Baidu (NASDAQ:BIDU), C-Trip (NASDAQ:CTRP), RDA Microelectronics (NASDAQ:RDA), Dangdang (NYSE:DANG) and Qihoo 360 (NYSE:QIHU). Over the past 2 years, IDG has been using their knowledge, skill set and contacts to support 798 Entertainment, a CNTF subsidiary, to go from a studio start-up to a comprehensive online gaming company. 798 Entertainment is comprised of three divisions: 798game - PC online games, 798uu - mobile games and 17vee - motion games. Here's why CNTF's stock could be in motion.
798 Entertainment is making a strong bet on motion gaming. The initial results are sticking and their time to market could prove to be advantageous. The company's motion division, 17Vee, is on track to release their highly anticipated cloud based computing console box, 17Box, a highly patented device (80 patents), in the next 3-4 weeks at a price point that will rival Wii and Xbox. 17Box will be web based, running on Windows XP compared to the CD-ROM boxes from competitors. The immediate advantage will be the cost per game. 17Box games will range from .50cts - $5 via a download compared to paying $30 - 50 at your local Gamestop (NYSE:GME) for competing boxes.
The 17Box also converts non-motion games into motion games, an unique technology that could make the product sticky to consumers. These games could be theirs or any other third party games. A partnership with content players/distributors could occur by year end giving 17Box access to top games. While they are no Microsoft (NASDAQ:MSFT), Sony (NYSE:SNE) or Nintendo (OTCPK:NTDOY), the business model is compelling enough to attract several million viewers from the 240 million gamers in China.
Even more encouraging is that Xbox, Playstation and Wii are illegal in China which could present a potential licensing/partnership for 798 Entertainment (think patents) with either one in the not too distant future. The business plan is not isolated to mainland China, as the company recently signed a deal with Brightstar, a US distributor to potentially sell the devices in Latin America and the company is in talks with key players in Japan too. The IDG and CNTF heads have the business model in motion with bigger plans to drive content in late 2011.
The end users showed their initial thirst for 17vee products when CNTF reported gaming revenues in Q4 2010 of $6.5 million, up from $1.5 million the previous quarter. The bulk of the revenues came from motion gaming controllers (remote controllers with preloaded games). The company updated investors in early April that motion gaming controllers are gaining traction in the market. As a result, you could see $8.5 million plus in revenues when they report on May 24th. The release of 17Box should get the share price of CNTF to break out of its own way.
CNTF's share price has been consolidating for 7 months, setting the chart up for technical traders to go long the stock with a close above $4.80 per share on large volume. The company reports Q1 results on May 24th and the company just completed an investor tour in April, meeting with over 40 funds one on one. Again, the company trades at cash levels, operates a profitable growing cell phone business and has this amazing gaming opportunity to create significant value for shareholders. I believe another solid quarter, the shipment of 17Box and an increased outlook will be the events that put institutional money in motion. I see the shares running to $8.00 per share by mid August.
Get your money in motion before the 17Box puts China in motion.
Disclosure: I am long CNTF.