Alexco Resource Corp. (AMEX: AXU) is an undervalued and emerging silver producer that is poised to have dramatic earnings growth in this new regime of higher silver prices. AXU just went into commercial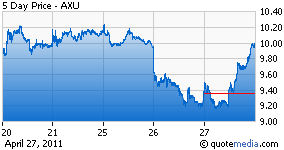 production Jan 1, 2011 and will begin to show investors just how much earnings leverage a silver miner can have in this environment. I believe that once earnings start to materialize in the coming quarters, the stock price will be re-rated much higher and receive a multiple in line with other silver producers. AXU does not currently screen well because of its lack of earnings history and limited research coverage, but this will change very quickly.

Quick History

Alexco Resource was founded in 2005 and listed on the Toronto exchange since 2006 and on the AMEX exchange since 2007. The company's exploration have focused on the Canadian Yukon's Keno Hill Silver District. Rated at 40 ounces per ton, Keno Hill is historically one of the richest silver production districts in the world.
From 1941 to 1989, the Keno Hill district delivered more than 217 million ounces of silver, with average grades of 40.5 ounces per ton of silver, 5.6 percent lead and 3.1 percent zinc. Production was halted in 1989 because of rising costs and low metals prices.


AXU Investment Highlights


100% ownership of Keno Hill Silver Mine District of Canada (politically stable and mining friendly jurisdiction).

Low risk Environmental Services business contributes over $1 million per year of gross profits to offset other operating costs.




Net of zinc and lead by-products, AXU has the ability to produce close to 3m ounces of silver this year at zero cash costs.




Aggressive drilling and exploration program to expand its silver resource/reserves and increase production to 5m ounces in 2yrs and 7-10m ounces in 4 years.




Fully funded and can achieve production targets with cash on hand, and cash from operations.




No current hedges in place allowing for leverage to rising silver prices.




Stellar balance sheet with a tight share structure.




Only 59 million shares outstanding.




Very few options/warrants to minimize dilution.




No debt.




$46 million in cash on balance sheet.




Sprott owns over 12%, Management owns 11%.




Earnings, Valuation and Share Price Potential

Below I've attempted to model the earnings potential for AXU in the coming years under management's production targets. AXU's silver production is subject to an off-take agreement struck with Silver Wheaton (NYSE: SLW) in 2008 that requires AXU to sell 25% of production to SLW at $3.90/oz. This still leaves AXU to participate in 75% in the upside to silver prices. Assuming $45/oz silver and 3.5m ounces of production by 2012, I estimate AXU can safely deliver in excess of $1.50 in earnings.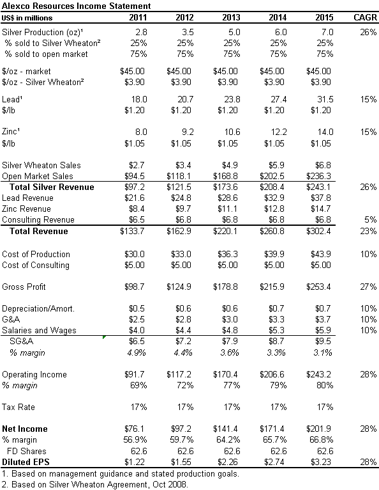 Below is Alexco's current capital structure and valuation. At the current price of $10/share, that's an attractive 6.0x 2012E p/e multiple.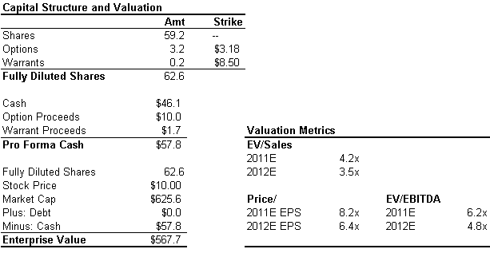 Assuming AXU received a multiple of 12-14x in-line with current producing silver miners, I estimate a target price of $18-$21/share or 80-110% upside from current prices. For sensitivity purposes, I've also attached various tables outlining target share prices under various silver price and production target scenarios.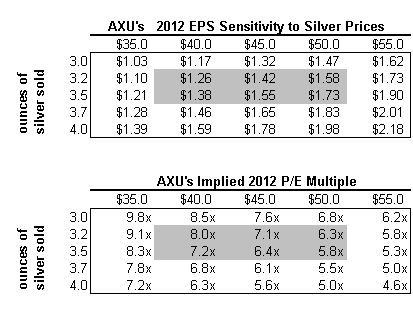 Earnings Multiple for Producing Silver Miners

When Alexco finally shows investors its earnings power, I believe it will begin to receive an appropriate earnings multiple, similar to other producing silver companies such as Pan American Silver (Nasdaq: PAAS), Coeur d'Alene (NYSE: CDE), Hecla Mining (NYSE: HL), Gammon Gold (NYSE: GRS), Fortuna Silver Mines.



Summary

The timing of Alexco's entry into the silver market could not be timed better. They have significant leverage to rising silver prices, a low cost of production, a stellar capital structure, and significant room for valuation expansion if they are capable of hitting their stated production targets and expanding their silver reserve base. I believe the shares will reach an inflection point in the coming quarters when investors see the true earnings power of a company.
Disclosure:
Spruce Point Capital Management, LLC is long AXU, not a broker/dealer and this is not an offer to buy/sell any security named in this article. Following publication of this article, the author and/or his company may transact in the securities of the companies covered herein. The author of this report has obtained all information contained herein from sources believed to be accurate and reliable and have included references where available and practical. However, such information is presented "as is," without warranty of any kind– whether express or implied. The author of this report make no representation, express or implied, as to the accuracy, timeliness, or completeness of any such information or with regard to the results to be obtained from its use. All expressions of opinion are subject to change without notice and the author does not undertake to update or supplement this report or any of the information contained herein. Use of this research is at your own risk. You should do your own research and due diligence before making any investment decision with respect to securities covered herein, including, but not limited to, the suitability of any transaction to your risk tolerance and investment objectives